Dr. Bennet Omalu, the now famous doctor who discovered Chronic Traumatic Encephalopathy, a degenerative brain disease that plagues many NFL players, says O.J. Simpson likely suffers from the condition.
However, Omalu, whose story was made into the movie "Concussion," says he can't be certain that Simpson suffers from CTE, because the disease can only be diagnosed after death.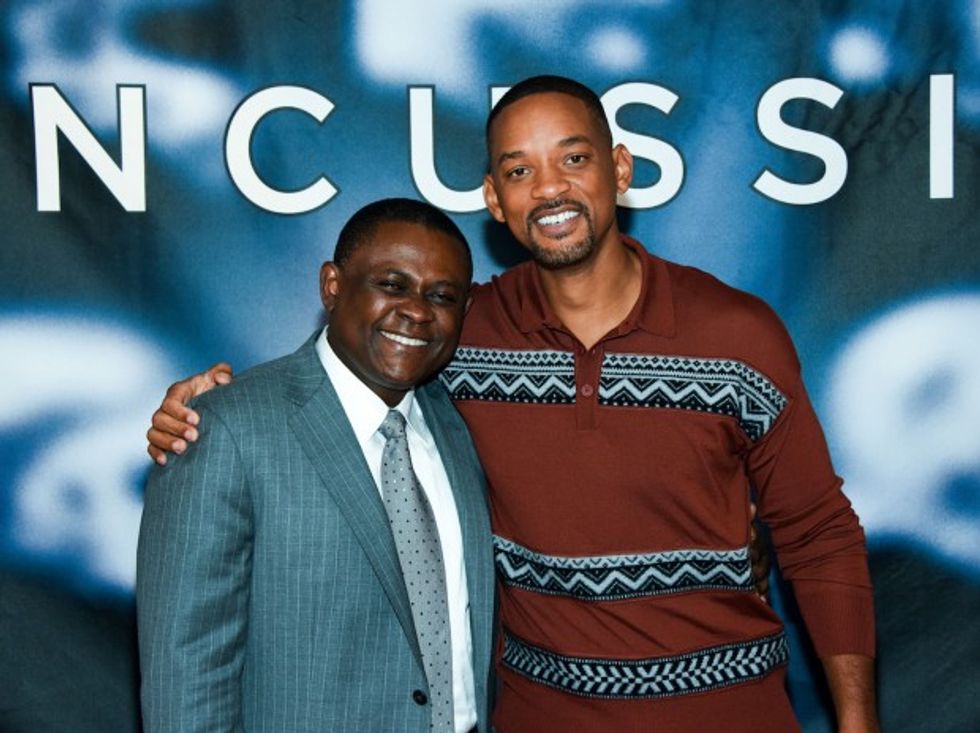 Dr. Bennet Omalu and Will Smith, who portrayed Omalu on screen, attend the "Concussion" cast photo call at Crosby Street Hotel Dec. 14. (Getty Images/Grant Lamos IV)
"I would bet my medical license that he has CTE," Omalu told People on Wednesday.
Victims of the disease often exhibit wild mood swings, violent tendencies, depression, erratic behavior and the inability to concentrate.
"Given his profile," Omalu added. "I think it's not an irresponsible conclusion to suspect he has CTE."
Omalu says Simpson would have sustained the brain damage during his 11-year career in the NFL, and all of the years of football preceding his professional career.
Omalu's theory could explain some of Simpson's past behaviors. Simpson is currently in a Nevada prison serving a 33-year sentence for armed robbery and kidnapping, stemming from an incident at a hotel in 2008.
Hollywood superstar Will Smith depicted Omalu in the "Concussion" movie.
(H/T: People)
—
Follow the author of this story on Twitter and Facebook:
[facebook //www.facebook.com/plugins/like.php?href=