Donald Trump's attempt to derail Thursday's GOP debate was unsuccessful, at least from a ratings perspective.
CNN media guru Brian Stetler first reported the preliminary results, which showed that the Trump-less debate had a household rating of 8.4 for the first hour and an 8.3 rating for the second hour.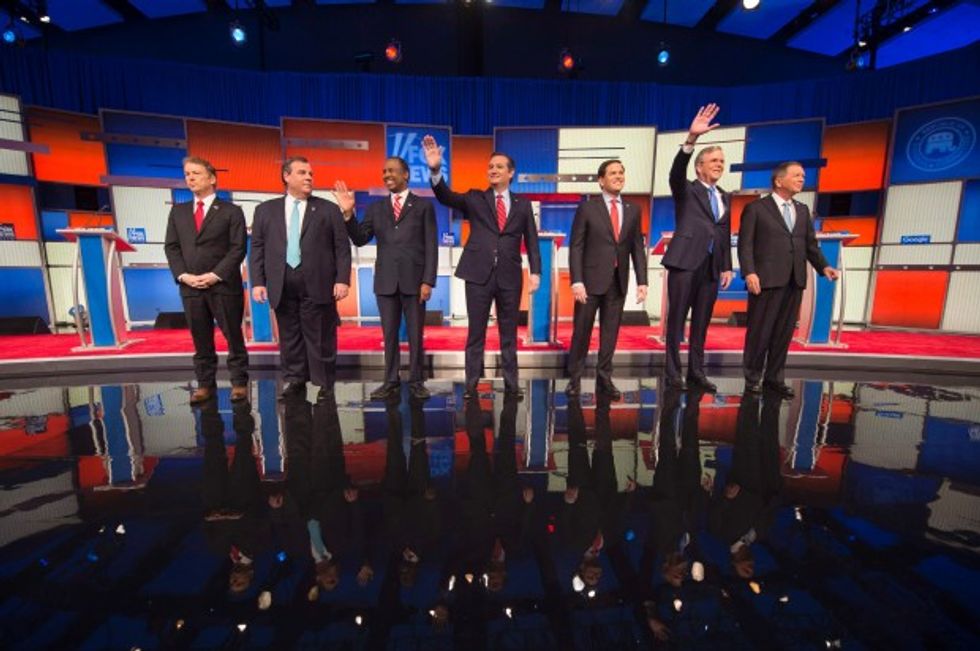 Republican candidates, left to right, Kentucky Sen. Rand Paul, New Jersey Gov. Chris Christie, Dr. Ben Carson, Texas Sen. Ted Cruz, Florida Sen. Marco Rubio, former Florida Gov. Jeb Bush and Ohio Gov. John Kasich greet the crowd at Thursday's Fox News debate. (Getty Images/Jim Watson/AFP)
Fox pulled 12.5 million viewers, a great night for any television network, but a far cry from Fox's first debate last August, when more than 24 million people tuned in. That debate also happened to be the first Republican debate of the 2016 election cycle, so it was expected to have higher than usual ratings.
On the flip side, the Fox debate had far better ratings than did Trump's event, which took place at Drake University, just a stone's throw from the debate venue. Both CNN and MSNBC carried portions of the event and had a combined 2.7 million viewers.
It is unknown what role Trump's absence played in Thursday's ratings, but it is clear that Fox's ratings did far better than the "1 or 2 million" that Trump campaign manager Corey Lewandowski said would happen with Trump's absence.
Due to the so-called "Trump factor," Thursday's debate was still the second-lowest rated GOP debate thus far in the cycle, despite the strong numbers. January's earlier debate, which was hosted by Fox Business, had a household rating of 7.4 and 11 million viewers.
Fox News will still certainly argue that the debate was a big deal for the network as it was the second highest-rated telecast in the network's 20-year history. The main debate drew 12.5 million viewers. The "undercard" debate drew 4.5 million viewers. In comparison, CNN and MSNBC drew a combined 2.7 million viewers during the main debate time.
(H/T: CNN Money)
—
Follow the author of this story on Twitter and Facebook:
[facebook //www.facebook.com/plugins/like.php?href=