President Barack Obama announced Friday that his administration is seeking to collect wage data from every American company with 100 employees or more to enforce laws against pay discrimination, after he was introduced by a women's rights icon who endorsed Hillary Clinton for president earlier that same day.
"We're proposing to collect and report pay data by race, ethnicity, and gender from businesses," Obama said, marking the seventh anniversary of the Lilly Ledbetter Fair Pay Act.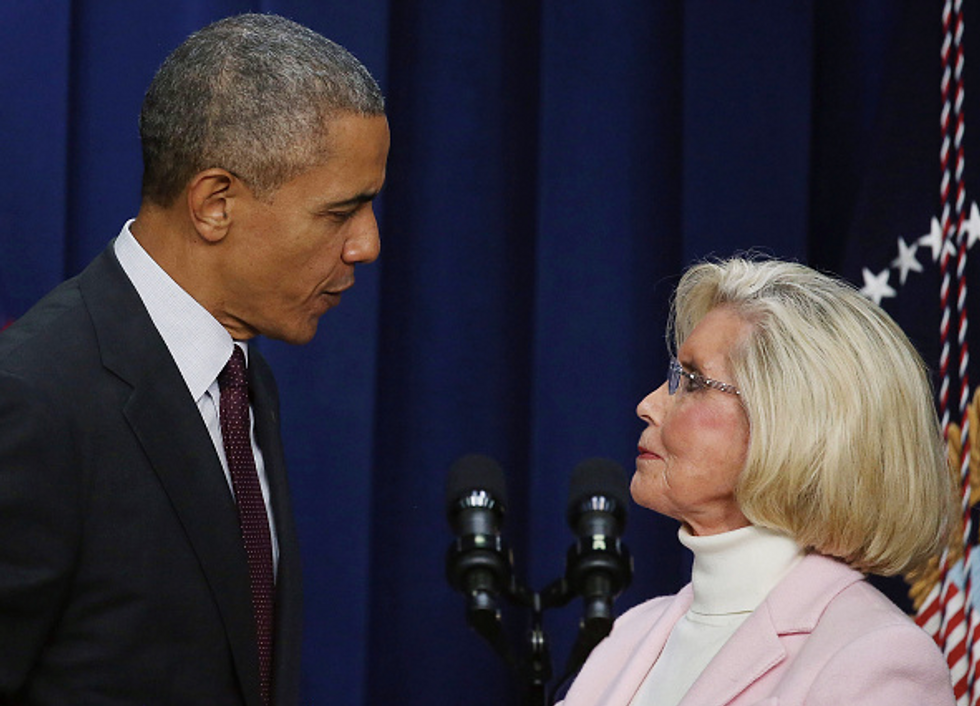 President Barack Obama stands with Lilly Ledbetter at the seventh anniversary of the signing of the Lilly Ledbetter Fair Pay Act at the White House Friday in Washington, D.C. In 2009, President Obama signed the Lilly Ledbetter Fair Pay Act, named after a woman who discovered her employer was paying her less than men doing the same job. (Mark Wilson/Getty Images)
In 2014, Obama ordered the Labor Department to collect pay information from all federal contractors. The new proposal would include all businesses with 100 employees or more.
Ledbetter, after formally endorsing, was at the White House that same day to introduce Obama at the commemoration. Ledbetter sued Goodyear for pay discrimination before retiring after 19 years because she had made $6,500 less per year than the lowest paid male supervisor. The U.S. Supreme Court threw out her case, saying she waited too long to file a complaint. The Ledbetter Act, which extended the time for which a suit can be filed, was the first public bill signing of Obama's presidency in 2009.
"It means they're not getting the fair shot we believe each American deserves," Obama said at the signing. "What kind of example does paying women less set for our sons and our daughters?"
Obama said this continues to be a problem.
"The typical woman who works full-time still earns 79 cents for every dollar the typical man does," Obama stated. "The gap is even wider for women of color. If you are a black working woman makes only 60 cents, the typical Latino woman makes only 55 cents for every dollar a white man earns. That's not right. We're talking about, often times, people doing the same job and being paid differently."
However, the Obama White House has a less than exemplary record on equal pay, according to a 2013 study by the American Enterprise Institute found women working in the White House are paid 88 cents for every $1 a man is paid, slightly better than the national average. Separately, 2011 data reportedly found that female employees at the White House earned about 18 percent less than their male counterparts.
Pushing this proposal could be key in an election year after Democrats had luck with the "war on women" slogan in the 2012 election cycle.