Roughly 50 student protesters at the University of California-Santa Barbara stood outside a campus job fair Thursday to express their outrage at the fair's inclusion of a U.S. Customs and Border Protection booth that was set up to recruit students.
The protesters gathered together, chanting "F**k your borders, f**k your walls" and "Hey, hey, ho, ho, CBP has got to go," as they held up signs and slogans, including a banner that read "Undocumented and Unafraid," according to the College Fix.
"We do have undocumented students here on campus who are at potential risk," said UCSB graduate student Idalia Robles, the College Fix reported. "This is a very triggering event for people in those circumstances. There is no space on this campus for an organization that continues to threaten the safety of students."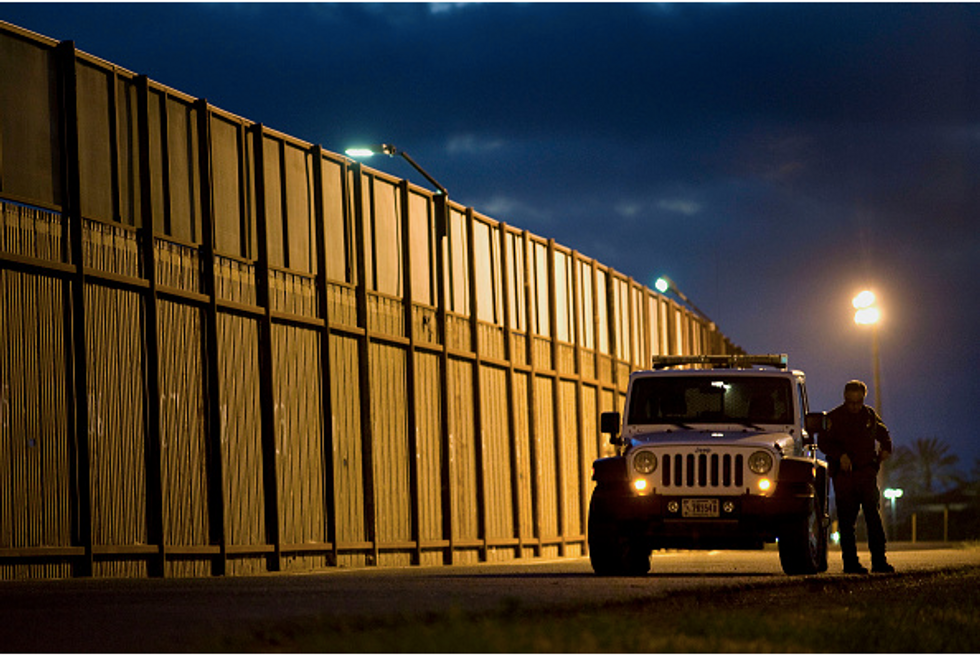 A U.S. Border Patrol agent stands outside his vehicle next to the U.S.-Mexico border fence in San Diego, California. (David Maung/Bloomberg via Getty Images)
The trouble began when UCSB students were notified via email Monday that the student fair would include a booth set up by the CBP.
"Uniformed CBP staff will be on site with the sole purpose of providing students with information about a broad range of career opportunities. The CBP personnel will be attending in a recruitment capacity," the email read. "CBP recently launched a national recruiting strategy to aggressively recruit women, minorities, veterans, and college students. ... Current openings entail not only frontline law-enforcement positions, but also a variety of administrative, professional, and technical functions."
Some students, however, immediately interpreted the booth to be a human rights violation. Although most of the student protesters declined on-scene reporters' requests for interviews, although the students present appeared to represent several different on-campus organizations, the College Fix noted.
"This event is a university endorsed event, right? And there is the presence of Customs and Border Patrol. We are in a Hispanic serving institution," Robles told the College Fix. "One of the concerns that are very present in the Chicano-Latino-Mexicana community is that of immigration and the abuse of power at the hands of immigration officers ... as someone committed to social justice, I know that this is something crucial."
(Content warning: graphic language)
Not every student agreed with the protesters' condemnation for the CBP's presence at the fair, however.
"They're angry that CBP is having a booth at the Career Fair, and I think that's somewhat silly because those agents aren't here to deport anyone," student Jason Garshfield told Daily Nexus. "I don't totally approve of our immigration laws — I think they need to be reformed and I think that that's a legitimate debate — but when you get 100 people together chanting the same slogan, that's not something that's encouraging debate."
"In a society, you have to enforce laws, and those laws exist, be they just or unjust," Rick Zierer told Daily Nexus. "There are ways that we can look about maybe making legal immigration easier. We can look at more common-sense solutions than just allowing no enforcement of the border, which potentially could be very harmful to the migrants themselves."
The CBP, on the other hand, offered its approval for peaceful demonstrations.
"They have a belief that they believe in, and they don't necessarily believe in the mission that we are tasked to do," Clinton Cox, a supervisory border patrol agent, told Daily Nexus. "As long as it's a peaceful demonstration, it doesn't bother us one bit, and we encourage people to exercise their first amendment right."
The protest at the fair occurred on the very same day that UC President Janet Napolitano announced that more than 3,000 undocumented undergraduate students could have access to student loan programs funded by taxpayer dollars.