Donald Trump may have skipped the GOP debate on Thursday, but, that same night he was seen on CBS's Late Show with Stephen Colbert — debating himself.
The Colbert segment featured the Late Show host acting as moderator, asking questions of two different Trumps. The video, posted on Friday, has more than one million hits on YouTube. However, it appears to be somewhat similar to a "Trump versus Trump" debate that appeared on the syndicated "Ellen DeGeneres Show" in September 2015.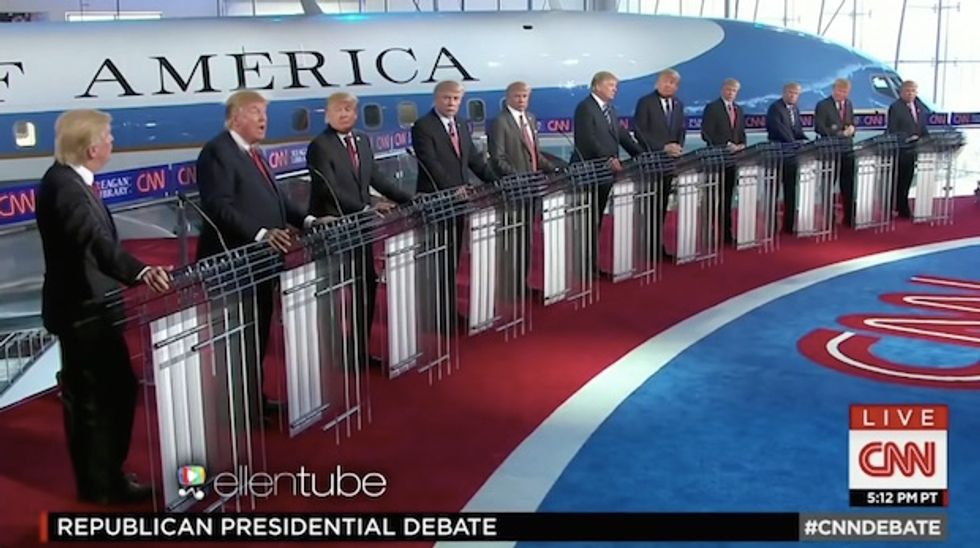 Image source: YouTube
Watch the original segment from "Ellen" as it aired on Sept. 24, 2015.
Check out the Colbert segment. The actual Trump vs. Trump debate portion kicks in starting at the three-minute mark.
What do you think? Was Colbert's sketch a lift of the Ellen video?
If you have watched both clips, tell us: Did Colbert Lift the Idea from Ellen? Take our Blaze Poll and share your comments below.
__
Follow the author of this story on Twitter and Facebook: