DES MOINES, Iowa (TheBlaze/AP) — Liberty University President Jerry Falwell Jr. touted Donald Trump's good deeds and family values to Iowa voters Saturday.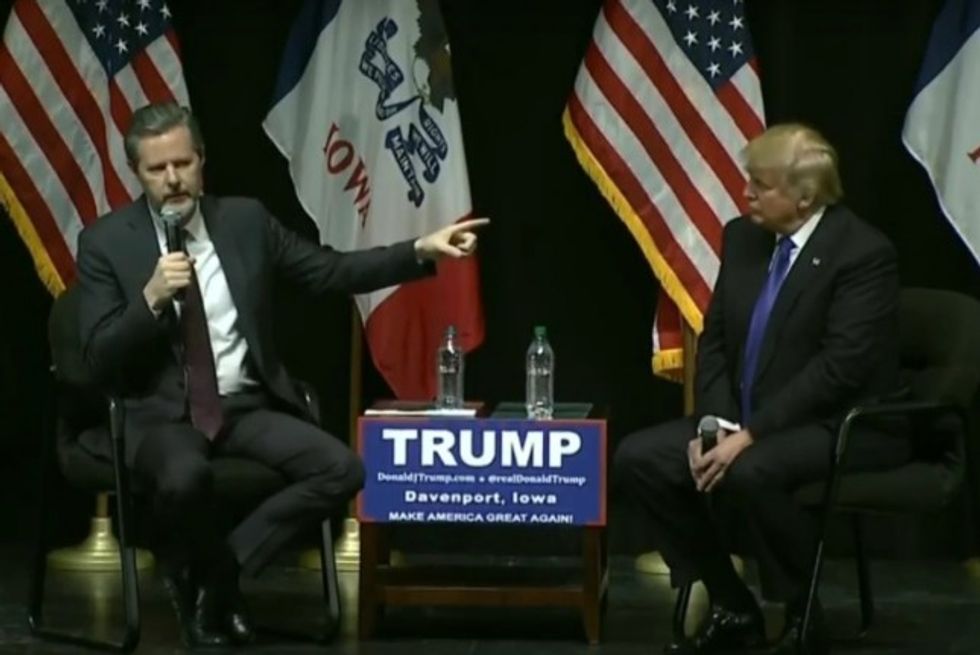 Image source: YouTube
When Falwell told the crowd in Davenport that Trump "doesn't brag," the audience laughed. "See?" Trump replied.
Then Falwell adjusted his delivery, saying the Republican presidential frontrunner doesn't boast about many of the charitable things he's done. Among a few anecdotes, he told of how Trump once paid off the mortgage of a couple who stopped to help Trump when his limo broke down on the side of the road.
Watch Falwell's relevant remarks after the 27:30 mark:
The son of televangelist Jerry Falwell endorsed Trump last week after Trump delivered a convocation speech at Liberty. He gave a similar introduction then.
Falwell Jr. said the country needs a businessman, not a career politician, as a leader.
He compared electing a president to choosing a doctor for your child. He says the goal is to choose the best doctor, who "may not be a doctor that goes to your church."
This story has been updated.