British news anchor Selina Scott, in an essay penned for the Daily Mail, wrote that Republican presidential frontrunner Donald Trump stalked her after her 1995 documentary on the billionaire businessman painted him in ways he didn't appreciate.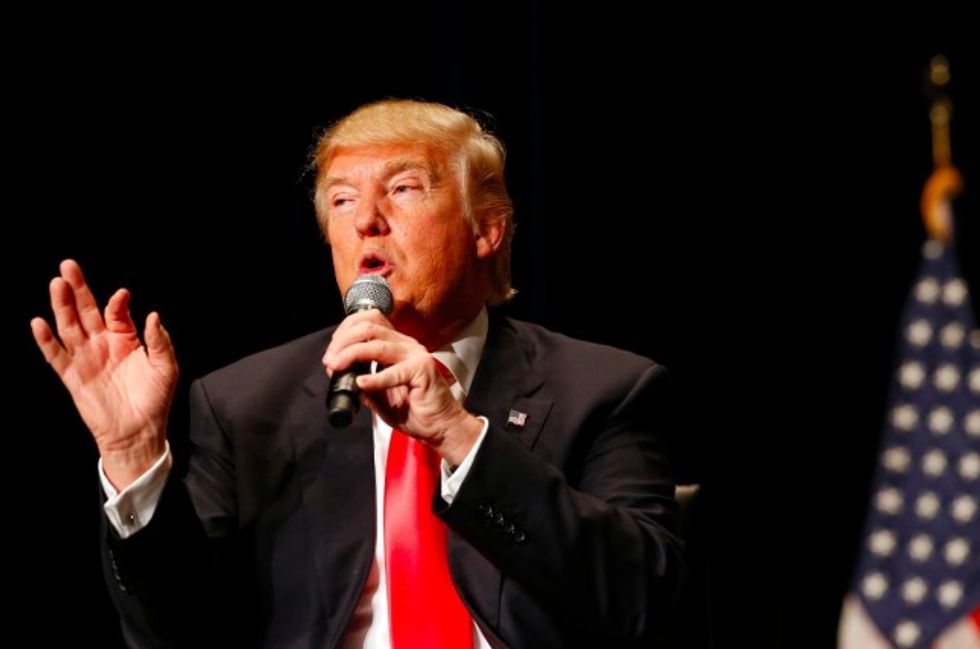 Republican presidential candidate Donald Trump speaks during a campaign event at the Orpheum Theatre in Sioux City, Iowa, Sunday, Jan. 31, 2016. (AP Photo/Patrick Semansky)
"Trump is a shark," Scott wrote for the Daily Mail. "A shark has no yesterday and no tomorrow. Just the next meal, the next victim to be destroyed and consumed. And a shark must keep moving or die."
More from Scott's piece:
Checking into my suite at the exclusive Plaza Hotel, which Trump then owned, overlooking Central Park, I was greeted by a forest of blood-red roses with a tasteful handwritten note that simply said: 'Donald.'

Later that day, when I went to meet Trump at his Manhattan office, his secretary Norma had been well briefed.

Although we had never met, she welcomed me as her "dear, dear friend." He ushered me into his panelled boardroom high above the city with magnificent views of the skyline where I was greeted not just by Trump but a phalanx of suited male business associates."Gentlemen, I would like you to meet our new partner in the deal. The legendary Selina Scott…"

I prided myself on being a pragmatic interviewer, well versed in the wiles of those seeking to make a favorable impression on camera, but by now I was beginning to feel uneasy.

As I was paraded before Trump's grinning acolytes, those words began to swim in my head.
Scott wrote that during the two weeks she spent with Trump she experienced "helicopter rides over Manhattan and private jet flights to his lavish oceanside Florida estate, a trophy property once owned by Marjorie Merriweather Post, one of the richest women in America."
"He invited me to his poolside party, boasted about his great skills as a billionaire businessman, and, most tellingly, introduced me to the two most important women in his life – his then wife Marla and his mother Mary," Scott continued.
Scott surmised in her piece that the key to understanding Trump is in his attitude toward women. More from her piece:
As Megyn Kelly, the Fox News host, discovered when she asked him about his attitude to women (he has called those he dislikes "fat pigs, dogs, slobs and disgusting animals"), the oily smile is replaced with a deep well of hate if he feels he has not emotionally seduced you.

I know. I've been there. My 60-minute documentary exposed how — through bluff, bombast and braggadocio — he had convinced the American business community he was far richer than he was and that while the rest of his rivals were "losers," he knew how to make the U.S. great.

This ability to convince others he was a commercial genius was most vividly illustrated in a helicopter ride we took over New York. Pointing to the Empire State Building, he told me he owned it.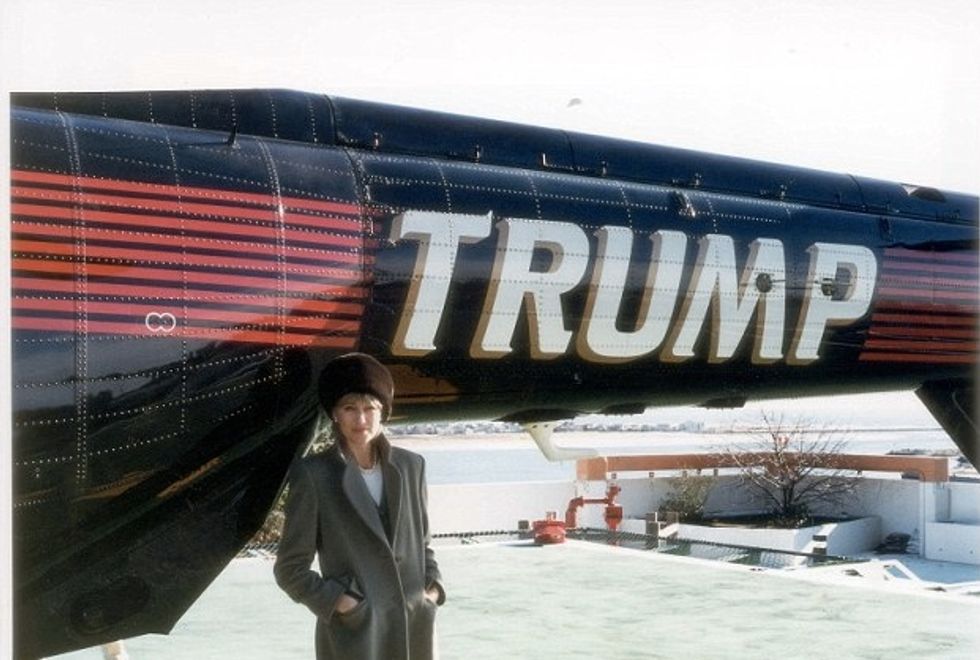 Image source: Daily Mail
"What all of it?" she recalled she asked Trump.
"Yes, 100 per cent," he replied.
Turns out Scott said Trump admitted he said he only owned 50 per cent of it, then even reduced that number — and did similarly with the Trump Taj Mahal Casino in Atlantic City.
"It's wholly owned by me," Scott said Trump told her. "Are you sure?" Scott recalled asking him.
"Well maybe 80 per cent," she said Trump replied. "Are you quite sure?" Scott said she asked.
"Well it's actually 50 per cent …" Trump answered, according to Scott.
When Scott's documentary was released, Scott wrote that Trump "went ballistic" and harassed her, which stopped "only stopped when I threatened to take legal action against him for effectively stalking me."
"Over many years he sent me a series of intimidating letters branding me 'sleazy, unattractive, obnoxious and boring,'" Scott wrote. "He said I was 'totally uptight,' and that I had begged him for a date. In his dreams!"
In her Daily Mail piece, Scott went back to her "shark analogy," noting that when it "smells blood in the water, it strikes with speed and vicious intent. And so with Trump. Any sign of vulnerability is exploited. He only understands force met with force."
Now Scott said that two decades later "the giant NBC network in America has asked to buy my Channel 4 interview about Trump, including all unused footage, to put with my original documentary for imminent broadcast."
In the end, Scott called Trump "a misogynist. I will never forget his vitriol when he told me about a female American broadcaster who he thought had done him down and his determination to get even with her."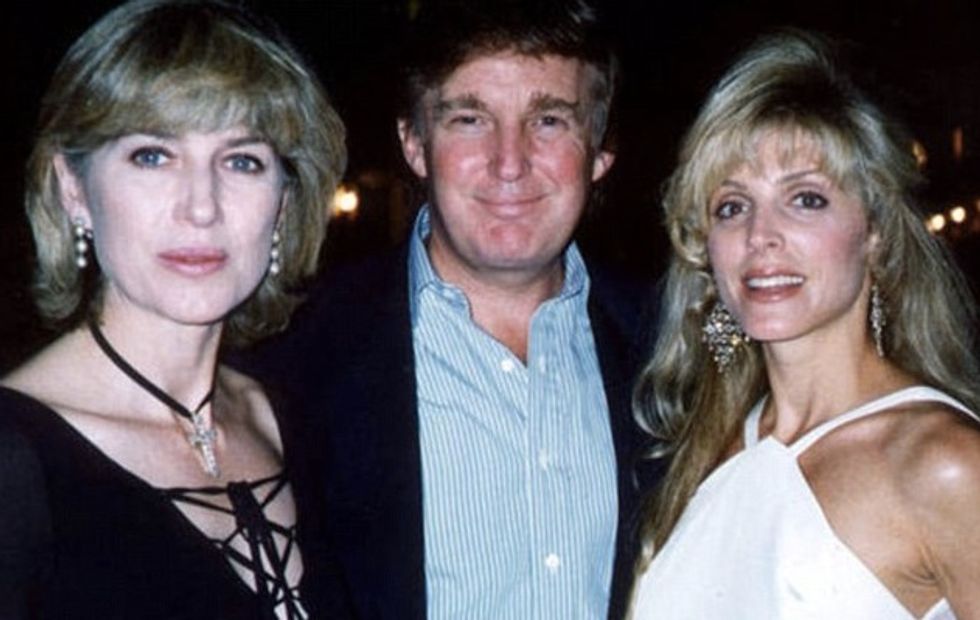 Scott (left) with Trump and Marla Maples (Image source: Daily Mail)
More from Scott's piece:
Trophy women are undoubtedly important to Trump and there would have been no bigger trophy than Princess Diana. He told friends he might have had a "shot" at her, describing her as his "dream lady."

In his 1997 book, "The Art Of The Comeback," he wrote: "I only have one regret in the woman department, that I never had the opportunity to court Lady Diana Spencer. I met her on a number of occasions... She lit up the room with her charm, her presence."

Diana told me: "He gives me the creeps."

Trump's father exhorted his son to always be a "killer," a curious indoctrination which he has clearly taken to heart.

His incendiary pledges have led to warnings he would set the world in flames if he makes it to the Oval Office.

Quite what the women of America, who now hold Trump's fate in their hands, will make of his "killer" mentality, we will soon know.
(H/T: Daily Mail)