Some Hillary Clinton Iowa caucus leaders might have supporters back fellow Democratic presidential candidate Martin O'Malley on Monday — all in an effort to hurt Sen. Bernie Sanders.
According to Buzzfeed, Clinton's campaign has trained certain Iowa precinct captains to have supporters back O'Malley in a way to make him more "viable" without hurting the former secretary of state. More than 4,000 precinct captains have been trained to handle a variety of different caucus scenarios such as releasing supporters to another candidate.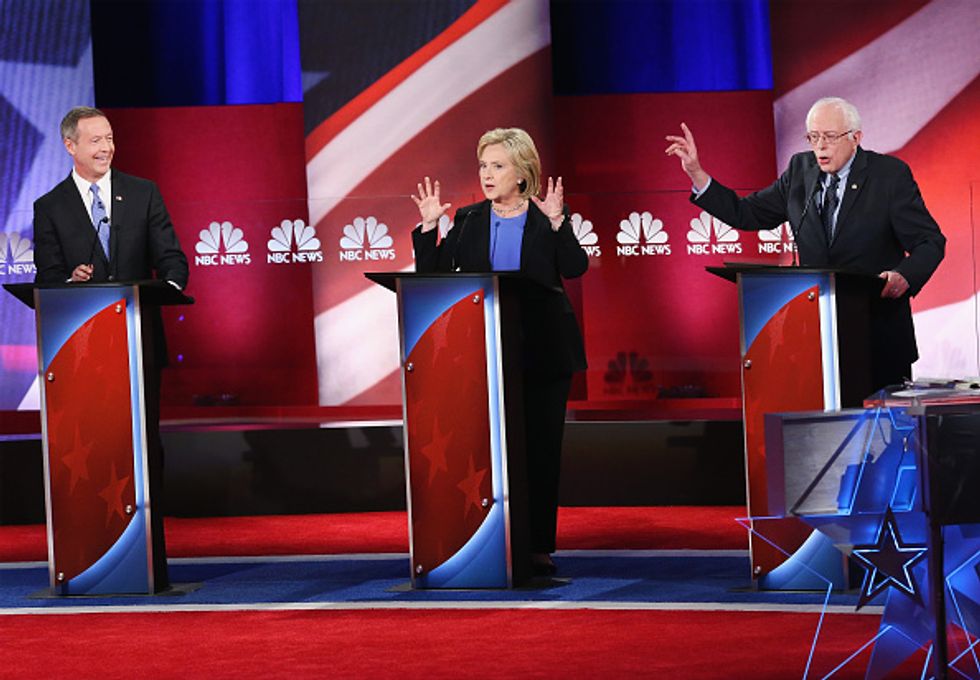 Democratic presidential candidates Martin OMalley (L), Hillary Clinton (C) and Senator Bernie Sanders (I-VT) participate in the Democratic Candidates Debate hosted by NBC News and YouTube on January 17, 2016 in Charleston, South Carolina. (Photo by Andrew Burton/Getty Images)
"Our precinct leadership teams have worked hard to get to know as many people in their precincts as possible, and they'll use those relationships to maximize Hillary Clinton's delegate count depending on which groups are viable on caucus night," an aide told Buzzfeed.
Volunteers even have an app to help organize Clinton's — and potentially O'Malley's — supporters, according to Buzzfeed. The app shows the number of caucus attendees and allows the user to divvy up supporters between candidates. This allows Clinton's volunteers to see how many people, if any, they can give to O'Malley to boost his viability without actually hurting her own.
While caucus rules allow for this strategy, a Sanders caucus strategist told Buzzfeed that his campaign has no such plans.
"It's sad and telling that their campaign doesn't think they can win without these kinds of tactics," Rania Batrice, Sanders's Iowa spokesperson, said. "At the end of the day though, we believe in the caucus process and know it's in the very capable hands of Iowans."
The plan is not to cost Clinton any delegates in Iowa's 1,681 caucuses. 
According to Real Clear Politics' aggregated polling data, Clinton leads in Iowa by 3.3 points with 47.3 percent. Sanders has 44.0 percent, and O'Malley has 4.4 percent.
(H/T: Buzzfeed)