Former Alaska Gov. Sarah Palin was visibly annoyed with "Today" co-host Savannah Guthrie on Monday after the journalist broke what Palin interpreted as a "promise" to not to ask about her son Track Palin.
"I want to ask you about something you mentioned on the campaign trail, which is the arrest of your son Track. You talked about it, and then you mentioned PTSD and you said that President Obama may be to blame for some of the PTSD that's out there," Guthrie said.
"I never said that," Palin shot back. "You guys brought me here to talk about Iowa politics and the caucus tonight, not to talk about my kids. And that was a promise."
She added, "But as things go in the world of media, you guys don't always keep your promises evidently."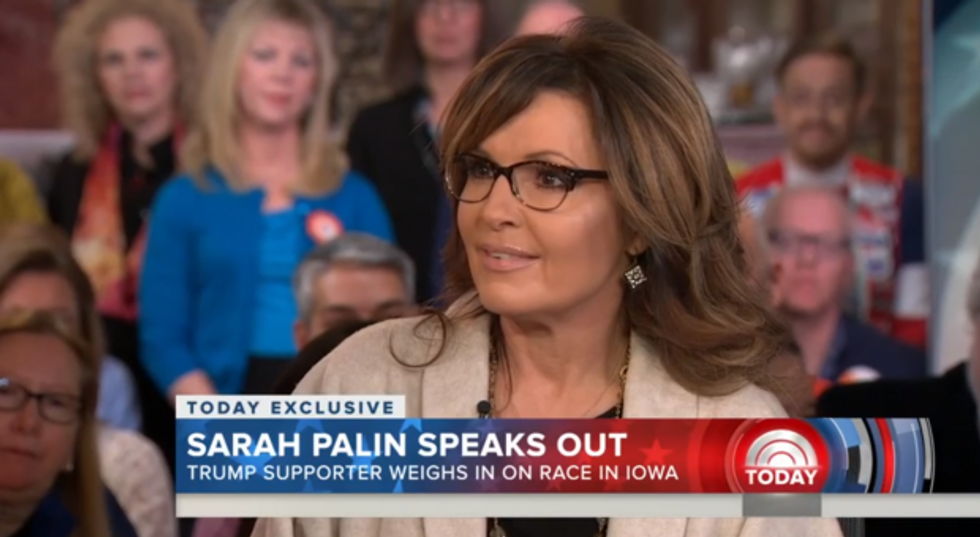 NBC
Palin went on to defend her comments, saying she blames President Barack Obama for his "level of disrespect for the United States military."
"Today" host Matt Lauer later claimed "there were no specific promises made about content of the interview, only that this would be your first interview since you endorsed Donald Trump."
"Well, I was told that this interview is about the caucus tonight in Iowa," Palin replied.
Watch the interaction below via NBC:
For context, here's what Palin actually said about post-traumatic stress disorder, her son and Obama:
But my son, like so many others—they come back a bit different. They come back hardened. They come back wondering if there is that respect for what it is that their fellow soldiers and airmen and every other member of the military so sacrificially have given to this country. And that starts from the top. It's a shame that our military personnel even have to wonder, if they have to question if they are respected anymore.

That comes from our own president. Where they have to look at him and wonder, "Do you know what we go through? Do you know what we're trying to do to secure America?"

So when my own son is going through what he goes through coming back, I can certainly relate with other families who kind of feel these ramifications of some PTSD and some of the woundedness that our soldiers do return with.

And it makes me realize, more than ever, it is now or never, for the sake of America's finest, that we have that commander-in-chief who will respect them and honor them.
---