TEHRAN, Iran (AP) — Iran said Monday it now has access to more than $100 billion worth of frozen overseas assets following the implementation of a landmark nuclear deal with world powers.
Government spokesman Mohammad Bagher Nobakht said much of the money had been piling up in banks in China, India, Japan, South Korea and Turkey since international sanctions were tightened in 2012 over Tehran's nuclear program.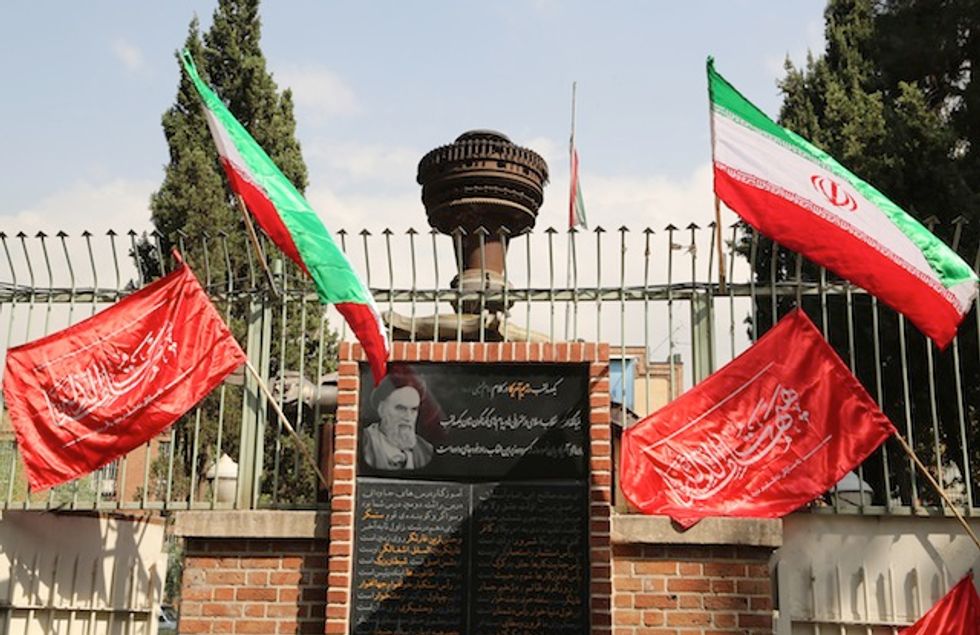 Iranian national flags (top) flutter above red religious banners during the inauguration of a memorial plaque bearing one hundred anti-American comments made by the Islamic republic's late founder Ayatollah Ruhollah Khomeini and displayed on the fence of the former American embassy in Tehran, on September 2, 2015. The leader of the Islamic revolution dubbed the United States the 'Great Satan' on account of its policies and support for Shah Mohammad Reza Pahlavi, the last royal ruler before the Islamic Republic was founded. (Atta Kenare/AFP/Getty Images)
Iran's semi-official ISNA news agency meanwhile quoted central bank official Nasser Hakimi as saying nine Iranian banks are now reconnected to SWIFT, a Belgian-based cooperative that handles wire transfers between financial institutions. No foreign banks operate in Iran, and ATMs in Iran are not yet linked to the global system.
The historic agreement brought about the lifting of international sanctions last month after the U.N. certified that Iran has met all its commitments to curbing its nuclear activities under last summer's accord.
"These assets ($100 billion) have fully been released and we can use them," Nobakht said in comments posted on the website of state-run Press TV. He said much of the money belongs to CBI and the country's National Development Fund. He said Iran will not bring all the money back because it can be spent on purchasing goods.
Iran expects an economic breakthrough after the lifting of sanctions, which will allow it to access overseas assets and sell crude oil more freely.
Mohsen Jalalpour, the head of Iran's Chamber of Commerce, said on state TV Monday that Iranian businessmen are already able to open letters of credit for transactions in other countries.