Microsoft's search engine has predicted that GOP presidential contender Donald Trump won't just win over Iowa Monday night — he'll win all four February primaries and caucuses.
Bing announced its predictions Feb. 1, the day of the Iowa caucuses. Bing Predicts, part of the search engine's Election Center, predicted Trump to take Iowa as well as New Hampshire, South Carolina and Nevada. The search engine has predicted that Democratic presidential contender Hillary Clinton will take all but New Hampshire – which Bing predicted will go to Vermont Sen. Bernie Sanders.
In a blog post about the predictions, Bing said it expects a "close race for both parties" in Iowa with Trump winning 39.8 percent of Iowans compared to Texas Sen. Ted Cruz with 30.5 percent and Florida Sen. Marco Rubio with 12.9 percent. Clinton is predicted to come away with 50.1 percent of the votes compared to Sanders' 46.8 percent.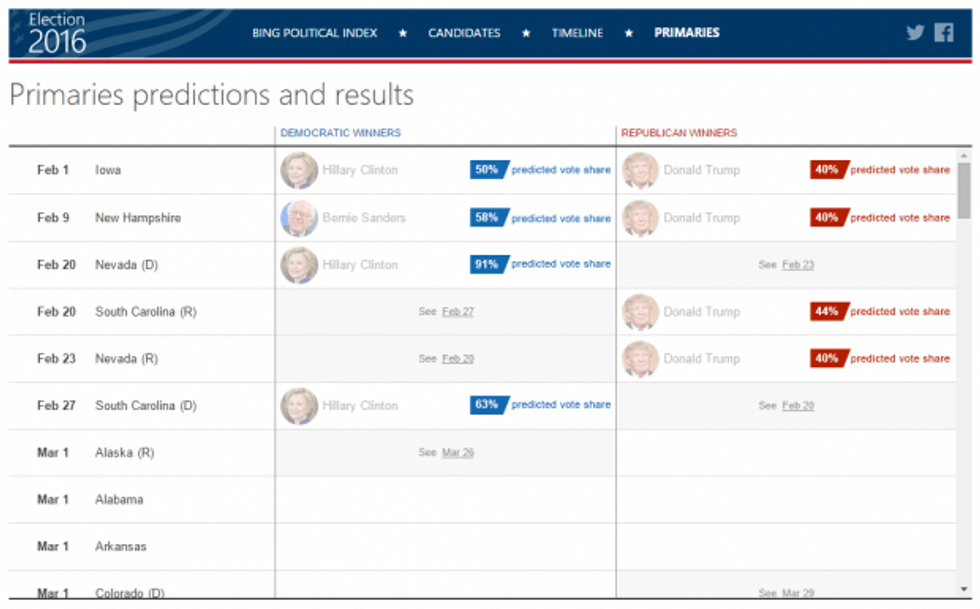 GOP presidential candidate Donald Trump will come up big and sweep the four February caucuses and primaries, according to Bing Predicts. (Screen grab via Bing.)
"Winning over the Iowa Caucus can give a candidate a head start in the race for the final nomination, but there's no guarantee he or she will get their party's nod," the blog noted. "In 2008, Barack Obama went on from his Iowa win to secure the Democratic Party's nomination, while Mike Huckabee, who won the Republican caucuses, withdrew from the race a couple of months later."
The predictions will be added to the Bing Political Index, the search engine's site that compares presidential candidates' stances on political issues with American public stances.  
Both parties have partnered with Microsoft for the Iowa caucuses and are using apps for phones and tablets that will allow for caucus precincts to report voting results to campaign headquarters and the media, Verge reported. The apps are expected to collect more accurate data and results than the previous system of telephone surveys.
In its blog post about the predictions, Bing Predicts cited its success in the 2014 midterm elections as well as its call for the "no" vote on the Scottish Referendum as the search engine's past success stories.
—