Over the weekend, Ted Cruz was confronted by an angry farmer in Iowa who wanted to go toe-to-toe with the Texas senator for his stance on ethanol. Cruz is against the renewable fuel standard for ethanol — a key issue for Iowans.
"Why are you trying to put salt on the injury by wanting to take away our subsides for biofuels?" the man initially asks Cruz.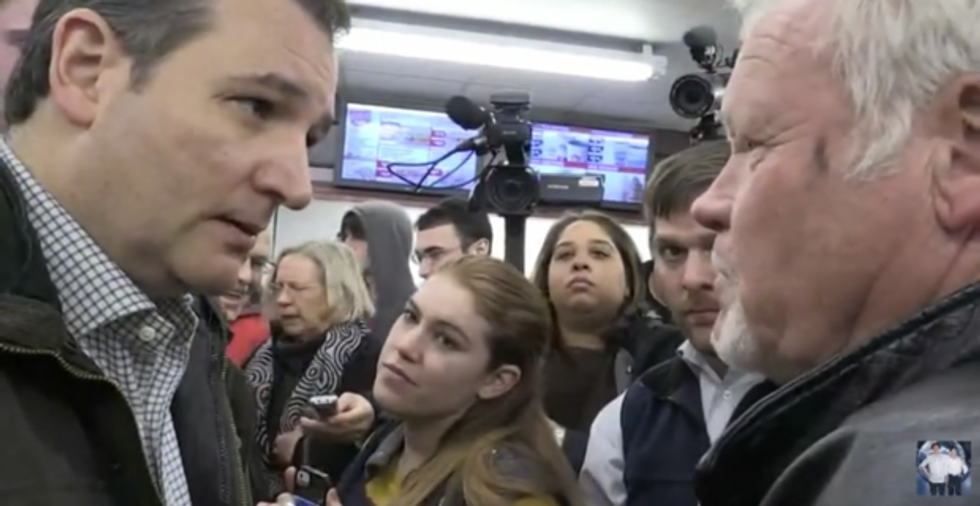 Image source: Youtube/screenshot
What followed was a tense exchange between the two. However, Cruz took seven minutes and explained to the farmer that he isn't "anti-ethanol," which his opposition, including Iowa Gov. Terry Branstad, likes to claim.
Instead, Cruz laid out his position, which includes eliminating the ethanol blend wall, eliminating the death tax, and phasing out the Renewable Fuel Standard. Cruz explained that his position includes phasing out the ethanol-mandate over the course of five nears, not immediately ending it.
Cruz explained, "If I'm elected president, the impact for Iowa farmers, the market for ethanol will be much bigger, than it is right now. And it won't be through a mandate or subside. It will simply be repealing an unreasonable regulation and enabling ethanol to compete on a level playing field."
"A level playing field will benefit Iowa farmers by expanding the market place, enabling you to sell more corn and more ethanol," he added.
By the end of the exchange, the farmer actually changed his tune. "I hope the farmers vote for you," he said.
Watch the exchange below:
—
Follow the author of this story on Twitter and Facebook:
[facebook //www.facebook.com/plugins/like.php?href=