Tuesday marked the first one-on-one meeting between President Barack Obama and House Speaker Paul Ryan (R-Wis.), two men who have a significant history of political clashes but hope to find areas of agreement.
Ryan attended a meeting at the White House along with Senate Majority Leader Mitch McConnell (R-Ky.) and then had a private lunch with the president afterwards.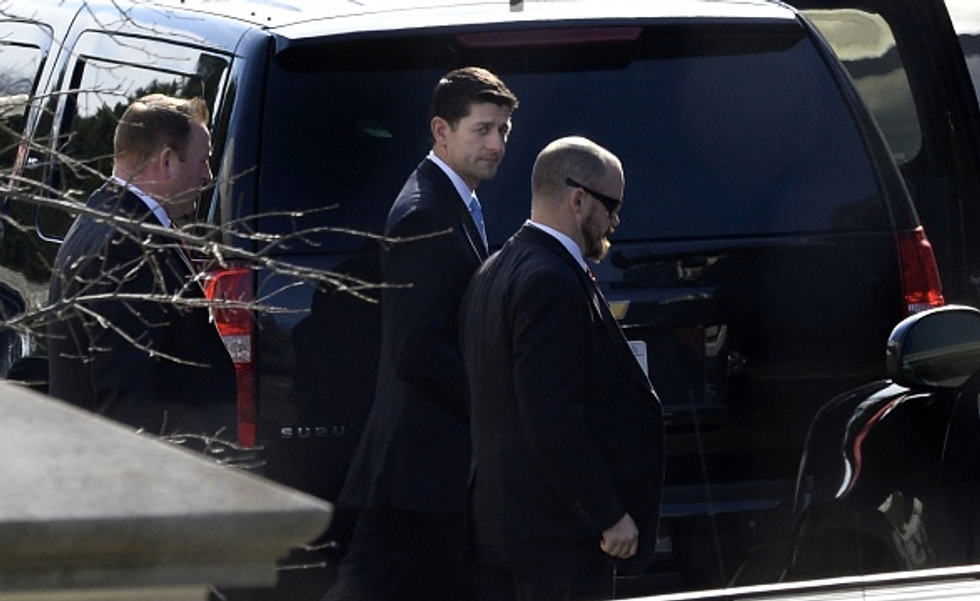 House Speaker Paul Ryan (R-Wis.) leaves the White House after meeting with President Barack Obama Tuesday in Washington, D.C. (Olivier Douliery/Getty Images)
White House press secretary Josh Earnest said that Obama wanted to talk about passing the Trans Pacific Partnership, expanding cancer research, fighting heroin addiction, assisting Puerto Rico's severe financial situation and passing criminal justice reform.
"For all of the divisiveness and hateful rhetoric and pessimism and partisanship that we see on the campaign trail, it actually is possible for leading Republicans to sit down in the same office with a leading Democrat and have a conversation about the priorities of the country," Earnest told reporters Tuesday. "It's not treasonous to do that. In fact, it's part of the responsibility that goes along with leadership."
Earnest talked about what was on the president's agenda but did not talk about what Ryan or McConnell discussed.
The Republican leaders didn't talk to reporters at the White House after the meeting, but Ryan's office issued a statement preemptively criticizing Obama's planned budget proposal set to be released in seven days for never balancing the budget and for raising taxes.
Obama and Ryan were on opposing tickets in the 2012 presidential race when Ryan ran for vice president under Republican presidential nominees Mitt Romney.
Ryan also gained much notoriety in February 2010 when he spoke up against the Obamacare proposal in the lead up to a vote in Congress during a televised meeting between Obama and members of Congress.
Earnest noted that an election year might help some Republicans in Congress remember that Obama is not on the ballot, thus making it easier for them to work with him.
"Maybe it's easier for Republicans to do that knowing that the president's not on the ballot. Speaker Ryan said he was reminded of that today," Earnest said. "If that makes it easier for us to get some business done in Congress that's going to benefit the American people, then maybe we should hold the Iowa caucus every day."