Police have jailed a man they believe to be a jealous ex-boyfriend who opened fired on his former girlfriend's date outside a Whataburger in Arlington, Texas.
After the incident, the man drove away in a reckless manner that had many drivers fearing for their lives., KTVT-TV reported.
According to police, the man followed an SUV with his ex-girlfriend and her new boyfriend in it to Whataburger. He then followed the couple inside the restaurant.
That's when police said the suspect opened fire, striking the boyfriend with several shots.
Afterwards, Arlington police officers chased the man, who fled the scene in his vehicle.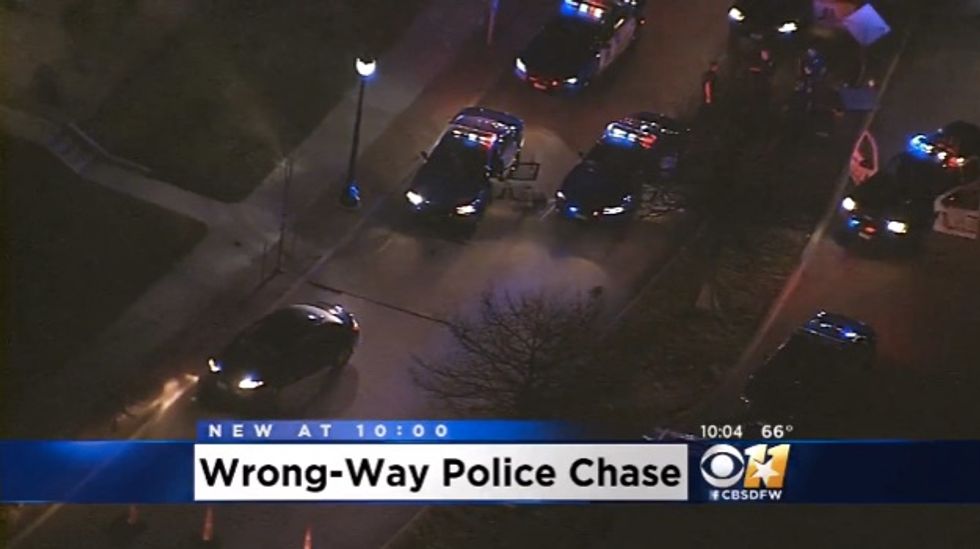 Image source: KTVT-TV
The man drove carelessly through Fort Worth and then Euless, with police trailing him for about a half an hour. At one point he made a U-turn on Highway 183 into oncoming traffic.
"I was terrified. I was like — I don't even know what to think. It was terrifying," Carley Minniear, a woman who witnessed the chase, told KTVT.
She had only a brief moment to react when she spotted the suspect flying erratically down the highway. "All of a sudden this car is trying to drive down the middle of the lane. He hits the guy in front of me and then me and then the charter bus and the person behind me," she said.
Milton Bradley, who was driving the charter bus at the time, braced himself for a direct hit. "It was either him or me, and all I could say was 'oh well,' and luckily he pulled to the right," he said.
The chase finally came to a close outside a Euless apartment complex.
Katherine Smith, a resident of the complex, described hearing loud sirens outside her window. "The police had pulled over a car and over the horn were asking the gentleman, the person inside the car, to come out," she said.
According to police, the suspect then surrendered.
Jail records reveal that Reuben Rivera was booked into the Arlington jail soon after the arrest.
The boyfriend whom Rivera reportedly shot was taken to the hospital but has yet to be identified. His condition is unknown.
(H/T: KTVT-TV)