Sen. Tim Scott (R-S.C.) has endorsed Florida Sen. Marco Rubio for president.
As Politico reported, Scott is the only black Republican senator, and his endorsement is much-coveted among the GOP presidential contenders. Scott's endorsement came in a video released Tuesday, the day after the Iowa caucuses.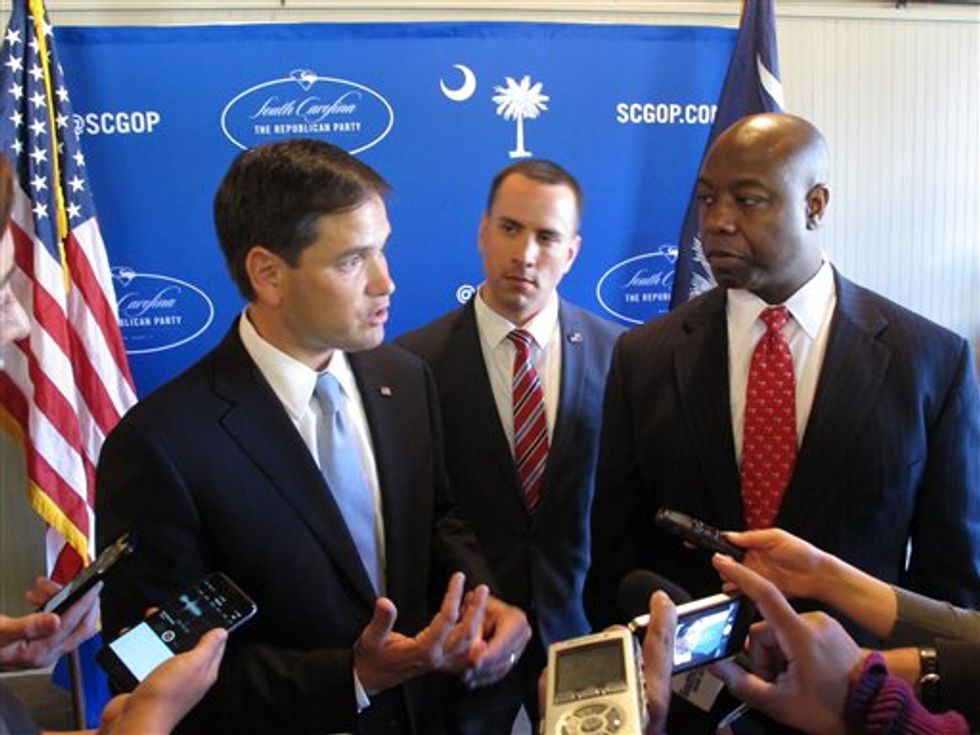 U.S. Sen. Marco Rubio, left, South Carolina Republican Party Chairman Matt Moore, center, and U.S. Sen. Tim Scott, right, speak to reporters on Wednesday, Oct. 22, 2014, in Columbia, S.C. Rubio was in Columbia for a Republican Party fundraiser. (AP Photo/Jeffrey Collins)
"I am putting my confidence and my trust in Marco Rubio, because I believe that he takes us to that better future," Scott said. "Marco Rubio understands that here in America, it's not about where you start, it's about where you are going."
Scott continued to say that Rubio is the only Republican presidential contender who has a shot at beating Democratic presidential candidate Hillary Clinton.
Scott has worked with a variety of the GOP presidential candidates as he's hosted town halls with many of them throughout the Palmetto State. Scott co-hosted the town halls with South Carolina Rep. Trey Gowdy (R) who also endorsed Rubio.
Rubio participated in "Tim's Town Halls" in September in North Charleston.
South Carolina's other senator, Lindsey Graham, has already endorsed a different Floridian — former Gov. Jeb Bush. Graham unsuccessfully launched his own bid for the 2016 presidency but ended his campaign in December.
According to Real Clear Politics' aggregated polling data, Rubio is polling in third place behind business mogul Donald Trump and Texas Sen. Ted Cruz.
Watch Scott's video below.
This story has been updated. 
—