Howard Dean, the former chairman of the Democratic National Committee, claimed on MSNBC's "Morning Joe" Wednesday morning that Hillary Clinton has never been paid large sums of money to give speeches on college campuses. But he was quickly shot down by one of the show's executive producers.
Show co-host Mika Brzezinski opined that it's a "big problem" that students graduate from college with debt in excess of $100,000, but Hillary Clinton can make upwards of a quarter million dollars for just one hour of her time.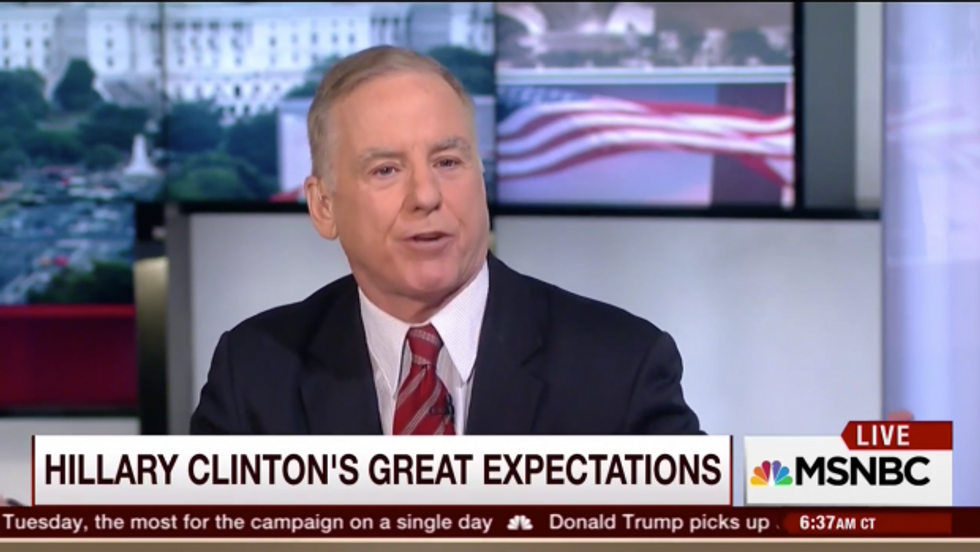 Image source: YouTube
When other guests on the panel began to agree with Brzezinski, Dean spoke up, denying the accusations from Brzezinski and the others. Show host Joe Scarborough, however, didn't buy Dean's claims and quickly asked a show producer to google the facts.
"Howard, it's a matter of record!" Scarborough barked. "Alex, Google it and we'll give him the answer in 10 seconds."
As Dean went on to continue to defend Clinton, getting the rest of the panel to agree that she has a likable personality, he eventually argued that if Clinton were a man, she wouldn't be getting the same criticism for her lavish speaking prices.
But executive producer Alex Korman was quick to interject, explaining, "UNLV in October of 2014, she got $225,000. Then a month later, UCLA, she got $300,000."
Being proved wrong, Dean manned up. "I stand corrected," he said. "I will humbly eat crow, Joe. Do you have a serving of crow?"
Watch a portion of the segment below:
(H/T: Mediaite)
—
Follow the author of this story on Twitter and Facebook:
[facebook //www.facebook.com/plugins/like.php?href=