HENNIKER, N.H. – At a town hall in New Hampshire Wednesday, Sen. Ted Cruz (R-Texas) challenged what he characterized as the conventional wisdom that he can't win the state's upcoming primary.
Cruz said he was thankful for the "incredible" victory he won in Iowa Monday evening.
"You know, the night before, I was watching the TV news, and every station, every pundit there said we couldn't win," Cruz said. "One pundit after another, after another, 'there's no way Cruz can win.' … Oddly enough, they all said some fellow named Trump was going to win."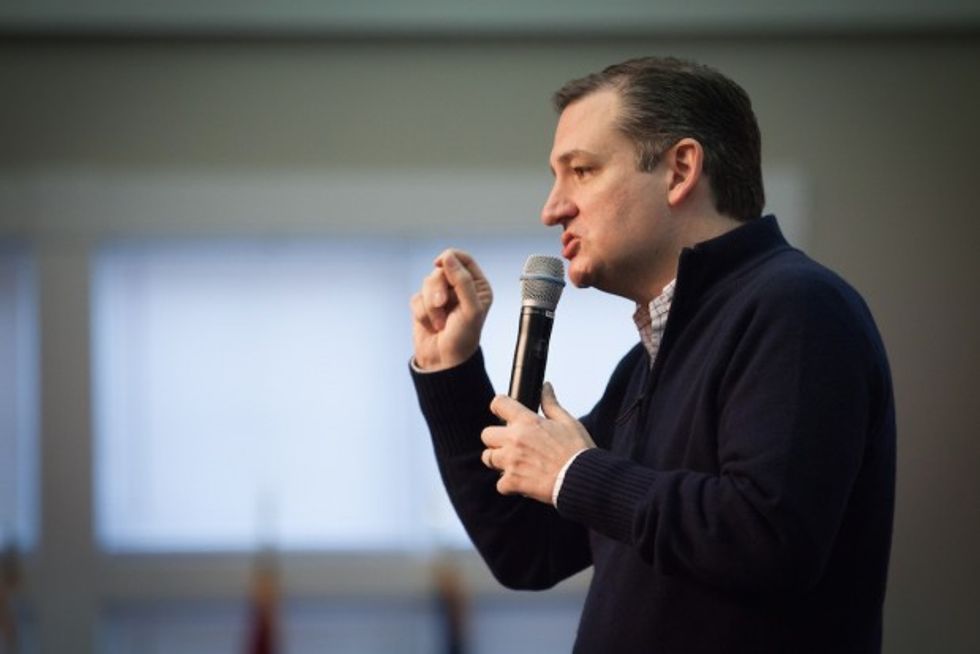 Republican presidential candidate Texas Sen. Ted Cruz speaks at New England College Wednesday in Henniker, New Hampshire. (Matthew Cavanaugh/Getty Images)
Cruz currently trails his rival Donald Trump in polls for the first-in-the-nation primary, which, as Cruz noted, was also the case in Iowa — before he won.
Cruz said that his "record-shattering turnout" can be attributed to conservatives who "put the country on notice that the media is not going to pick the next Republican nominee or the next president of the United States."
Cruz cast himself as a long-shot conservative candidate in the state, much like former President Ronald Reagan was when he won the New Hampshire primary.
"Thirty-six years ago, the state of New Hampshire faced a similar election," Cruz said. "An election where the stakes were every bit as great as they are today. And thirty-six years ago, the Granite State saw the former governor of California coming to it with all of the media saying, 'This guy can't win,' with all of the media saying, 'This guy is too far to the right, he's too conservative.' And besides, the media told New Hampshire, he's 15-20 points behind in the polls.
"And yet, the men and women of this state took a look at the candidates, examined their records, and said 'we're tired of candidates who haven't walked the walk. We're tired of campaign conservatives who can give a good talk, but don't stand when it matters."
Cruz said that the men and women of New Hampshire handed Reagan "a stunning upset victory" that "gave the United States and the world Ronald Wilson Reagan."
"We're in a similar moment," Cruz said.
Since Reagan's victory in the Granite State, more moderate Republicans have a history of winning the New Hampshire primary. Arizona Sen. John McCain won the New Hampshire Republican primary in 2008, and former Massachusetts Gov. Mitt Romney won in 2012.
Cruz spokesman Rick Tyler told Reuters that "that we expect to do well" in New Hampshire.
—
Follow Kate Scanlon (@kgscanlon) on Twitter