President Barack Obama would likely veto a bill shutting down the controversial Operation Choke Point and similar tactics used by federal regulators to financially target disfavored industries such as gun stores and payday lenders.
"Imposing burdensome and arbitrary standards hinder the ability of Federal financial regulators to protect the financial system and consumers from unnecessary risks," said a release from the White House Office of Management and Budget. "If the president were presented with H.R. 766, his senior advisors would recommend that he veto the bill."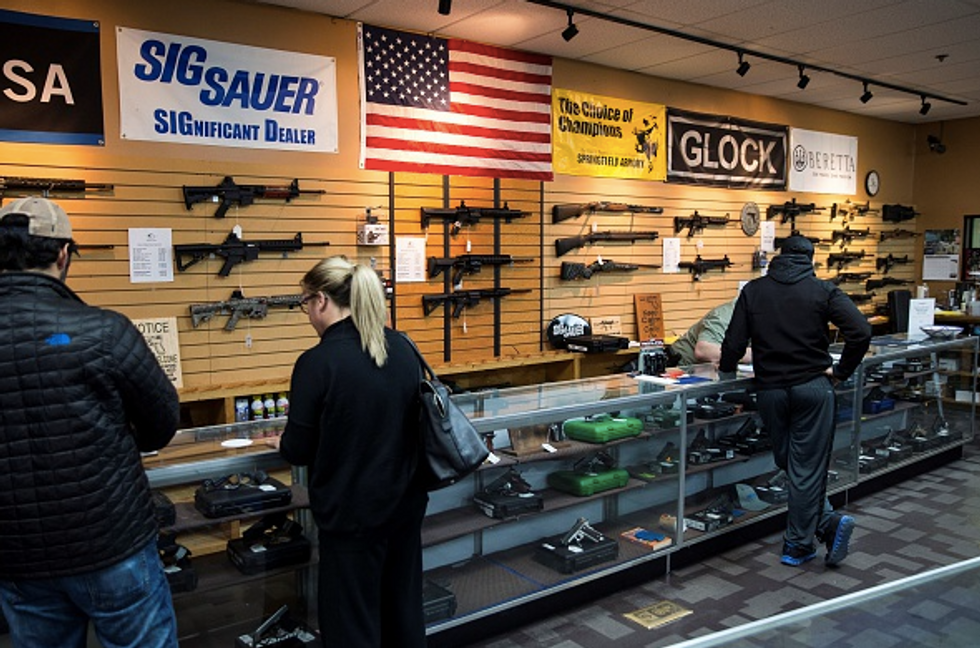 Gun stores are one of the types of businesses targeted by the controversial Operation Choke Point. (Samuel Corum/Anadolu Agency/Getty Images)
Operation Choke Point is run through the Department of Justice, the Federal Deposit Insurance Corporation and the Consumer Financial Protection Board and targets how banks handle accounts with the gun industry, payday lenders, casinos, check cashers and debt collectors, among other businesses deemed "high risk" by the government.
Rep. Blaine Luetkemeyer (R-Mo.) introduced legislation to roll back the program by preventing regulatory agencies and the Federal Reserve — which oversees the CFPB — from ordering closures of bank accounts without material reason. Operation Choke Point could order banks to restrict ties with a company over "reputational risk." Luetkemeyer's legislation further amend the Financial Institutions Reform, Recovery, and Enforcement Act (FIRREA) that would prevent a federal agency subpoena power could not be used in fishing expeditions.
The National Rifle Association expressed support for the legislation, describing Operation Choke Point as an Obama administration strategy to "harass and intimidate banks and financial institutions that work with firearm and ammunition retailers."
"Congressman Luetkemeyer's legislation puts an end to the Obama administration's unwarranted attacks upon a legal and thriving sector of the American economy," said Chris Cox, executive director of NRA's Institute for Legislative Action. "On behalf of the NRA's 5 million members, I'd like to thank Congressman Luetkemeyer for his steadfast support of the Second Amendment and congratulate him on the passage of H.R. 766."
The FDIC and the Justice Department had rolled back the operation after controversy roiled. However, the CFPB — which is not subject to congressional oversight — picked up the operation's tasks.
The OMB argued this legislation would tie the hands of regulators.
"Requiring federal banking agencies to satisfy a written materiality requirement is unnecessary, overly burdensome, and could impede the federal banking agencies' ability to ensure financial institutions comply with important regulatory obligations, including maintaining effective risk management and controls," the OMB said. "Restricting the federal banking agencies in this way could unnecessarily and dangerously hinder or compromise important law enforcement and national security efforts."
This post was updated to include a comment from Chris Cox, executive director of NRA's Institute for Legislative Action.