Republican presidential front-runner Donald Trump resurrected questions of President Barack Obama's religion Wednesday, saying that the president chose to visit a mosque in Baltimore because "maybe he feels comfortable there."
The Manhattan mogul's comments came during an interview with Greta Van Susteren Wednesday night on the Fox News channel.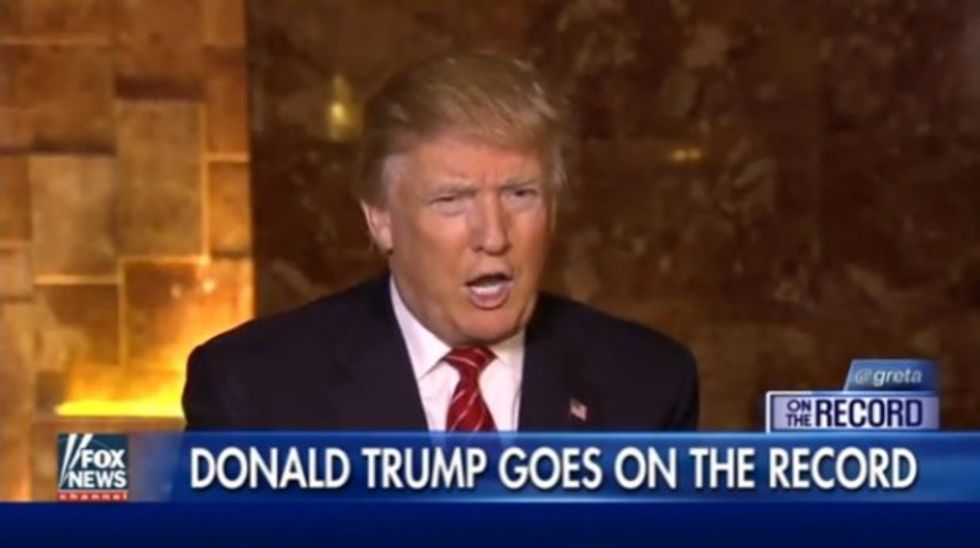 Image source: Fox News
"I think that we can go to lots of places. I don't know, maybe he feels comfortable there," Trump told Van Susteren. "We have a lot of problems in this country, Greta. There are a lot of places he can go, and he chose a mosque."
Trump added that the decision was Obama's to make and that ultimately "it's fine."
Obama's visit to the Islamic Society of Baltimore was his first visit to a mosque as president. During remarks there, Obama chided Republicans for the "inexcusable" rhetoric used against Muslims.
Trump has previously fueled speculation that Obama is not a Christian.
"He doesn't have a birth certificate. He may have one, but there's something on that, maybe religion, maybe it says he is a Muslim," Trump told Fox News in 2011, according to CNN. "I don't know. Maybe he doesn't want that."
(H/T: Mediaite)
—
Follow the author of this story on Twitter and Facebook:
[facebook //www.facebook.com/plugins/like.php?href=