Former Republican presidential candidate Rick Santorum had an awkward interview on MSNBC's "Morning Joe" Thursday as he struggled to name any accomplishments of Florida Sen. Marco Rubio — the man he just endorsed for the Republican nomination.
When asked by hosts Joe Scarborough and Mika Brzezinski why he decided to support Rubio over Texas Sen. Ted Cruz, Donald Trump or any of the remaining GOP candidates, Santorum said he chose Rubio because he is someone "who can work together with people."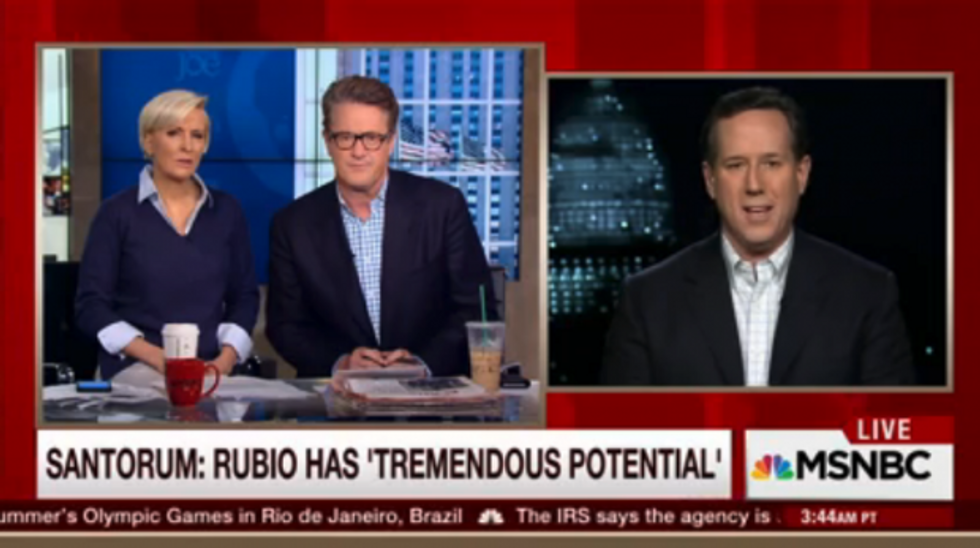 Image source: MSNBC
But when asked for specific reasons, Santorum failed to provide concrete answers.
"If you look at being in the minority in the United States Senate in a year when nothing got — four years where nothing got done, I guess it's hard to say there are accomplishments," Santorum explained. "I mean, tell me what happened during that four years that was an accomplishment for anybody? It was complete gridlock."
That answer did not satisfy Scarborough or Brzezinski, so they continued to press Santorum for specifics.
"I'm just asking you to name one accomplishment that Marco Rubio — but list one accomplishment. Just one. Just one that Marco achieved. Maybe a bill that he wrote. Maybe a moment in a committee," Scarborough said back.
Brzezinski added, "Jeb Bush ran Florida. Donald Trump built a company. Marco Rubio...finish the sentence."
"OK, Marco Rubio was, No. 1, the speaker of the Florida House, which is not something that's a minor deal," Santorum replied. "I mean, he was elected by his colleagues to be the speaker of the House. No. 2, yeah, he spent four years in the United States Senate being frustrated like everybody else that nothing got done, and then you can't point to him and say well nothing got done and therefore he has no accomplishments."
Scarborough and Santorum went on to spar over the fairness of the question. Scarborough thought it was fair, but Santorum did not, citing a "feckless Congress."
"List one accomplishment that Marco Rubio has achieved in four years in the United States Senate," Scarborough finally said. "It doesn't even have to be a passed bill."
"Well, I know he included something that went after the insurance companies in the most recent omnibus. I know that he fought for that to stop bailing out insurance companies," Santorum answered. "That's one thing that I'm familiar with that I just saw recently, but — and again, he was on the campaign trail and accomplished that. The bottom line is there isn't a whole lot of accomplishments, Joe, and I just don't think it's a fair question."
—
Follow the author of this story on Twitter and Facebook:
[facebook //www.facebook.com/plugins/like.php?href=