According to the Des Moines Register, "something smells in the Democratic party."
In a strongly worded editorial released Wednesday night, Iowa's top newspaper rebuked the state's Democratic party for the questions surrounding Monday's Democratic caucus results.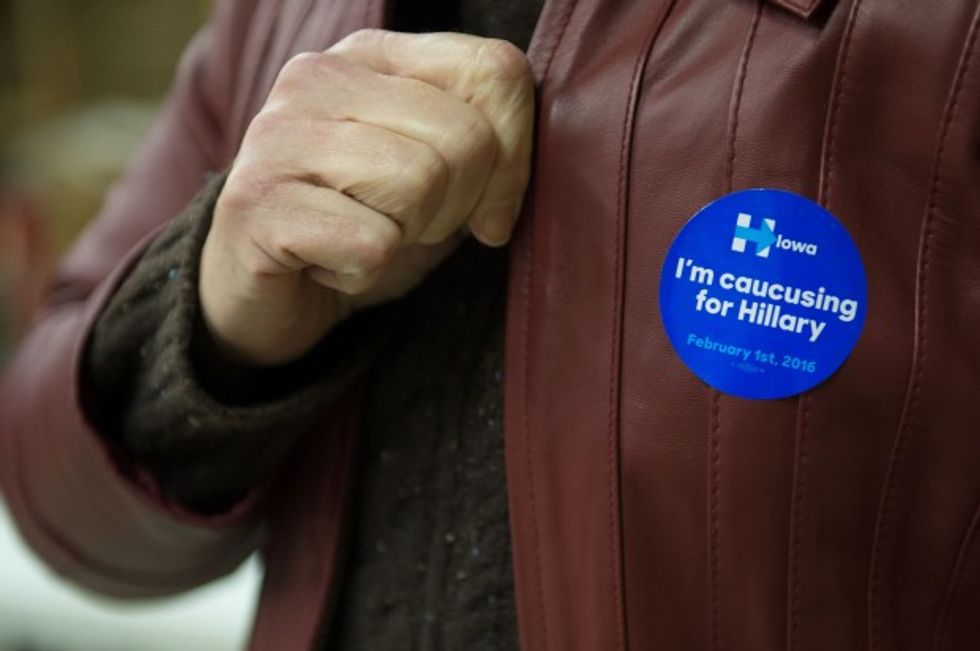 A woman displays her Hillary Clinton sticker at a Democratic Party Caucus at Jackson Township Fire Station, Feb. 1, 2016. (Getty Images/MICHAEL B. THOMAS/AFP)
"What happened Monday night at the Democratic caucuses was a debacle, period," the editorial board wrote, adding that "the refusal to undergo scrutiny or allow for an appeal reeks of autocracy."
The paper is of course referring to the doubt surrounding Monday's results, which the Sanders campaign is calling into question. They contend that the paper vote tallies at some precincts do not match the numbers reported to the state party.
"The Iowa Democratic Party must act quickly to assure the accuracy of the caucus results, beyond a shadow of a doubt," the paper added, noting that the "razor-thin" margin between Sanders and Clinton was too close not to warrant a full audit of the results.
In addition, the paper declared that there were too many opportunities for errors to occur in the caucus process — another reason for a full audit.
"Too many accounts have arisen of inconsistent counts, untrained and overwhelmed volunteers, confused voters, cramped precinct locations, a lack of voter registration forms and other problems," the editorial went on to say. "Too many of us, including members of the Register editorial board who were observing caucuses, saw opportunities for error amid Monday night's chaos."
The editorial board ended their scathing essay by asking the state party to be transparent about the true results.
"So [the] path forward is clear: Work with all the campaigns to audit results. Break silly party tradition and release the raw vote totals," it concludes. "Provide a list of each precinct coin flip and its outcome, as well as other information sought by the Register. Be transparent."
—
Follow the author of this story on Twitter and Facebook:
[facebook //www.facebook.com/plugins/like.php?href=