Video footage showing the events leading up the fatal shooting by Texas police of an out-of-control shirtless man was released Wednesday night. Law enforcement officials said the video was made public in an effort to be as transparent as possible.
The events in question took place Saturday around 10 p.m. when local residents called in to report a disturbance near an intersection in Saginaw, Texas, according to WFAA-TV. The new footage released by the Saginaw Police Department from four separate police dashcams shows an officer as he tries to maneuver away from a quickly approaching shirtless man who has been identified as 25-year-old Michael Brown. Brown then proceeded to allegedly beat down the first officer.
Footage from the other dashcams show other officers as they pursued Brown and shot him with two tasers, but to no avail, according to KTVT-TV. After Brown charged forward and began to hit another officer, the police opened fire, ultimately killing him.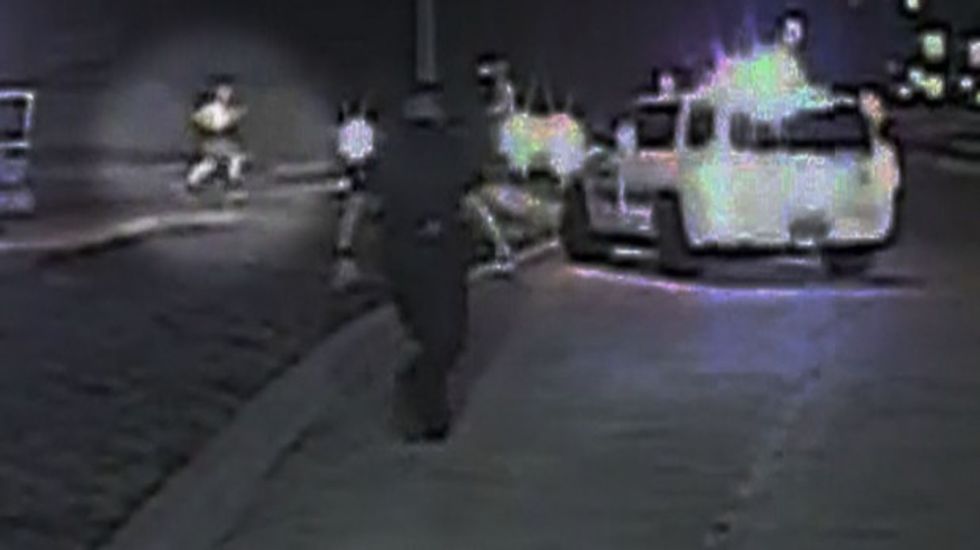 Saginaw police provided this image of a shirtless assault suspect identified as Michael Brown (highlighted, top left) running shortly before he was shot and killed by officers Jan. 31. (Saginaw PD)
"The Taser is not a catch-all for all situations," SPD spokesman Sgt. Damon Ing told WFAA. "They're not going to be effective 100 percent of the time.  When they aren't, we have to look at other options available to us."
The footage showed Brown as he allegedly struck down a bystander while dodging the police who pursued him, according to KTVT. The neighbors described the entire scenario as a bizarre rampage carried out by Brown, which included the alleged beating of an elderly couple whose faces were smashed into the pavement. The woman underwent facial surgery Wednesday morning, and the man said that after brown attacked them, he tried to break into a neighbor's home before she threatened to shoot him.
The SPD expressed their desire to clear up any confusion by being as transparent as possible with the public and with Brown's family following his rampage and death.
"I do know that the family is grieving we want to send our prayers to them at this time I do know that as a profession we definitely don't want this to happen and this is an unfortunate circumstance that took place," Ing told KTVT.
Toxicology results for Brown are still pending, and the police are still investigating the possible motives behind Brown's violent spree.
—
Follow Kathryn Blackhurst (@kablackhurst) on Twitter