Television personality, author and psychologist Dr. Phil McGraw has been telling it like it is since his show "Dr. Phil" debuted in 2002.
Dr. Phil joined Megyn Kelly on her show, "The Kelly File," Thursday evening to discuss the "entitlement culture" running rampant among America's younger generations.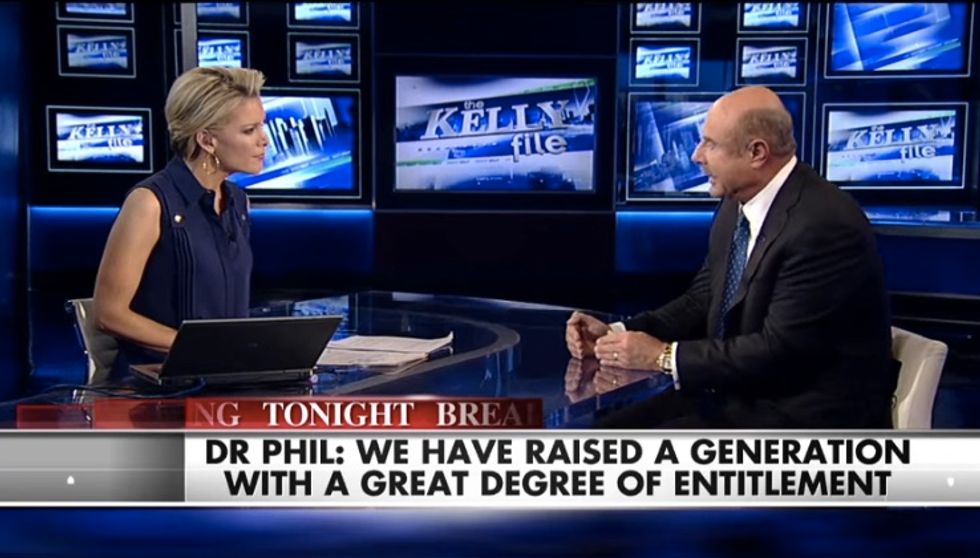 Image source: Fox
The Emmy Award-winning daytime television host went on to describe the obsession with self and fame that characterize "entitlement culture."
"We do have a generation that, I think, we have raised with a great deal of entitlement," Dr. Phil said, pointing to a guest scheduled to be on his television show Friday.
Dr. Phil shared that the scheduled guest, Kris, has been chasing his dream of being a famous rock and roll star his whole life. The 43-year-old whom Dr. Phil referred to as a "poser" explained that he's "addicted to fame" in the literal sense.
Just like a drug addiction, pursuing his unrealistic dream has taken a severe emotional and financial toll on him and his loved ones.
"He has basically tried to buy fame, has bled his family - his mother and father - for $1.7 million," Dr. Phil said.
Kelly asked Dr. Phil how to get people like Kris out of this "dark place"?
"This is the greatest country in the world, this is the greatest people in the world, but sometimes we forget common sense," Dr. Phil said. "We've got to stop rewarding bad behavior in America. When people don't work and produce, then they need to get kicked to the curb."
"Get a damn job. Carry your own weight," he added.
Dr. Phil also weighed in on the 2016 presidential race. Watch below: