She just sat in a car and waited.
Noela Rukundo was biding her time, watching as mourners trickled from the house she had shared with her husband in Melbourne, Australia.
You see, Rukundo was supposed to be dead.
At least that's what her husband, Balenga Kalala, assumed. He had no reason to suspect otherwise, having hired hitmen to kill his wife during her trip to Africa and believing the job was complete.
Kalala told members of the African community in Melbourne that Rukundo died in an accident, and on that day bereaved folk — many of whom gave money to the shattered spouse — were paying their respects.
But very much alive, Rukundo waited until the last of the mourners left and then lowered the boom.
"When I get out of the car, he saw me straight away," she told BBC News in a new interview Friday. "He put his hands on his head and said, 'Is it my eyes? Is it a ghost?'"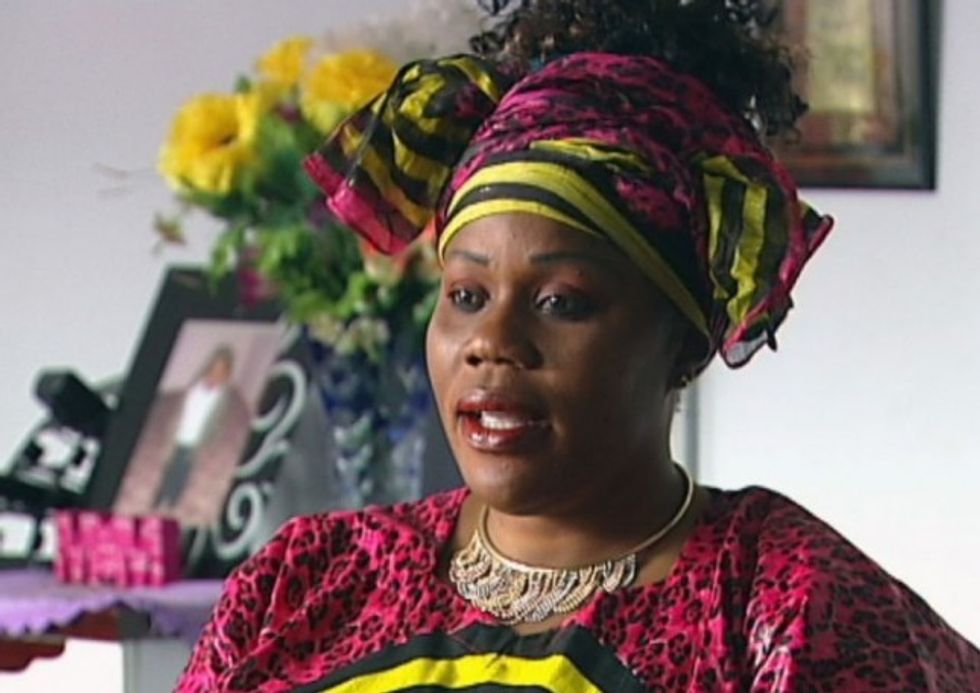 Noela Rukundo (Image source: Australian Broadcast Corp.)
"He was scared, he didn't believe it," she added. "Then he starts walking toward me, slowly, like he was walking on broken glass."
Then he touched his wife on her shoulder — and jumped. He touched her again — and again, he jumped. Rukundo told the Australian Broadcasting Corp. that her husband asked, "Are you still alive?"
She told the ABC, "I just look at him and said, 'Surprise! I'm still alive.'"
Kalala started screaming that he was "sorry for everything," she told the BBC — but as you can probably imagine, it was too late.
His life, as he knew it, was over. But Rukundo's, which had almost ended just days before, was about to begin anew.
"I felt like somebody who had risen again," she told the BBC.
The Fateful Trip
Less than a week before her confrontation with her husband — last February — Rukundo had flown to her native Republic of Burundi in Africa to attend her beloved stepmother's funeral.
"I had lost the last person who I call 'mother,'" she told the BBC. "It was very painful. I was so stressed."
One evening, while resting in her hotel room, her husband called her.
"He says he'd been trying to get me for the whole day," Rukundo told the BBC. "I said I was going to bed. He told me, 'To bed? Why are you sleeping so early?'"
"I say, 'I'm not feeling happy.' And he asks me, 'How's the weather? Is it very, very hot?'" she recalled. "He told me to go outside for fresh air."
So she did — and was soon confronted by man pointing a gun at her.
"He just told me, 'Don't scream. If you start screaming, I will shoot you. They're going to catch me, but you? You will already be dead,'" Rukundo recounted to the BBC.
Staying quiet, she was told walk to a waiting car and was soon sitting between two armed men.
"One had a small gun, one had a long gun," she told the BBC. "And the men say to the driver, 'Pass us a scarf.' Then they cover my face."
After about 40 minutes on the road, Rukundo said the car stopped and she was pushed into a building and tied to a chair.
"They ask me, 'What did you do to this man? Why has this man asked us to kill you?' And then I tell them, 'Which man? Because I don't have any problem with anybody,'" she recalled to the BBC. "They say, 'Your husband!' I say, 'My husband can't kill me, you are lying!' And then they slap me."
Then one of the perps she called "the boss" issued Rukundo some harsh words: "You are very stupid, you are fool. Let me call who has paid us to kill you."
On the phone the boss intoned, "We already have her."
Then he put the phone on speaker — and Rukundo heard her husband's voice: "Kill her."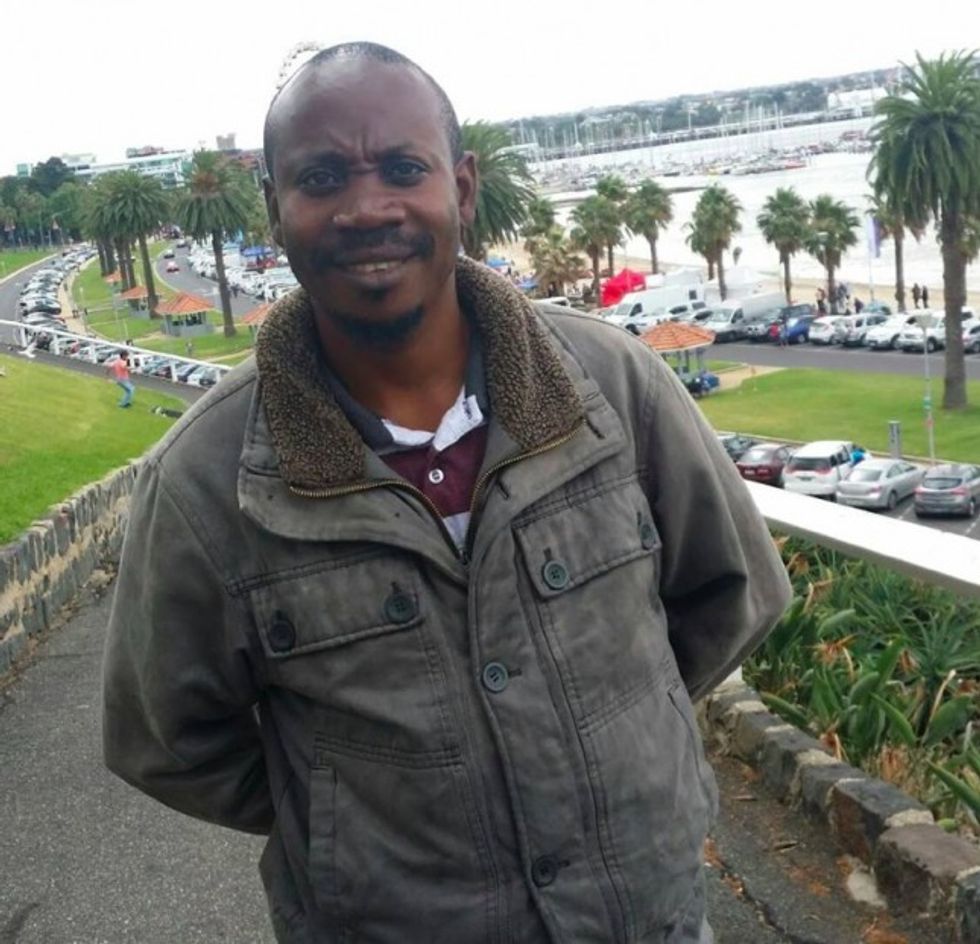 Balenga Kalala (Image source: Facebook)
"I heard his voice," she recalled to the BBC. "I heard him. I felt like my head was going to blow up. Then they described for him where they were going to chuck the body." Then she said she passed out.
And Then the Good News
After she came to, Rukundo figured she was already dead, but the boss instead gave her the best news she'd heard all day.
"We're not going to kill you," she recalled him saying. "We don't kill women and children."
The hitmen held Rukundo for two days while they demanded more money from Kalala to finish her off, then they set her free.
Rukundo recounted to the BBC their words to her: "We give you 80 hours to leave this country. Your husband is serious. Maybe we can spare your life, but other people, they're not going to do the same thing. If God helps you, you'll get to Australia."
Then they let her off on a roadside — and with a parting gift: A memory card with recorded phone conversations between them and Kalala about their hit along with Western Union money transfers receipts.
"We just want you to go back, to tell other stupid women like you what happened," she recalled to the BBC the hitmen telling her. "You must learn something: you people get a chance to go overseas for a better life. But the money you are earning, the money the government gives to you, you use it for killing each other!"
The Return
Soon Rukundo was on the phone with her Melbourne pastor, Dassano Harruno Nantogmah, and asked for his help.
"It was in the middle of the night," she told the BBC, adding she told her pastor to not tell anyone she was still alive. "He says, 'Noela, I don't believe it. Balenga can't kill someone!' And I said, 'Pastor, believe me!'"
And while her husband and many others figured Rukundo was dead, she showed up Feb. 22, 2015, at her Melbourne house after mourners had left and gave Kalala the shock of his life.
At that point she called police, who ordered Kalala off their property and got a court order against him, the BBC reported. Then even more good news: Rukundo called Kalala, and their conversation was captured on tape — during which he confessed to ordering her murder.
So, why did he do it?
"He say he wanted to kill me because he was jealous," Rukundo told the BBC, adding that he figured she wanted to leave him for another man — which she said wasn't true.
Despite acknowledging she knew Kalala was violent, she told the BBC she loved him: "I give him, beautiful and handsome, two boys and one girl. So I don't know why he choose to kill me."
At his trial in December, Kalala said, "Sometimes [the] devil can come into someone to do something, but after they do it, they start thinking, 'Why I did that thing?'"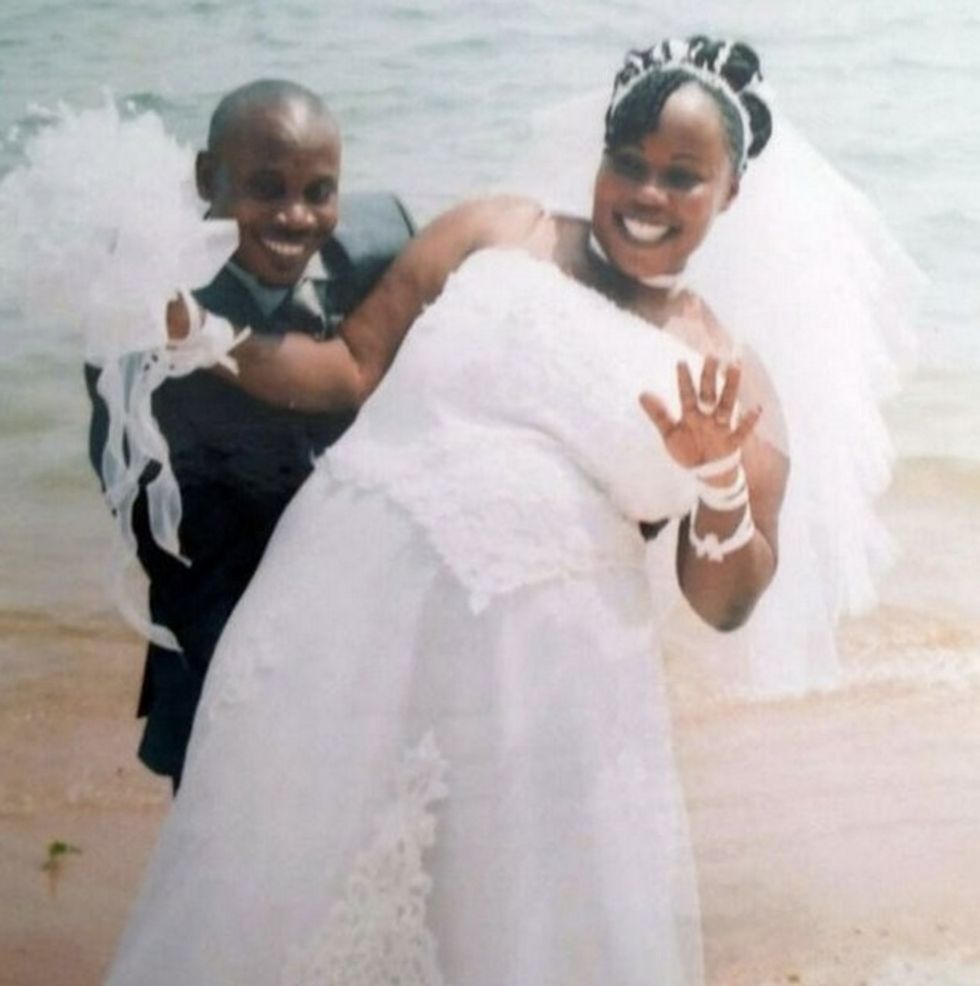 Kalala and Rukundo (Image source: the BBC)
After pleading guilty to incitement to murder, Kalala was sentenced to nine years in prison. The 39-year-old is eligible for parole after six years, the ABC reported.
A New, Difficult Life
"His voice always comes in the night — 'Kill her, kill her,'" Rukundo told the BBC of her regular nightmares. "Every night, I see what was happening in those two days with the kidnappers."
But still she won't judge her husband: "He's a human being. From my heart, I forgive him," she told the ABC. "Let God judge him."
And believe it or not, Rukundo said that many in her own African community in Melbourne are angry she went to police over her husband's misdeeds and has received threatening messages — her house was even vandalized.
"I come home and the back door broken, the front doors broken," she told the ABC. "I don't know exactly who is behind [it] and what it is they want from me."
What's more, she's not just tasked with taking care of the three children she had with Kalala — but also five other children she had from a previous relationship.
"But I will stand up like a strong woman," she told the BBC. "My situation, my past life? That is gone. I'm starting a new life now."
This story has been updated.