The Huffington Post has launched a new website in an effort to track "Islamophobic incidents across the U.S.," proclaiming that "the only way to stop hate is to confront it."
The site offers up a timeline of the comments and acts that are deemed to be anti-Islamic in nature.
A brief explainer on the website says that anti-Muslim sentiment has been on the rise following terror attacks in Paris, France, and San Bernardino, California, as "reports about Muslims in America facing violence, harassment, intimidation and bigotry have become omnipresent."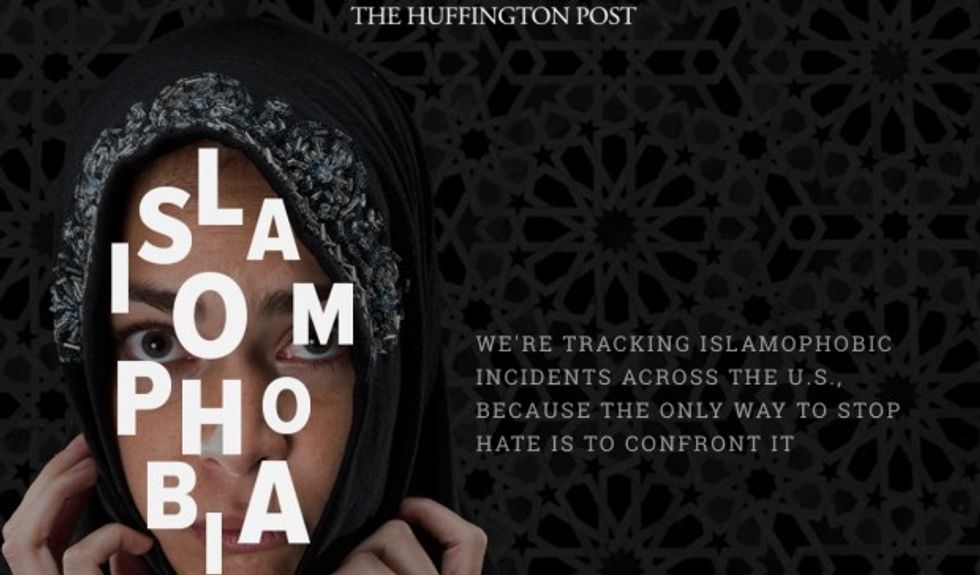 A screen shot from the Huffington Post website
So, the Huffington Post is attempting to gather all of these incidents in one place, providing an interactive tracker for its readers.
"A comprehensive list of discriminatory acts against American Muslims might be impossible, but The Huffington Post will document this deplorable wave of hate for all of 2016 using news reports and firsthand accounts," a statement reads. "The breadth and severity of Islamophobia in America can no longer go unnoticed. Enough is enough."
The website is currently documenting 28 "anti-Muslim acts," and is encouraging readers to send incidents in for inclusion.
So far, the headlines of purported anti-Islam incidents include: "Presidential Candidate Says Islam Has 'Aocalyptic Vision,' Is Not a Religion," "Megyn Kelly Wonders if Seeing Muslims Justifies a Call to Police" and "State Senate Committee OKs Bill to Track Refugees."
Assembled by Huffington Post reporter Christopher Mathias and social media editor Rowaida Abdelaziz, the website encourages readers to stand up to bigotry.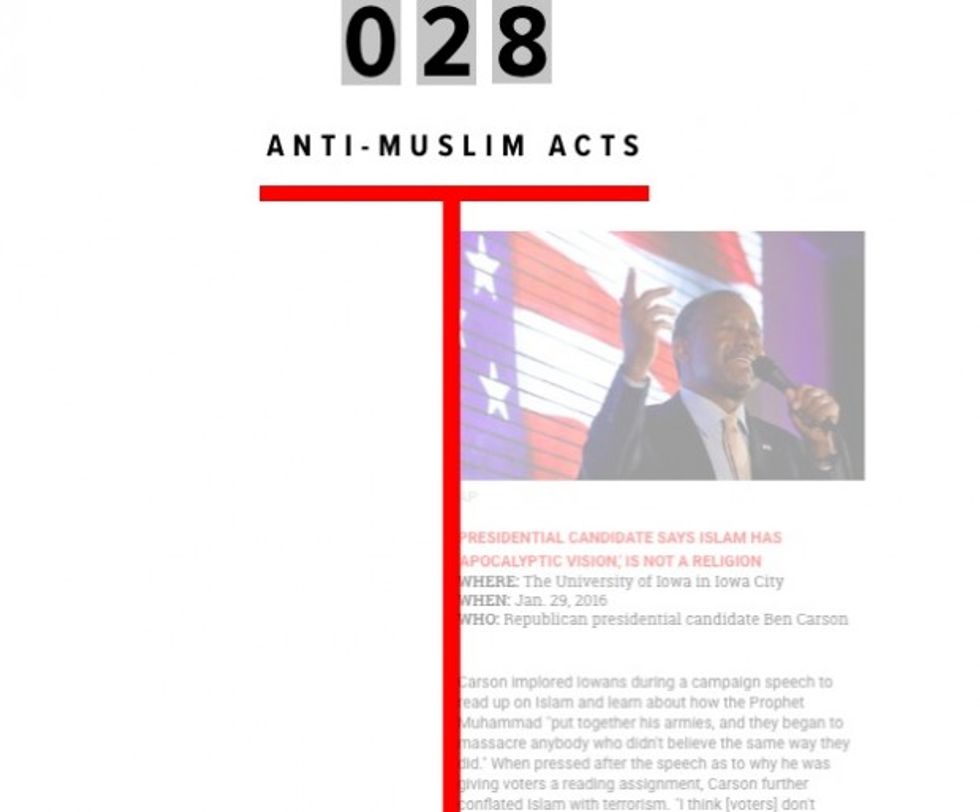 A screen shot from the Huffington Post
"Don't tolerate hate. Stand up for your Muslim neighbors," a message reads at the bottom of the page. "Visit your local mosque. Write your local lawmaker today, and tell them to fight Islamophobia."
We'll leave you with some of what Mathias and Abdelaziz have been saying about the project on Twitter:
Already getting our first hate mail for our Islamophobia project! So proud. pic.twitter.com/bEJkUl30xT

— Christopher Mathias (@letsgomathias) February 4, 2016
Our Islamophobia project on top of the @HuffingtonPost front page right now https://t.co/tsG0nhTrzK pic.twitter.com/00gAoHp8Ye

— Christopher Mathias (@letsgomathias) February 4, 2016
Its wild that some think Islamophobia isn't real. So @HuffingtonPost will be tracking it https://t.co/2BOXNn2hiK pic.twitter.com/aTgHusc35b

— Rowaida Abdelaziz (@Rowaida_Abdel) February 4, 2016
The amount of the hate mail that's began to flood my inbox has reached new records. Congratulations, bigots.

— Rowaida Abdelaziz (@Rowaida_Abdel) February 5, 2016
(H/T: Mediaite)
--
Follow the author of this story on Twitter and Facebook: