The University of Louisville announced at a press conference Friday a self-imposed postseason ban on its men's basketball team for the 2015-16 campaign.
The Courier-Journal first broke the news after multiple sources had told the outlet that the decision was coming.
The team's players received the news of the ban in a meeting held Friday afternoon. A source close to the program told the Courier-Journal that coaches told the players they only had nine games left, or the duration of the regular season.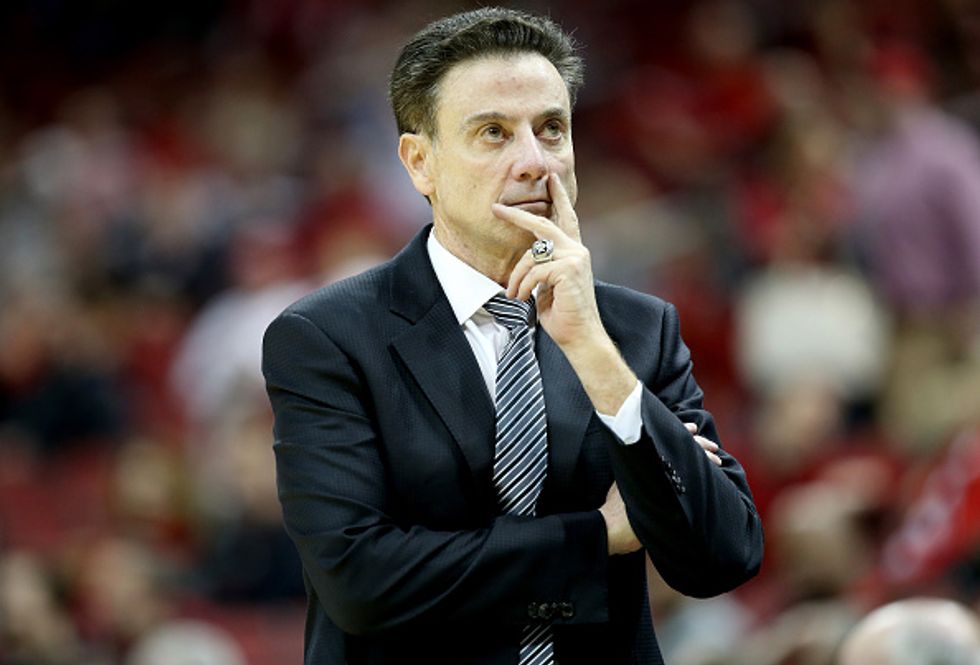 Rick Pitino, head coach of the Louisville Cardinals basketball team, gives instructions to his team against the Florida State Seminoles at KFC YUM! Center Jan. 20 in Louisville, Kentucky. (Andy Lyons/Getty Images)
The decision came during an ongoing NCAA investigation into a woman's claims that she and other escorts were paid thousands of dollars and given game tickets in exchange for dancing for and having sex with Louisville basketball players and recruits from 2010-14.
Coach Rick Pitino told the Courier-Journal the team stood up and hugged graduate transfers Damion Lee and Trey Lewis, who came to Louisville  from Drexel and Cleveland State, respectively, to play their final season of college ball and pursue their first NCAA tournament bid.
"They were hit over the head with a sledgehammer," Pitino said.
The ban is sure to be a significant blow for Pitino and the team, which currently enjoys an 18-4 record and ranks second in the Atlantic Coast Conference.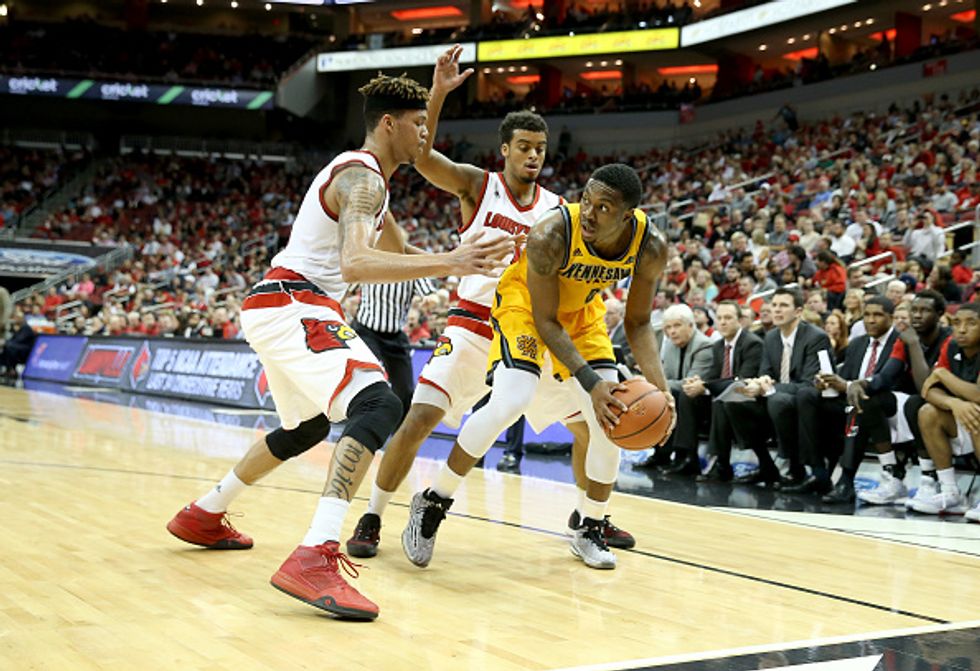 Damion Lee #0 and Trey Lewis #3 of the Louisville Cardinals defend Kendrick Ray #0 of the Kennesaw State Owls at KFC YUM! Center on December 16, 2015 in Louisville, Kentucky. (Andy Lyons/Getty Images)
Louisville ranked 19th in the latest AP poll and was expected to come up strong in the ACC and NCAA tournaments.
"We knew we had a special group," Pitino said. "I knew they had great promise."
After reviewing the evidence, "I determined that it was reasonable to conclude that violations had occurred in the men's basketball program in the past," Louisville President James Ramsey told the Washington Post Friday.
"While this was a difficult decision, I believe it was made in the best interest of the University of Louisville," he added.
"We found out yesterday that we had a problem," Athletic Director Tom Jurich, who learned the extent of the violations Thursday, told the Post. "It's extremely sad for our players … but we want to do what's right by the NCAA."
Lee's mother, Michelle Riddick, told the Courier-Journal in December that there's "nothing we can do about" the ongoing investigations.
"We'd like to see my son play in the tournament," she said. "We can't stress ourselves over what ifs or what might happen."
When the Courier-Journal reached out to her Friday, Riddick had nothing to say.