TAINAN, Taiwan (TheBlaze/AP) — A survivor found shielded under the body of her husband was pulled out alive from a toppled high-rise apartment building on Monday, Taiwanese media reported, two days after a powerful quake that killed at least 36.
Eastern Broadcasting Corp. reported that Tsao Wei-ling called out "Here I am" as rescuers dug through to find her.
Rescuers said that Tsao was found under the body of her husband, who had shielded her from a collapsed beam, Taiwan's government-run Central News Agency reported. Her husband and 2-year-son were found dead, while five members of her family remained unaccounted for, it said.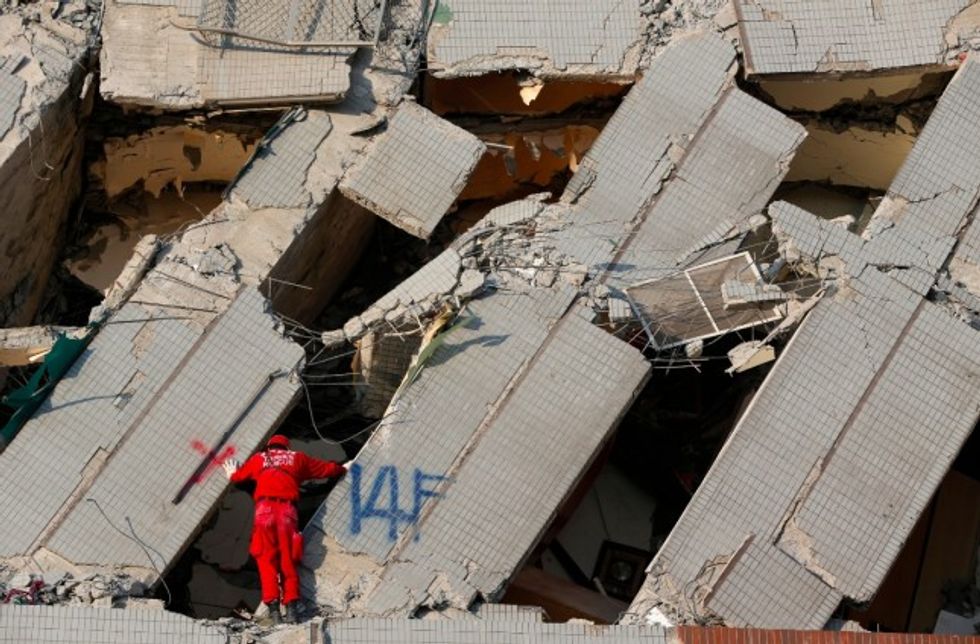 An emergency rescue worker searches what was the 14th floor of a collapsed building in Tainan, Taiwan, Sunday, Feb. 7, 2016. (AP Photo/Wally Santana)
More than 100 people are believed to be still buried in the collapsed building from a disaster that struck during the most important family holiday in the Chinese calendar — the Lunar New Year holiday.
The government in Tainan, the worst-hit city, said that more than 170 people had been rescued from the 17-story building, which folded like an accordion after the quake struck.
The death toll from Saturday's powerful 6.4-magnitude quake in south Taiwan stood at 36. Thirty-four of those were from the building collapse in Tainan city, and two other people died elsewhere in the city.