Conservative Canadian media personality Ezra Levant remarked that he had never before secured 2,000 retweets to one of his Twitter posts until he posted a photo of migrant men crossing a European border while appearing to callously ignore the barefoot woman walking with them.
Never had 2,000 RTs before: https://t.co/czCEJ3UjLz

— Ezra Levant (@ezralevant) February 6, 2016
This was his original tweet that was widely shared:
Seven young, healthy, well-shod Muslim migrant men. Ignoring one barefoot woman carrying two babies and a bag. pic.twitter.com/Fp2Vgxvm6Z

— Ezra Levant (@ezralevant) January 3, 2016
Levant, who last year founded The Rebel Media conservative website, seemed to tap into a growing sense of frustration over cultural differences between Europeans and the Middle Easterners to whom they have offered asylum following reports of widespread sexual assaults by migrant men at New Year's Eve celebrations, most notably in Cologne, Germany.
Public support for Western European leaders, such as German Chancellor Angela Merkel and Swedish Prime Minister Stefan Lovfen, has plummeted over their embrace of refugees.
The photo was taken at the Serbia-Croatia border in October by an Associated Press photographer.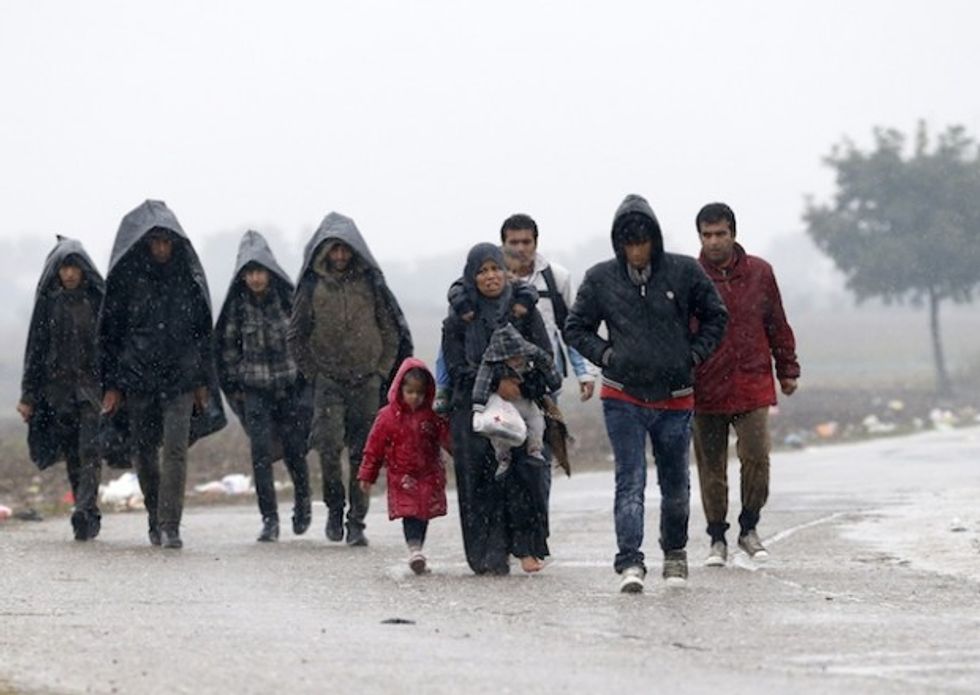 A group of migrants walk on the road near a border line between Serbia and Croatia, near the village of Berkasovo, Serbia, Monday, Oct. 19, 2015. Tension was building among thousands of migrants as they remained stranded in fog and cold weather in the Balkans on Sunday in their quest to reach a better life in Western Europe, two days after Hungary closed its border with Croatia and the flow of people was redirected to a much slower route via Slovenia. (AP Photo/Darko Vojinovic)
The print story that accompanied the photo reported that when Croatia opened its border with Serbia, thousands who had been stranded for two days were allowed to cross after being blocked from entering Hungary. The caption to the photo did not state the religion of the migrants, though the woman's Islamic hijab headscarf indicated her faith group.
UNHCR spokeswoman Melita Sunjic was quoted in the AP article in October that "without any announcement, the borders opened. When the borders opened, everybody rushed" over.
"The last person to go was a young boy without a leg, and we helped him cross in a wheelchair," Sunjic said.
As for the barefoot woman seen in the photo, the AP reported that dozens were seen crossing the border wearing sandals or slippers with no socks while carrying children in order to avoid the mud following rain when the border gates were opened.