BARRINGTON, N.H. – Campaigning in New Hampshire the day before the first-in-the-nation presidential primary, Texas Republican Sen. Ted Cruz pointed out a similarity between the Granite and Lone Star states.
"You know, one of the great things about the Granite State is that you all define gun control the same way we do in Texas," Cruz said. "Hitting what you aim at."
Cruz said that the president has issued "lawless executive actions" in order to "undermine our right to keep and bear arms" enshrined in the Second Amendment.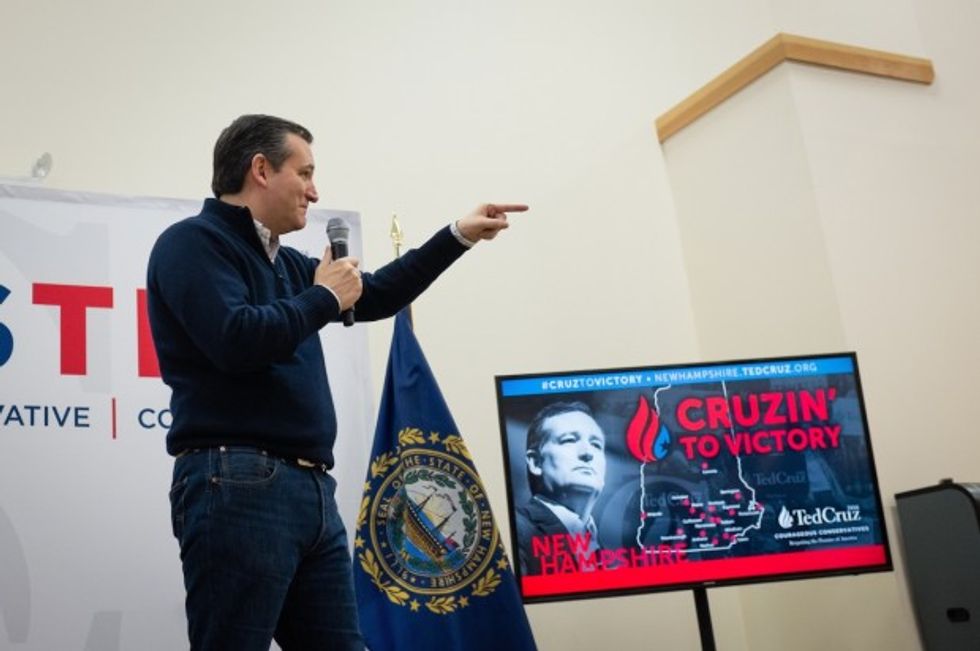 Republican presidential candidate Texas Sen. Ted Cruz campaigns Monday at Turbocam in Barrington, New Hampshire. (Matthew Cavanaugh/Getty Images)
According to a CNN/WMUR tracking poll released Sunday, Cruz, the winner of the Iowa caucus, trails rivals Donald Trump and Sen. Marco Rubio (R-Fla.) in New Hampshire.
While discussing Saturday's Republican debate, Cruz also called some of his opponents' statements "nuts" for suggesting that the nation begins to require women to register for the draft.
Cruz said he is raising his two daughters to believe they can accomplish all of their hopes and dreams, but "the idea that the federal government would forcibly conscript our daughters and put them in a combat role, put them in a foxhole fighting a jihadist, a two hundred and twenty pound psychopath trying to kill them in a foxhole, is nuts."
Cruz was greeted at the event by a "Cruz Missile" created by two of his supporters, Rick and Mary Hebbard.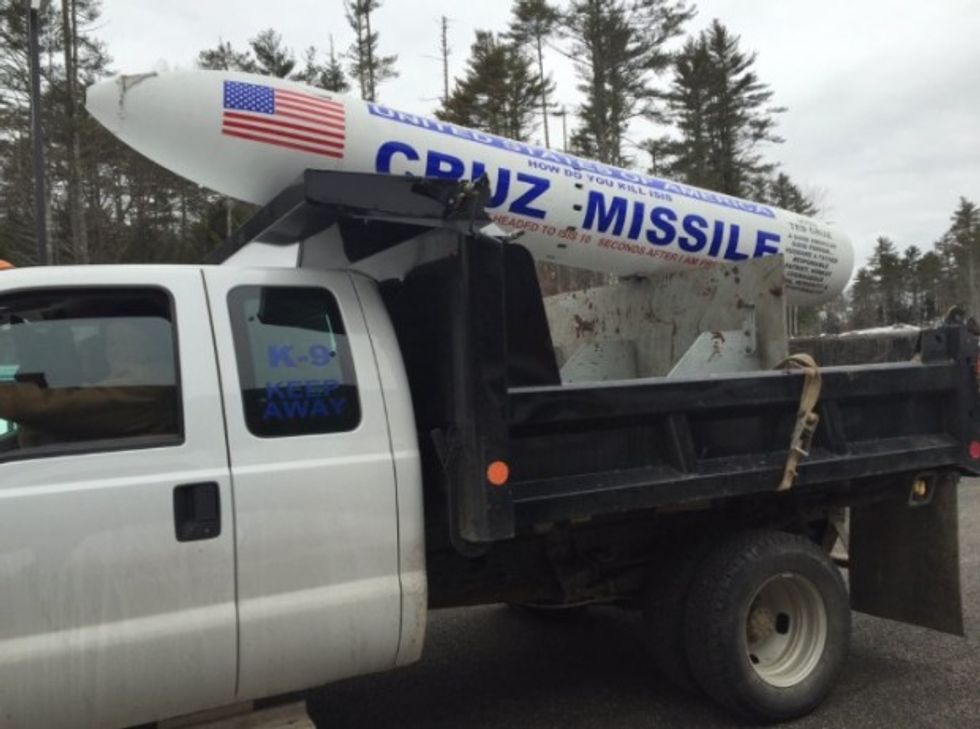 A "Cruz Missile" waits for Texas Republican Sen. Ted Cruz at a presidential campaign stop. (Kate Scanlon/TheBlaze)
TheBlaze asked the Hebbards why they made the display.
"Why not?" Rick grinned.
Mary said that they "pulled an all-nighter" in order to bring it to the event. "We're just glad the snow held up!" she said.
She called Cruz "a man of conviction and morals" and a "constitutional conservative." The couple said that the senator will have their support in tomorrow's New Hampshire primary.
—
Follow Kate Scanlon (@kgscanlon) on Twitter