Thousands of New York sex offenders will soon be pulled from a public registry in accordance with a 1996 state law.
State law currently requires Level 1 perpetrators to report their whereabouts for a 20-year period following an offense. The 20-year period came to an end Jan. 1, according to News 12 Long Island.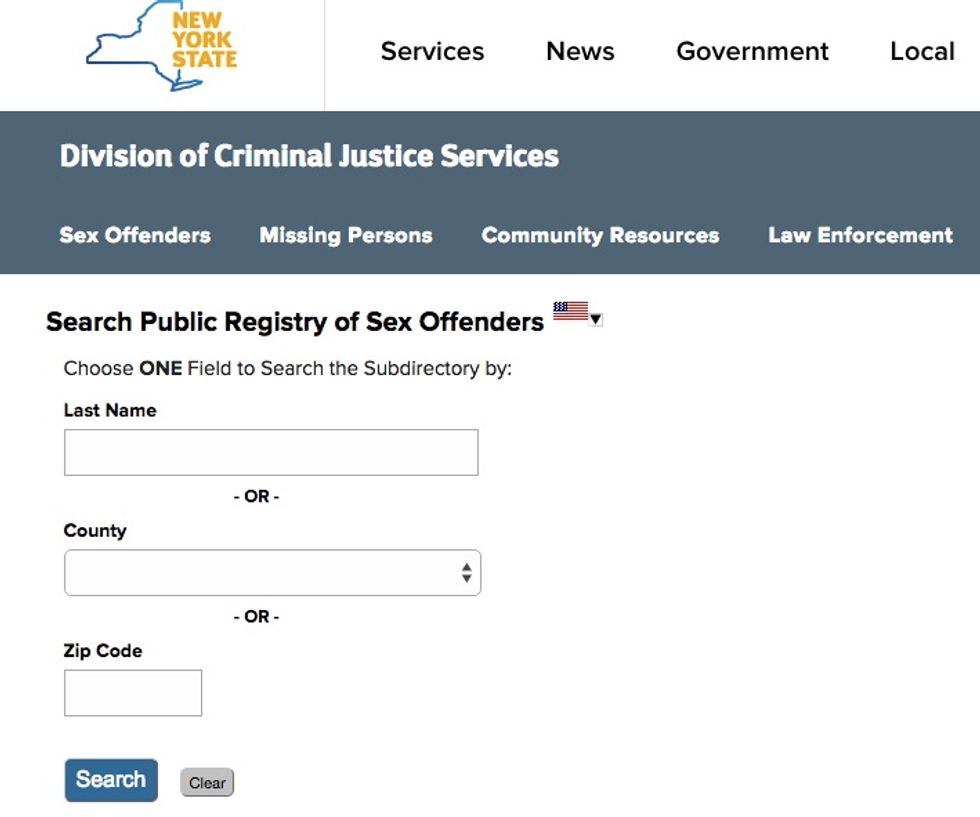 Image source: CriminalJustice.ny.gov
The public registry, which includes photos of most offenders, is available to anyone online, and individuals can even choose to receive emails regarding sex offender relocation.
Now, with the state scheduled to lose records for thousands of sex offenders, lobbyists are pushing for reform.
Laura Ahearn of the Long Island-based nonprofit Parents of Megan's Law told News 12 that about 60-70 Level 1 sex offenders in Nassau and Suffolk alone will be wiped off the registry this year.
"We have a stack of Level 1 offenders that have committed serious offenses against young children — as young as 2 years old — and they are going to be dropping off that registry," Ahearn told WCBS-TV.
Though Level 2 and Level 3 sex offenders are required to register for life, the decision to eventually exonerate Level 1 offenders was made after groups like the NY Civil Liberties Union argued that keeping perpetrators as social outcasts increases the chance they'll act again.
"They have been told they would be taken off the registry, so going back on that is fundamentally unfair," Jason Starr of the NY Civil Liberties Union's Long Island Chapter told WCBS-TV.
Level 1 offenses include child molestation, rape in the first degree and sodomy.
Long Island Assemblyman Dean Murray (R) introduced a bill that would extend the 20-year mandate to 30 years, but he needs a Democratic sponsor in order for that bill to pass. And with a Democrat-dominated chamber, this could be difficult.
In the meantime, Level 1 offenders will continue to drop off the list.
"I don't know if this is a leadership issue, or what it is, but I'm continuing to push very hard," Ahearn told News 12.
(H/T: Fox News)