On Tuesday, President Barack Obama submitted to Congress the final annual budget of his presidency. That same day, his budget director dismissed any notion that Social Security is a fiscal concern, though he did add that granting legal status for illegal immigrants would pump more revenue into the program.
Obama's final budget proposal is partially predicated on deficit reduction it projects would result from Congress passing the comprehensive immigration reform this year, a controversial piece of legislation languishing in Congress since 2013 with almost no chance of passing in a divisive election year.
Office of Management and Budget Director Shaun Donovan told reporters that passing comprehensive immigration reform would be key to preserving the entitlement program.
"Immigration reform, this issue of how many workers do we have paying into Social Security, relative to the number of retirees, one of the most important things we can do is to increase the number of workers we have in this country and also raise their wages," Donovan said. "All of that can help us stabilize Social Security."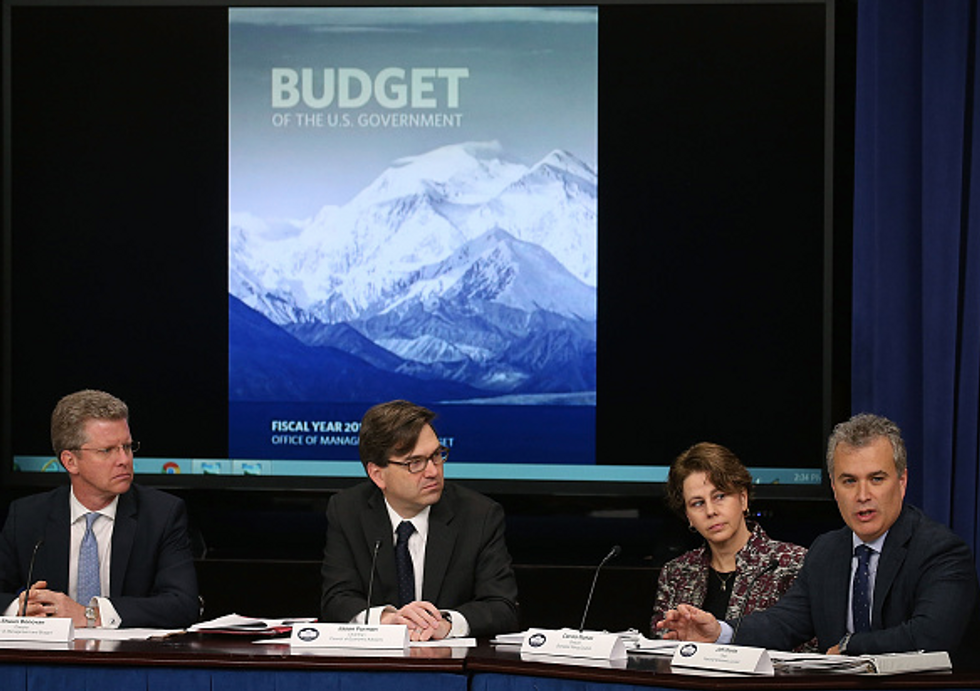 From left, OMB Director Shaun Donovan, Chairman of the Council of Economic Advisers Jason Furman, Director of the Domestic Policy Council Cecilia Muoz and Director of the National Economic Council Jeff Zients participate in a briefing on President Obama's FY 2017 budget requestat the White House Monday. (Mark Wilson/Getty Images)
With regard to wages, a June 2013 report by the Congressional Budget Office projected that passing immigration reform would reduce American wages through 2025 but also said that the legislation would reduce the deficit $170 billion over 10 years.
"The CBO says and the Social Security actuaries say that immigration reform is an important contributor to strengthening Social Security," Donovan said. "One of the key things immigration reform would do is strengthen Social Security.
The White House summary of the budget sates, "The budget reflects the President's support for commonsense, comprehensive immigration reform along the lines of the 2013 bipartisan Senate-passed bill."
During a press briefing Tuesday after the release of Obama's fiscal year 2017 budget, Donovan also said that Social Security is not in danger.
"If you look at the long-run challenges we have on the fiscal side, Social Security is not one of the major contributors to that challenge," Donovan said.
However, the Social Security Trust Fund was hit with a $3 billion decline in 2015, the first annual decline in the program since Congress took action to save it in 1983. Since 2010, Social Security has been paying out more than it is collecting in revenue, but has managed to grow on accumulated interest until last year.
Jason Furman, the chairman of the White House Council of Economic Advisers, said the Obama administration has been active in working to preserve Social Security.
"From the beginning of this administration, the president has always said he is open to working together with Congress on a bipartisan basis to deal with Social Security, put out a set of principles at the beginning of his administration in terms of not slashing benefits, not privatizing Social Security, not taking away a system that works for Americans with disabilities," Furman said.