Comedy Central's "The Daily Show" took aim at charges of sexism between supporters of Democratic presidential candidates former Secretary of State Hillary Clinton and Vermont Sen. Bernie Sanders on Tuesday.
"It's diminishing for women to tell other women that they're obligated to vote for Hillary because, you know, we all have vaginas," Jessica Williams told host Trevor Noah.
"What else am I going to vote with?" Williams said. "I literally vote with my vagina."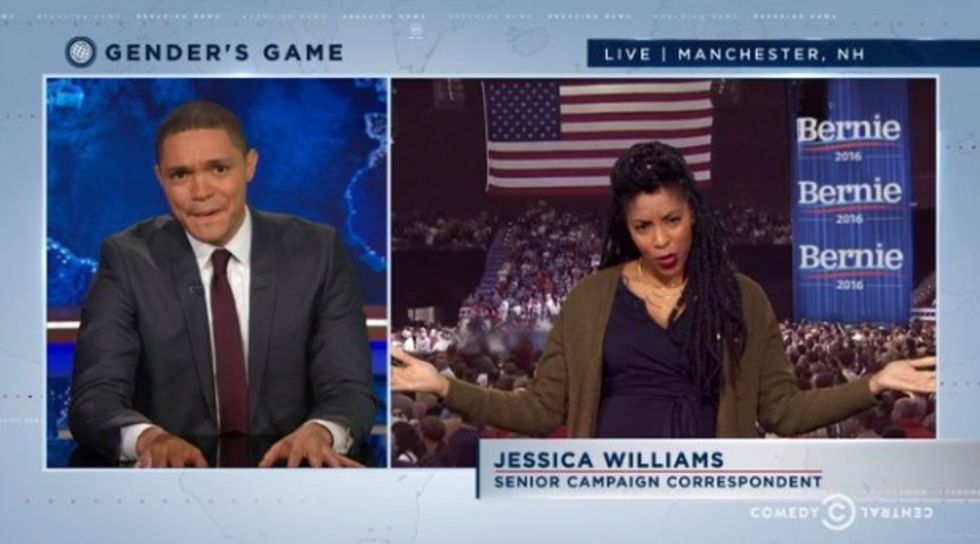 Image source: Comedy Central
While campaigning for Clinton prior to the primary, former Secretary of State Madeleine Albright told voters that "there's a special place in hell for women who don't help each other."
Gloria Steinem, a vocal supporter of Clinton, implied that young women are supporting Sanders to impress boys during an interview with Bill Maher.
"When you're young, you're thinking, 'Where are the boys?'" Steinem said. "The boys are with Bernie."
Meanwhile, Sanders condemned a group of supporters who call themselves "BernieBros" online while they make crude remarks about Clinton's gender.
"It's disgusting," Sanders told CNN. "We don't want that crap."
Williams said that supporters of both campaigns that are participating in the behavior were in the wrong.
"The sexism is annoying, but it's the women shaming each other that is most annoying," Williams said.
"Seriously, we want the freedom to vote for who we want to, regardless of what our husbands or wives or friends say about it," Williams added.
Noah did defend Clinton and her supporters during the segment.
"They support her because she's a woman who supports policies that help women," he said. "If they wanted a woman whose policies hurt women, they'd just vote for Carly Fiorina."