According to Ted Cruz, the fight for the 2016 Republican nomination is now just a two-man race: billionaire businessman Donald Trump and himself.
The Texas senator's comments came Wednesday morning during an interview on "The Mike Gallagher Radio Show." Cruz's evidence: the fact that he and Trump were the top Republicans in Iowa and New Hampshire.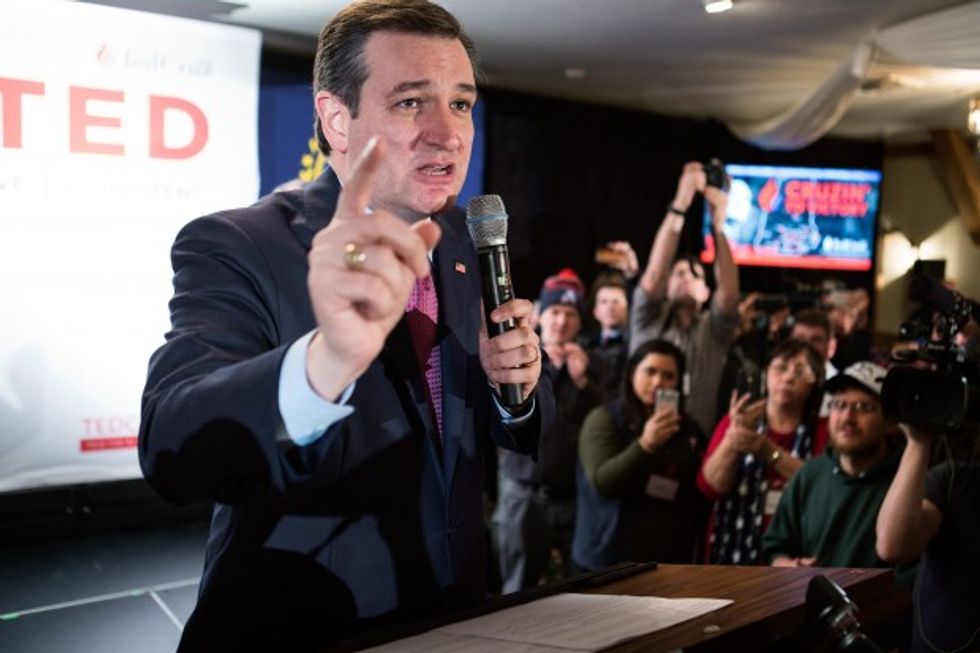 Ted Cruz speaks to his supporters at a primary night gathering held at New Hampshire's Alpine Grove Banquet facility Tuesday. (Getty Images/Kayana Szymczak)
Though Cruz said the first caucus and the first primary play a huge role in the primary process, he told Gallagher that South Carolina is more important.
"South Carolina historically has played a critical role picking presidents. And I think Iowa and New Hampshire perform an incredibly important function in narrowing the field — and in many ways, this field is becoming a two-person race between me and Donald Trump," he said.
He added, "What Iowa and New Hampshire demonstrate is that the only person in this field who can beat Donald Trump is me. The other candidates are not able to beat Donald Trump."
Of the remaining seven candidates competing for the Republican nomination, Cruz went on to say that he is best poised to beat Trump from the right.
[sharequote align="center"]"You can't beat Donald coming from the left. It doesn't work."[/sharequote]
"You can't beat Donald coming from the left. It doesn't work," he said. "If you campaign against Donald saying, 'Hey, I'm more liberal than you. I'm more into amnesty than you. I'll be softer on radical Islamic terrorists than you.' It doesn't work, as we've seen twice in Iowa and New Hampshire."
Also in the interview, Cruz forewarned that the race to become the GOP's establishment candidate will soon get "bloody."
"Jeb Bush got a new lease on life last night ... that energized the Jeb Bush campaign. John Kasich also had a good night," Cruz said, according to Politico. "I think you're gonna see Kasich and Jeb Bush and Marco Rubio all fighting it out for the establishment lane."
Listen to Cruz's interview below via Buzzfeed's Andrew Kaczynski:
—
Follow the author of this story on Twitter and Facebook:
[facebook //www.facebook.com/plugins/like.php?href=