The states of South Carolina and Nevada could put a period — or even an exclamation point — in place of the question marks left by the presidential contests in Iowa and New Hampshire.
On Feb. 20, the Nevada Democratic caucus and the South Carolina Republican primary will be held. The Nevada Republican caucus is held on Feb. 23, and the South Carolina Democratic primary is on Feb. 27. The winner of these contests will likely gain momentum going into March 1 Super Tuesday when 12 states vote in primaries and caucuses.
Here are some questions these contests could clarify going forward.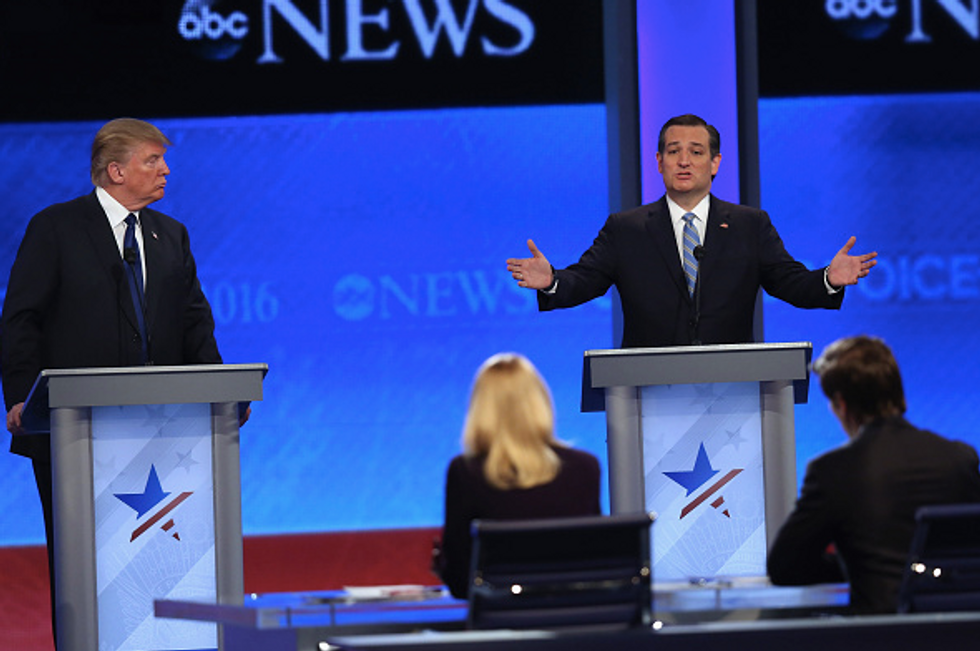 (Joe Raedle/Getty Images)
1. Who has the most to gain and the most to lose?
The two national frontrunners, despite setbacks, clearly have the most to gain. If they lose one or both states, they have the capacity to continue. That's not as likely for the other candidates.
But Former Secretary of State Hillary Clinton could halt the momentum of Vermont Sen. Bernie Sanders and prove he can't compete in bigger, more diverse states. Likewise, real estate billionaire Donald Trump has the chance to prove he can win among conservative southern voters in South Carolina, and potentially shutdown Texas Sen. Ted Cruz, and effectively every other Republican contender.
2. How critical are Nevada and South Carolina for Hillary Clinton?
Vermont Sen. Bernie Sanders demolished former Secretary of State Hillary Clinton in New Hampshire this week after an Iowa tie a week earlier. But pundits immediately began asking if Sanders could keep the momentum in more diverse states.
Nevada has a large Hispanic population, while South Carolina has a large African American population, about 28 percent.
"Nevada could be a must win for Clinton," Jon Ralston, political columnist and PBS TV host in Nevada, told TheBlaze. "There are still a lot of states to vote and a long way to the convention. But it's a serious perception problem and maybe a reality problem, if she can't win in a more diverse geography. She has made inroads with the Hispanic community, but that could crumble if Sanders really has momentum."
Recently Clinton campaign operatives sought to lower expectations by incorrectly saying Nevada was 80 percent white. Ralston pointed out that was not the case, as Hispanics make up about 27 percent of the population, while African Americans and Asian/Pacific Islanders make up about 10 percent of the state's population.
The Congressional Black Caucus Political Action Committee endorsed Clinton, potentially strengthening her position in the South Carolina Democratic electorate.
However, Craig Shirley, a Reagan biographer and political analyst, doesn't buy the view that Sanders will fade away in later states.
"The dirty little secret about Democratic Party primary voters is that they are about as liberal in South Carolina and Florida as they are in New Hampshire or Massachusetts," Shirley told TheBlaze. "Hillary Clinton will do better in South Carolina, but she won't blow Bernie Sanders away."
3. What about polling?
As of this writing, polling for neither state is current, according to Real Clear Politics, which compiles the most recent polling data.
A late December 2015 Nevada poll by Gravis and a late January South Carolina NBC poll found Clinton had a massive lead over Sanders. The problem is these surveys pre-date the Iowa caucus.
The same December Nevada poll found Trump leading Cruz in Nevada, and the January poll found similar results in South Carolina, in each case by double digits.
However, the Weekly Standard on Thursday cited a poll by an unnamed political operative that found Trump's South Carolina lead over Cruz had shrunk considerably, to just six points.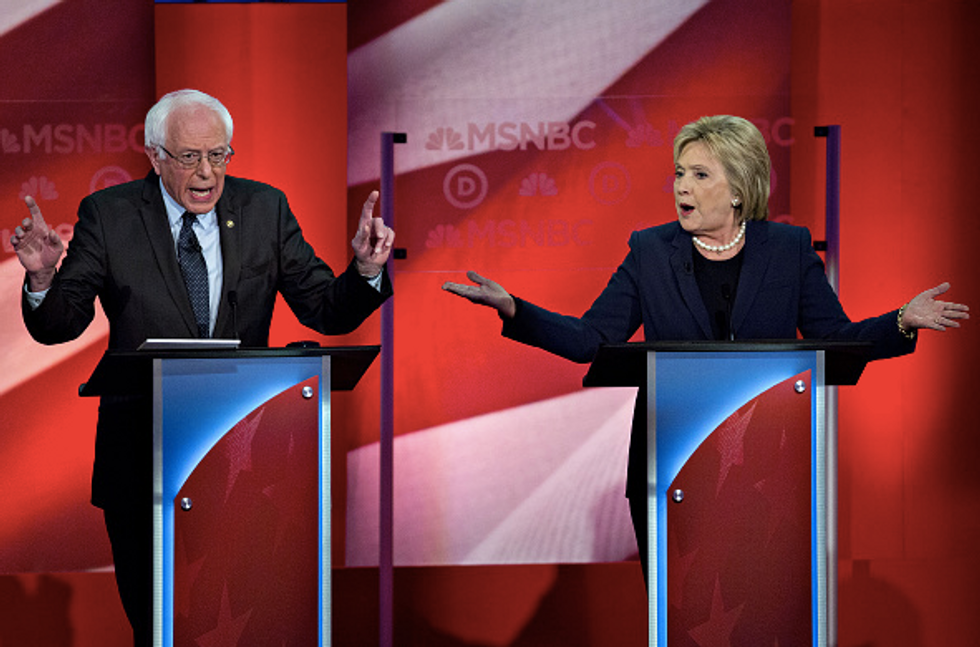 (Andrew Harrer/Bloomberg via Getty Images)
4. Who has the edge among Republicans?
Cruz's strong showing in New Hampshire backed up his impressive victory in Iowa, and South Carolina could be idea territory for him.
"South Carolina is a very conservative state and Cruz is strong among evangelical voters," Charles Bierbauer, the dean of the College of Information and Communications at the University of South Carolina, told TheBlaze. "But Trump, for some reason, has a whole lot of support among conservatives who like what he's saying about the establishment."
Bierbauer, a former White House correspondent for CNN, said the numbers suggest the contest is between Trump and Cruz, but noted there have been no recent polls.
In Nevada, state Attorney General Adam Laxalt endorsed Cruz for president, but Ralston notes that Florida Sen. Marco Rubio and former Gov. Jeb Bush have organization in the state, while Trump clearly has the edge for now.
Ralston thinks the Nevada Republican result might depend on what Republican voters do in South Carolina.
"If Trump dominates in South Carolina, he will likely dominate here," Ralston said. "If he loses, it could weaken him and we might see a surprise by Cruz or Rubio."
5. What are the lessons from history about the states?
South Carolina became an early primary state in 1980, and has correctly picked the Republican nominee every time except for 2012, when former House Speaker Newt Gingrich won.
Shirley notes Ronald Reagan eliminated former Texas Gov. John Connally, who poured money into the state to stop Reagan's momentum.
George H.W. Bush won the state's primary twice, and George W. Bush saved his campaign in 2000 after taking a pounding by John McCain in New Hampshire.
Jeb Bush is now hoping to use that family legacy with advertising by his brother in the state.
"Jeb reminds me more of John Connolly in 1980, someone who spends a lot of money, but is running a personality campaign banking it all on this state," Shirley said.
Bringing in his brother to campaign for him is a break from Jeb's original position of declaring, "I am my own man," and seeking to carve out his own record. That's before he came in sixth place in Iowa and fourth place in New Hampshire.
"It's a good question: How do you convey that Jeb is not his brother or his father, then when you're struggling, bring your brother out?" Bierbauer said. "On the other hand, George W. Bush is still popular here. Crowds will turn out to see him. Having held the office holds certain cache."
The South Carolina legacy for Democrats is a little more spotty. It has only been an early state for Democrats since 1988, when Jesse Jackson won. Further, in 2004, North Carolina Sen. John Edwards won the state's Democratic primary. However, Bill Clinton in 1992 and Barack Obama in 2008 both won South Carolina.
Something that could benefit moderate candidates on either side could be that South Carolina is an open primary state, which means Democrats can vote in Republican primaries, and the reverse is true. This helped boost moderate Sen. John McCain in the 2008 Republican primary.
A candidate like Ohio Gov. John Kasich, who finished a distant second in New Hampshire, might try to appeal to Democratic voters to turn out in the GOP primary, Bierbauer said. However, that crossover is questionable this year because both sides have competitive races.
Bierbauer added that gun ownership may help Sanders here since he is more pro-Second Amendment.
Nevada has far less history. It has only been an early state since 2008. That year, Clinton beat Barack Obama for the popular vote, but Obama won the larger share of delegates from the state. On the Republican side, former Massachusetts Gov. Mitt Romney won the Nevada caucus in 2008 and 2012.