An Ohio police department is putting one of its officers on paid administrative leave after he allegedly referred to the suicide of a Black Lives Matter activist on Facebook as a "happy ending."
The officer, Lee Cyr, reportedly commented "Love a happy ending" on a post with a link to an article regarding MarShawn McCarrel's suicide on Monday.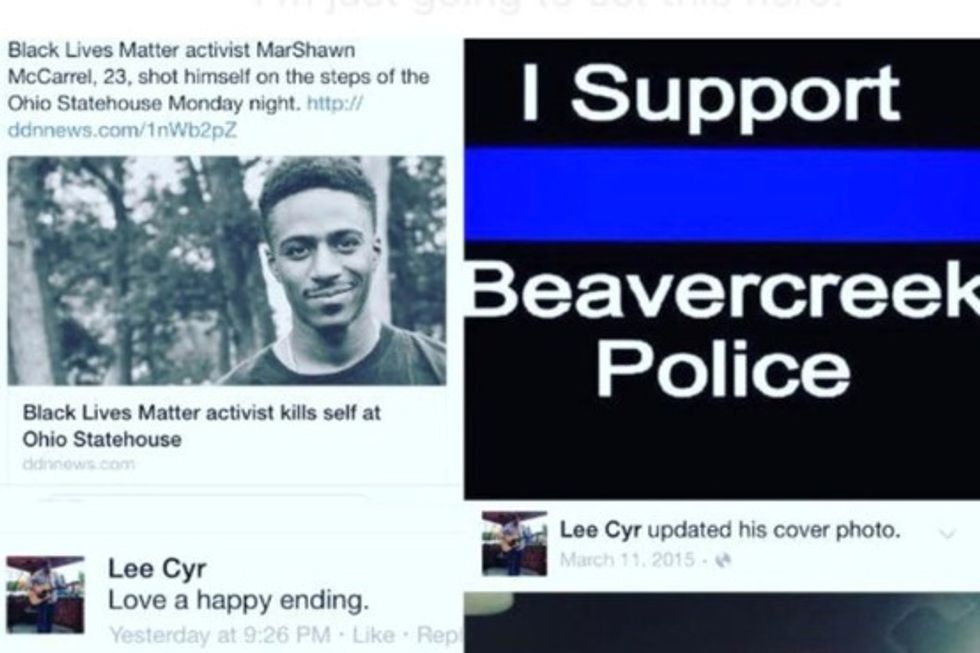 Screenshot of the now-deleted post. Image source: Dayton Daily News
McCarrel, 23, committed suicide on the front steps of the Ohio Statehouse on Monday, according to the Dayton Daily News.
The Daily News reported that McCarrel was a Black Lives Matter activist who brought "home-made lunches to homeless people."
"When we were made aware of a Facebook post that was linked to a Fairborn police officer, an internal affairs complaint was initiated," Fairborn Police Chief Terry Barlow told the Daily News.
"[Social media posts] that may discredit the police department are against policy," Barlow said. "We take this seriously. We will ensure the professional standards of the department are upheld."
"He will be on paid administrative leave which is protocol for someone who is going into an active investigation," Barlow added.
Tom Roberts, a member of the Ohio Collaborative Community—Police Advisory Board and a vice president with the NAACP Dayton Unit told the Daily News that the police department "is taking an important step in the right direction."
"I think the issue is still relevant because now we find situations where, not only in this area but the entire state where there is a lack of sensitivity by the police department as it relates to African Americans," Roberts said. "So the issue, unfortunately, is still before us."