Following a victory in the NBA's Celebrity All-Star game Friday, Win Butler, the American frontman for Canada-based rock band Arcade Fire, dove into discussion about healthcare and U.S. politicians' battle for the White House. But his comments didn't go on for long.
ESPN reporter Sage Steele, who was interviewing Butler as he received his MVP trophy, congratulated the singer. From there, Butler said he has lived in Montreal for 15 years, adding that he hopes his victory helps the Canadian government to "fast-track" his citizenship to the country.
"I brought this home for Canada," he said. "Respect to team Canada."
Moments later, the conversation turned political, which ESPN was quick to nix.
"I just want to say, as an election year in the U.S., the U.S. has a lot they can learn from Canada: health care, taking care of people —," Butler remarked, before the music started playing and Steele cut him off.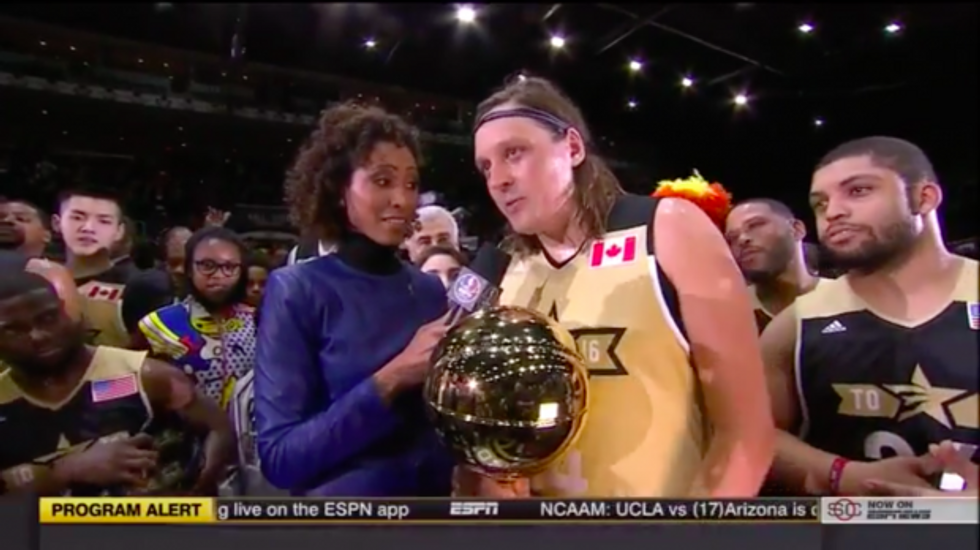 Arcade Fire singer Win Butler discusses politics with ESPN host Sage Steele. (Image source: YouTube screenshot)
"So, we're talking about celebrity stuff, not politics," Steele told the singer as she nudged his shoulder. "Congratulations on the MVP."
Butler's attempted political plug comes shortly after a leaked ESPN document revealed that the organization was taking up a strict policy regarding any policy-, politics- or election-related commentary from its personalities and guests.
"At ESPN, our reputation and journalistic credibility are of paramount importance — and that extends to our coverage of the Presidential Election, candidates, issues and the intersection of sports and society," the internal memo reads. "Our audiences should be confident that political pressures or personal interests do not influence our news decisions."
Watch the video:
(H/T:
Mediaite
)
—
Follow the author of this story on Twitter: