The former soft-core porn actress who briefly starred in an ad for Republican presidential hopeful Ted Cruz, who pulled the 30-second video upon learning about the actress's history, spoke out Friday, defending her actions and defending the Cruz campaign.
Amy Lindsay told CNN host Jake Tapper that she was "shocked" when she heard the ad had been pulled, saying that she was unaware the video had been taken down until she received a phone call from a media outlet asking for her reaction.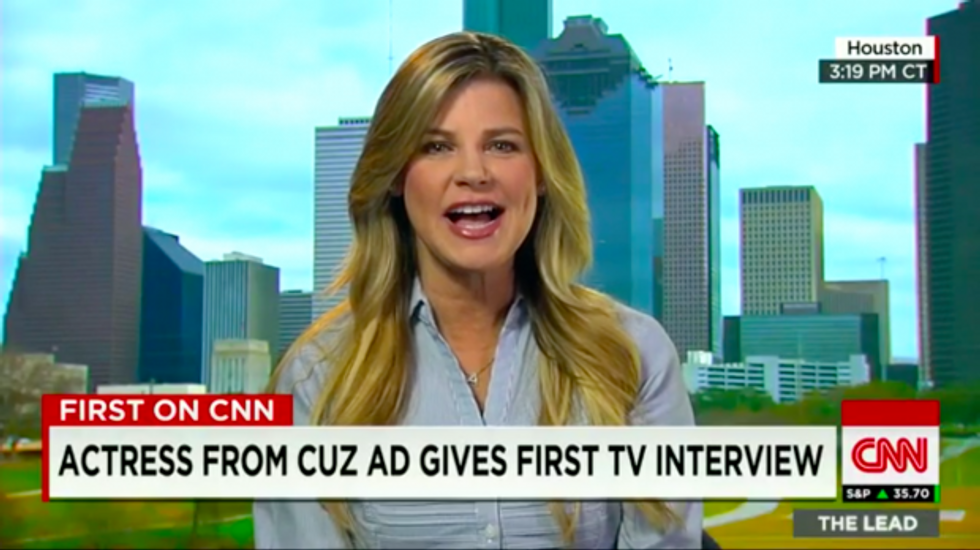 Actress Amy Lindsay discusses her appearance in a Ted Cruz ad on CNN Friday, Feb. 12. (Image source: CNN/Twitter)
According to the Cruz campaign, Tapper says they admitted that she was not "properly vetted," but Lindsay defended her appearance in the advertisement, saying she thought the script was "smart" and "snappy."
"It was a gig, ... but I knew that it was going to be supporting a Republican candidate, which is definitely what I'm doing," Lindsay told Tapper. "I thought the writing was smart, and I thought it was snappy."
The actress went on to say she did not know which candidate in particular the ad was for, but said she considers herself a "conservative Republican."
"I knew it was something I could get behind and support," Lindsay concluded.
Watch the interview:
How did adult film vet. @amylindsayLA land in a @tedcruz ad? What did she think when it was pulled? @jaketapper asks https://t.co/sTuYejgmUe

— The Lead CNN (@TheLeadCNN) February 12, 2016
—
Follow the author of this story on Twitter: