MAULDIN, S.C. — In his quest to win over South Carolinians, Ohio Gov. John Kasich scored big Saturday afternoon — at least in the Upstate — with his secret weapon, former Clemson University quarterback Tajh Boyd.
"From a personal level, I feel like he's the most approachable person that we have running right now as a candidate," Boyd told TheBlaze in an interview prior to Kasich's presidential campaign rally Saturday. "I just love his values, his morals. In New Hampshire he talked about not necessarily the government changing things, but we the people, our hearts changing things, and that's something I can agree with. I think [South Carolinians] can agree with."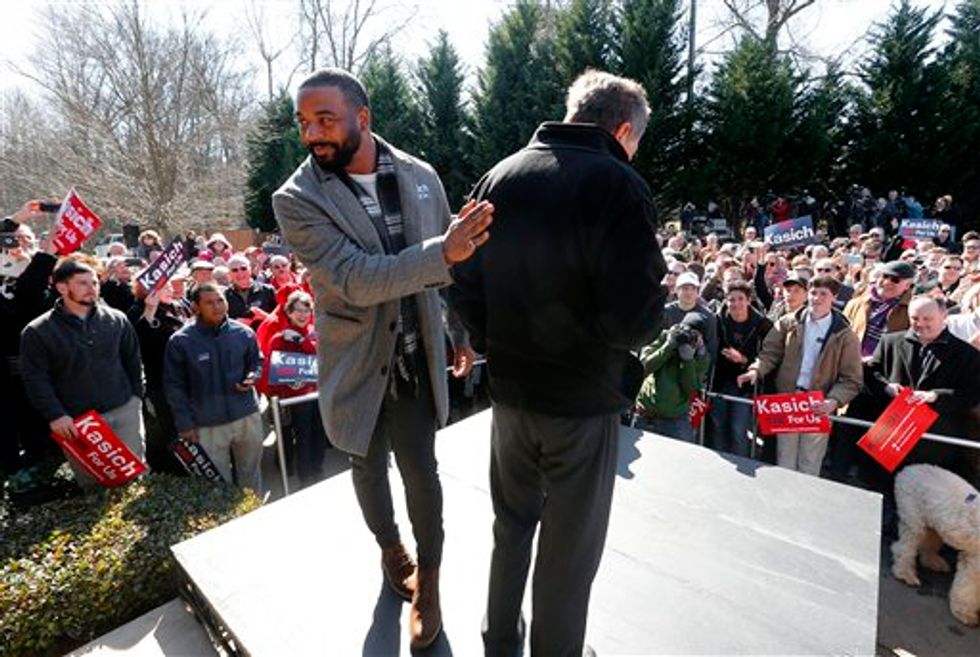 Former Clemson quarterback Tajh Boyd introduces Republican presidential candidate, Ohio Gov. John Kasich speaks during a campaign stop, Saturday, Feb. 13, 2016, in Mauldin, S.C. (AP Photo/Paul Sancya)
Boyd continued to commend South Carolina for "coming together" throughout multiple tragedies and hardships in the past year, including massive, deadly flooding and the Charleston church massacre.
"I think that's who [Kasich] is," Boyd said of the unification. "I think that's what he wanted for Ohio; I think that's what he'd want for South Carolina. I think that he would be an unbelievable candidate."
Because of his popularity, Boyd coming out to support Kasich could make a big difference to South Carolina voters.
With the help of a barbecue and Boyd — who introduced him — Kasich implored South Carolinians for their votes as he tried to connect with the conservative and evangelical Upstate audience. At several moments during his rally, Kasich called out to specific young people in the audience and talked to them about his faith; at one point he brought two young boys onstage and had the pair promise the crowd that they wouldn't get into drugs. 
Standing outside in temperatures that barely hovered above 30 degrees in front of Mutts BBQ, a popular chain in the area, Kasich promised to cut regulations on small businesses, balance the budget, fix social security and lower taxes. He also said that he would make people who are in the country illegally pay a fine instead of "ship people off" and "leave kids on the stoop crying." 
"I'm going to get on a plane and fly around the world and tell the world leaders that America is back," Kasich said. "And we're going to work together to defeat the evil ISIS and anybody else that wants to destroy Western civilization or deny women the right to rise just like men."
Alvin Sell of Simpsonville, South Carolina, told TheBlaze he attended the rally to learn more about Kasich since he'd already been to events for other GOP presidential candidates. Sell said he's shopping around for a candidate with "executive experience."
Sell added that he'd been leaning toward voting for Florida Sen. Marco Rubio but was impressed after listening to former Florida Gov. Jeb Bush speak earlier Saturday morning.
"I'm just really not happy with where the country has gone in the past seven years, the growth of government debt, weakening our military, and so I wouldn't want four or eight more years of that," Sell said. "My number-one concern would be who I thought could stop that and defeat Hillary Clinton."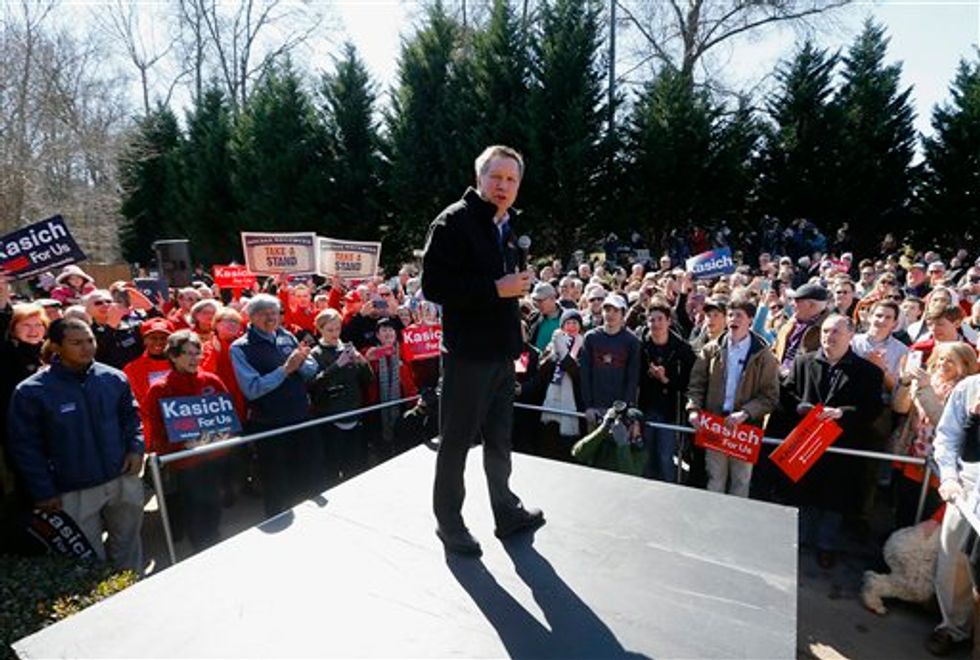 Republican presidential candidate, Ohio Gov. John Kasich speaks during a campaign stop, Saturday, Feb. 13, 2016, in Mauldin, S.C. (AP Photo/Paul Sancya)
However, for Phil Wilkins, who traveled from the Columbia area to hear Kasich speak, his mind was almost certainly already made up.
"In my opinion, if you want government to work, we need someone who knows how government works," Wilkins, wearing a bright orange Clemson jacket, told TheBlaze at the rally. "All the other candidates say they can do it; [Kasich's] proven he can do it."
Wilkins said he believed that Kasich would keep the U.S. out of another war — something he did not think GOP presidential frontrunner Donald Trump would be able to do.
"He would have this country in a war in a short amount of time that we couldn't recover from, and that's what really frightens me about that man," Wilkins said of Trump.
During his stump speech, Kasich did bring up the elephant in the room — the fact that the Clemson Tigers beat the Ohio State Buckeyes in the 2014 Orange Bowl. He promised the crowd, many of who wore orange and purple Tiger gear, that if elected president, they could all celebrate at the next Clemson football game.
During Boyd's senior year at Clemson, he led the Tigers to that victory – upsetting Kasich's alma mater. He also set a new Orange Bowl record for total yards during that game — and during that year, he set the ACC career record for touchdown passes. Boyd now plays in the Canadian Football League as the quarterback for the Montreal Alouettes. 
According to a member of Kasich's campaign, more than 400 people attended the outdoor rally Saturday.
Kasich turned heads after the New Hampshire primary last week when he came in second behind Trump. The remaining GOP candidates will face off one last time before the South Carolina primary in the CBS News Republican presidential debate in downtown Greenville Saturday night.
According to Real Clear Politics' aggregated polling data, Kasich is polling in fifth among voters in the Palmetto State at 6.3 percent. He's behind Trump, Cruz, Rubio and Bush.
— 
Follow Kaitlyn Schallhorn (@K_Schallhorn) on Twitter