Speaking at an event supporting Ted Cruz in South Carolina on Saturday, conservative media mogul Glenn Beck told an audience that his former employer, Fox News, once told him to "stop telling people to pray."
In a Facebook video posted by an attendee at the rally, Beck can be heard recalling several conversations he says took place while he was still employed by Fox News.
He began by telling the audience, "I swore I was never going to tell this story."
But he did.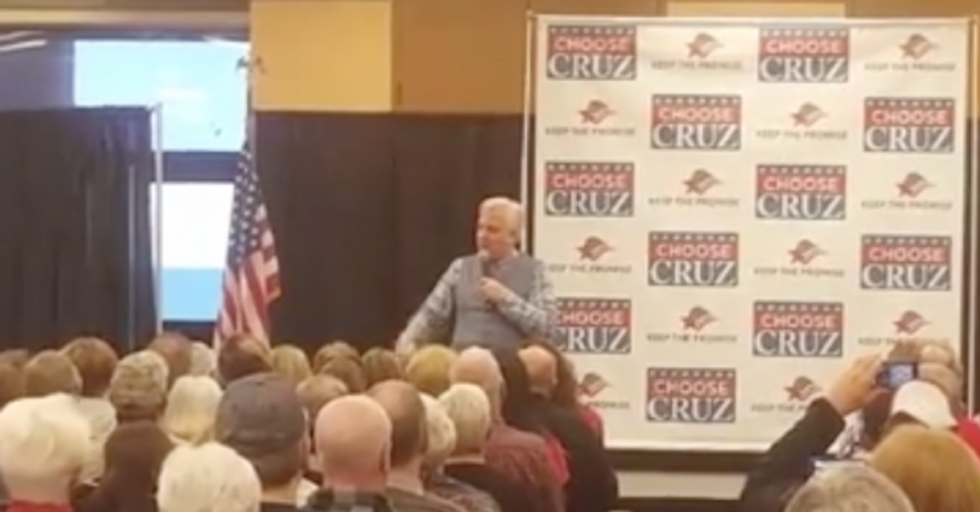 Facebook
"Here's one of the real reasons I left Fox News," he began. "I was called into an office and I was told, 'Stop talking about God.' I was told, 'Stop telling people to pray.' I was told not to tell people to pray on their knees because there's a lot of people in the audience, their knees hurt and I make them feel bad."
The rally attendees can be heard letting out audible gasps as they listened intently.
He also claimed he was told to "stop praying" because that "takes God's focus off the important things like war."
"I was like, 'Uh huh. Wow. I thought I was gonna get this speech at CNN," Beck added.
The conservative radio host, who has endorsed Cruz for president, says he remembered a subsequent conversation in which he says he was asked four months later if he realized how many times he said the word "God" on air since the previous discussion.
Beck said he mentioned God 91 times over 120 days, a number that the South Carolina audience cheered.
Repeating his past claim about his departure from Fox News, Beck said he "wanted to stay," but feared doing so would mean losing his "soul."
Watch the video below:
Fox News did not immediately respond to TheBlaze's request for comment on Monday. In a previous statement, the network refuted Beck's claim about saving his soul:
Glenn Beck wasn't trying to save his soul, he was trying to save his ass. Advertisers fled his show and even Glenn knows what that means in our industry. Yet, we still tried to give him a soft landing. Guess no good deed goes unpunished.
Despite the past work dispute, Beck has since seemingly built an amicable relationship with some at Fox News and has appeared somewhat regularly on "The O'Reilly Factor" and "The Kelly File," two of the network's top programs.
---