MSNBC correspondent Joy Reid seemingly accused GOP presidential candidate Ted Cruz of saying that "he would ignore" the separation of church and state if elected — a charge that one preacher pushed back against during a Saturday segment on the cable network.
"The separation of church and state is in fact not a myth, it's a constitutional fact. ... It's a part of our constitutional makeup," Reid said. "The Founding Fathers were very explicit that they did not want to have a national church."
She continued, "So, can a candidate like Ted Cruz run on essentially saying he would ignore that part of the Constitution, if you're saying he's a president who would actually run on the Constitution?"
Reid's comments were made during an interview with Pastor Mike Gonzalez, the evangelical chairman of Cruz's campaign and the senior pastor at Columbia World Outreach Church in Columbia, South Carolina, while the two discussed how secular Americans should view Cruz.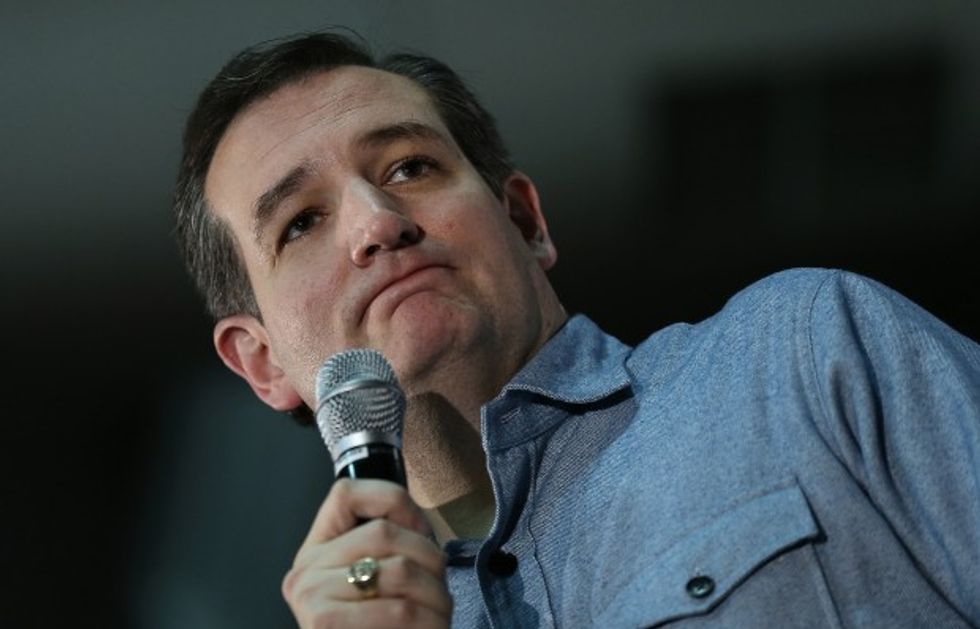 Republican presidential candidate Sen. Ted Cruz (R-TX) speaks to Iowa voters at the Iowa State Fairgrounds January 31, 2016 in Des Moines, Iowa. (Win McNamee/Getty Images)
"Pastor Gonzalez, what do you say to Americans who are more secular who say what we don't want is to have a president in the White House who is essentially using his own personal faith to run the country when the Constitution has a separation of church and state?" Reid asked.
The preacher responded by saying that he believes "this idea of the separation of church and state is a myth," explaining that people bring their faith "into the marketplace" like they do anything else.
"Ted Cruz ... will be a president not just, you know who is a preacher or pastor in the White House; that's not the idea," Gonzalez said. "But I believe that all people, all Americans can rally around Ted Cruz because he upholds the Constitution."
He continued, "I believe all Americans want to truly uphold the law."
Watch the segment below:
That's when she pushed back, claiming that Cruz is saying he would "ignore ... part of the Constitution" when it comes to religious issues. Gonzalez responded by explaining that the Constitution upholds First Amendment rights — a fact that he said Cruz reveres.
"He's not violating that. So, the idea that he would do anything else but really follow the law and the Constitution, it's just not true," the pastor said. "He's going to do that. Our faith is a vital part to our lives. But that doesn't mean he's in the White House preaching, you know, all of the time he's going to be doing that while he's president."
Gonzalez continued, "But it's his faith, it's who he is. You can't separate him. It's like when you scramble eggs, you can't unscramble them. That's the reality. Our Constitution gives us our religious rights and our religious freedoms. You can't take that away."
(H/T: Newsbusters)
--
Follow the author of this story on Twitter and Facebook: