Top U.S. military analysts told senior intelligence officials that they were receiving skewed and manipulated reports on the Islamic State, according to The Daily Beast. Whistleblowers believe the reports offer an overly optimistic account of the fight against the terrorist group.
These complaints were lodged by analysts at the U.S. Central Command and were made to the Office of the Director of National Intelligence (ODNI) in 2015. The accusations were made in response to surveys sent out by the Analytic Integrity and Standards Group last year as part of a "periodic assessment," according to U.S. officials.
This is the second set of accusations that reports regarding the Islamic State might be inaccurate. The first was made to the Defense Department inspector general who is currently investigating "whether there was any falsification, distortion, delay, suppression, or improper modification of intelligence information" by senior officials in CENTCOM's intelligence group, according to the Daily Beast.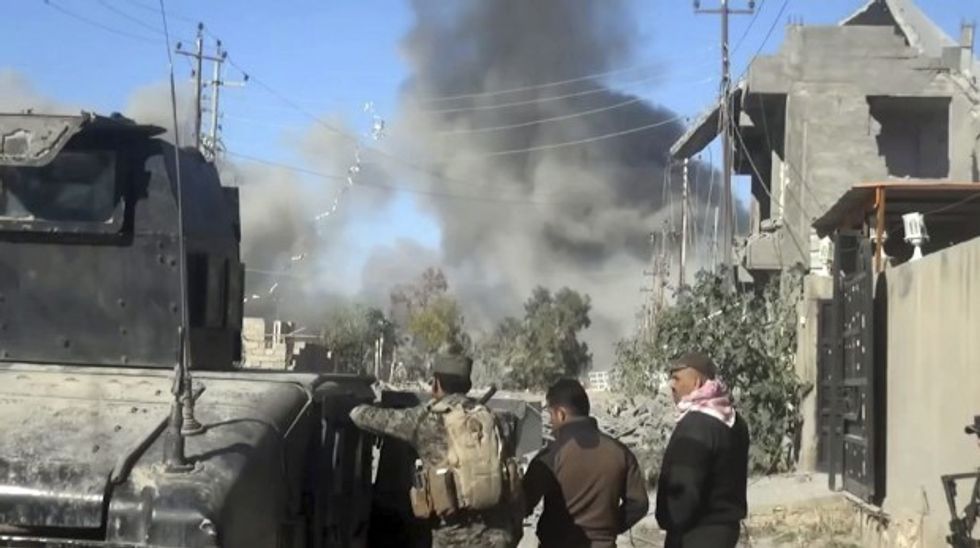 Smoke rises from Islamic State positions following a U.S.-led coalition airstrike as Iraqi Security forces advance their position in downtown Ramadi, 70 miles (115 kilometers) west of Baghdad, Iraq, Friday, Dec. 25, 2015. Iraqi forces have retaken large parts of Ramadi from Islamic State of Iraq and the Levant (ISIL) group, but officials expect the city's "liberation" to take longer than initially expected. (AP Photo)
These most recent accusations purport to show that officials charged with overseeing all U.S. intelligence activities were aware of potential issues with the integrity of information on the Islamic State, some of which made it's way to President Barack Obama's desk.
As for why these reports may have been manipulated, the analysts say it was all in the name of politics.
According to the whistleblowers, their reports were altered for political purposes, to adhere to public statements made by the Obama administration that the U.S.-led operation against the Islamic State was making progress and had handicapped the group's finances and operations — a claim White House officials have staunchly denied.
Additionally, National Intelligence Director James Clapper said in September of last year that his office was not aware through its own channels of the analysts' accusations.
"It is an almost sacred writ…in the intelligence profession never to politicize intelligence. I don't engage in it. I never have and I don't condone it when it's identified," Clapper told Senate Armed Services Committee during a congressional oversight hearing last year.
Ultimately, he wanted to downplay what he referred to as the "media hyperbole" surrounding the accusations.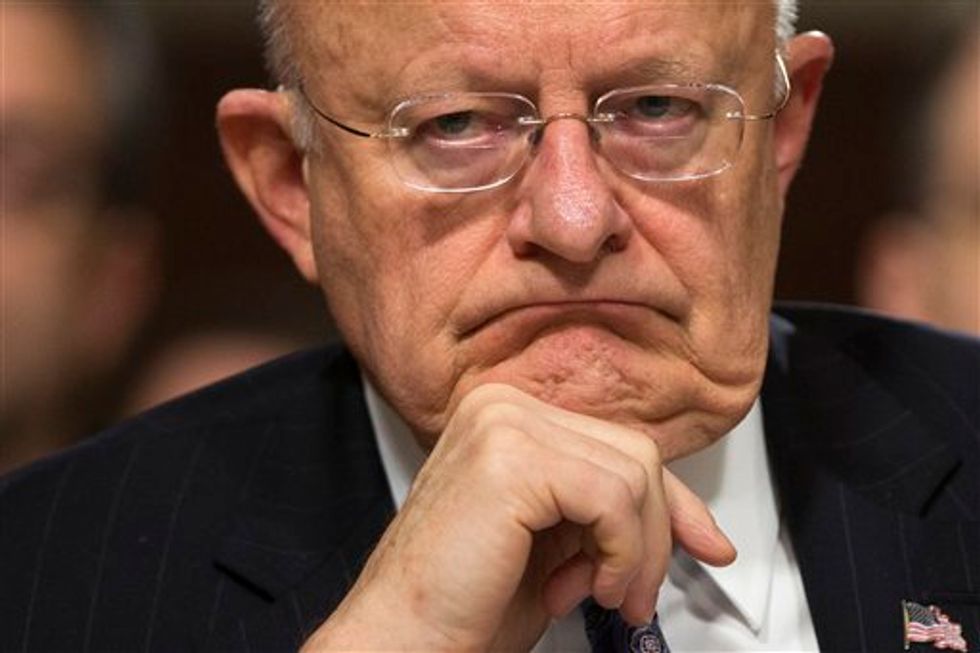 Director of National Intelligence James Clapper listens on Capitol Hill in Washington, Tuesday, Feb. 9, 2016, while testifying before a Senate Armed Services Committee hearing on worldwide threats. (AP Photo/Evan Vucci)
"I think it's best that we all await the outcome of the DOD I.G. investigation to determine whether and to what extent there was any politicization of intelligence at CENTCOM," he said.
However, several leading Republican lawmakers and 2016 presidential candidates have questioned whether or not the public is receiving an honest account of the effect hundreds of U.S. airstrikes have had on the Islamic State. These accusations of skewed reporting have come up several times in congressional hearings and in GOP presidential debates.
In the survey from the ODNI, the analysts said their superiors edited or rejected reports that cast doubt on the effectiveness of the U.S.-led campaign against the terror group. In addition, they accused senior CENTCOM intelligence officers of attempting to delete emails and other reports that offered evidence of their manipulations, a source familiar with the survey told The Daily Beast.
The ODNI has determined not to investigate the analysts' claims on its own because the Defense Department's inspector general has already launched an investigation, sources told The Daily Beast. That investigation, which was launched after more than 50 CENTCOM analysts filed complaints with ODNI in July 2015, has not yet been completed.
The U.S. Central Command is based in Tampa, Fla., and is responsible for U.S. military operations across the Middle East, ranging from Egypt to Afghanistan. There are more than 1,000 analysts, comprising of civilians and troops, assigned to interpreting intelligence and other information on the region's security.
The ODNI is responsible for overseeing all intelligence agencies, both military and civilian. They are there to ensure intelligence reports are free from any political influence and bias. They also confirm that the information came from sound, verifiable sources.
The group "conducts regular periodic assessments of finished analytic products" and reviews them "for timeliness, objectivity and independence from political considerations, and ensures that the products are based upon all sources of available intelligence and employ the standards of proper analytic tradecraft," ODNI spokesman Timothy Barrett told The Daily Beast.
"Intelligence analysis from CENTCOM was reviewed by [the group] in 2015 as a part of the periodic assessment, and the information is available to Congress and the [Defense Department inspector general]," he added.
A task force comprised of staff from three House committees, on intelligence, armed services and appropriations, is investigating the most recent allegations and determining whether or not they reflect systematic problems with intelligence analysis.
However, it is unclear whether the analysts complaints to the ODNI lead to any corrective actions or halted what they saw as an inappropriate practice of selectively altering reports. Three anonymous sources told The Daily Beast that they watchdog had conducted interviews with analysts at CENTCOM headquarters in Tampa.
ODNI allegedly reviewed documents that purported to show senior officials, including Maj. Gen. Steven Grove, the command's intelligence director, and civilian deputy Gregory Ryckman had deleted emails and files from computer systems before they could be examined by the inspector general.
"The cancer was within the senior level of the intelligence command," one defense official said.
The analysts' pushback has been described as a "revolt."
—
Follow the author of this story on Twitter: