GREENVILLE, S.C. — Thousands of people turned out to GOP presidential hopeful Donald Trump's rally in Upstate, South Carolina — along with them televangelist Mike Murdock who publicly endorsed the businessman.
As the Texas pastor made his endorsement ahead of Trump's rally at the T.D. Center, he said he has followed Trump for the past 40 years as he's asked him questions and watched closely at how he handled himself in debates.
"Every garden has a snake. The most perfect place in the world, like the United States, every garden has a snake," Murdock said. "And when I wanted to vote for a president, I examined each of the men and women who are talking, and I thought, 'who would I want killing my snake in my garden?' And it had to be Donald Trump."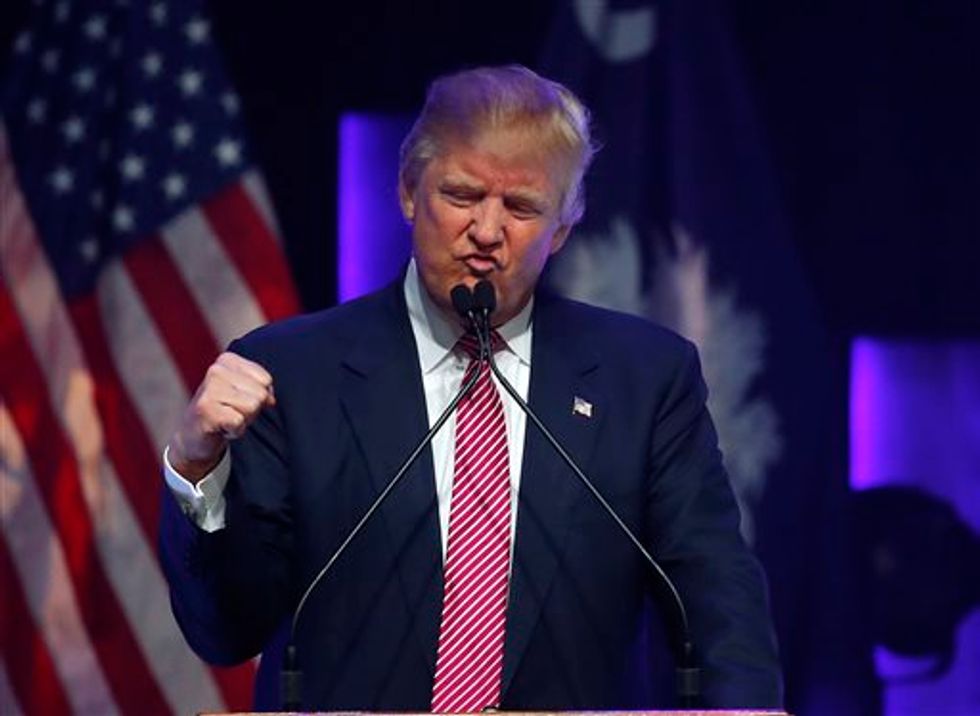 Republican presidential candidate Donald Trump speaks during a campaign stop, Monday, Feb. 15, 2016, in Greenville, S.C. (AP Photo/Paul Sancya)
Murdock, pastor of the Wisdom Center, said that while he "likes" all of the other candidates, his "vote goes for a man that makes me feel protected."
"There is only one man that has an undefeated record of defeating the giants that show up in his world, and it's — ," Murdock said, as the audience completed his sentence with shouts of "Donald Trump."
Murdock's endorsement comes just days before the South Carolina primary as Trump still leads the Republicans. According to a CBS News poll, completed just before Saturday night's debate, Trump's lead among evangelicals has increased.
Trump surrogate Pastor Mark Burns referred to Murdock as the "mentor for millions" as he introduced the televangelist, but Murdock's past has not been without its own scandals. He was a pastor on the embattled PTL Club before its bitter collapse where he worked with Jim and Tammy Faye Bakker.
According to a Fort Worth Star-Telegram investigation in 2003, Murdock would often fundraise money on the promise that it would go toward promoting the gospel and helping the poor. However, according to the Star-Telegram report, more than 60 percent of his ministry's revenue went to overhead whereas less than 1 percent of donors' money went to charitable works.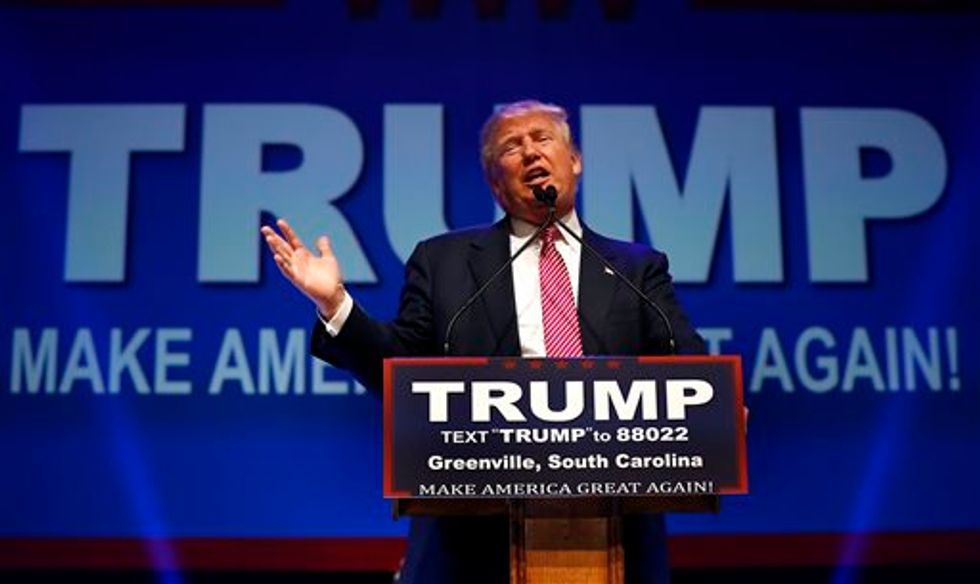 Republican presidential candidate Donald Trump speaks during a campaign stop Monday, Feb. 15, 2016, in Greenville, S.C. (AP Photo/Paul Sancya)
During the rally, Trump continued to hit his presidential rivals Texas Sen. Ted Cruz, Florida Sen. Marco Rubio and former Florida Gov. Jeb Bush as he continued with many of the same accusations he made during Saturday night's debate. 
"Marco Rubio, he stood with me when he had the meltdown," Trump said Monday in an apparent reference to Rubio's poor debate performance in New Hampshire. "He was soaking wet. I said, 'what the heck is going on over here?' I thought he just came out of a swimming pool. I said, 'wow are you okay?'"
"When we get in with [Russian President Vladimir] Putin, we need people that don't sweat," he continued.
As for the state of South Carolina, Trump vowed not to move prisoners from Guantanamo Bay to South Carolina — a promise that has been iterated to South Carolinians multiple times on the campaign trail by not only Trump, but other Republican candidates as well. Last year the Department of Defense announced that it was considering Kansas and South Carolina as possible states to hold prisoners when President Barack Obama shuttered the notorious detention camp. 
"We are not moving any people from Gitmo to South Carolina," Trump said to cheers, reiterating comments he made at a press conference early Monday in Charleston. "We're going to load it up with bad dudes — if they make it there."
Trump also criticized South Carolina Sen. Lindsey Graham (R) who endorsed Bush and is known for his hawkish foreign policy views. Trump asked the crowd if they liked Graham, to which he received a cacophony of boos and "no" from the audience. The crowd also responded with loud calls of "no" when asked if Graham would be reelected.
"Well, maybe if I supported him, he would be reelected," Trump said.
"I disagree with his warrior mentality, you know," Trump said. "If you listen to his mentality, we'll be in the Middle East for another 15 years."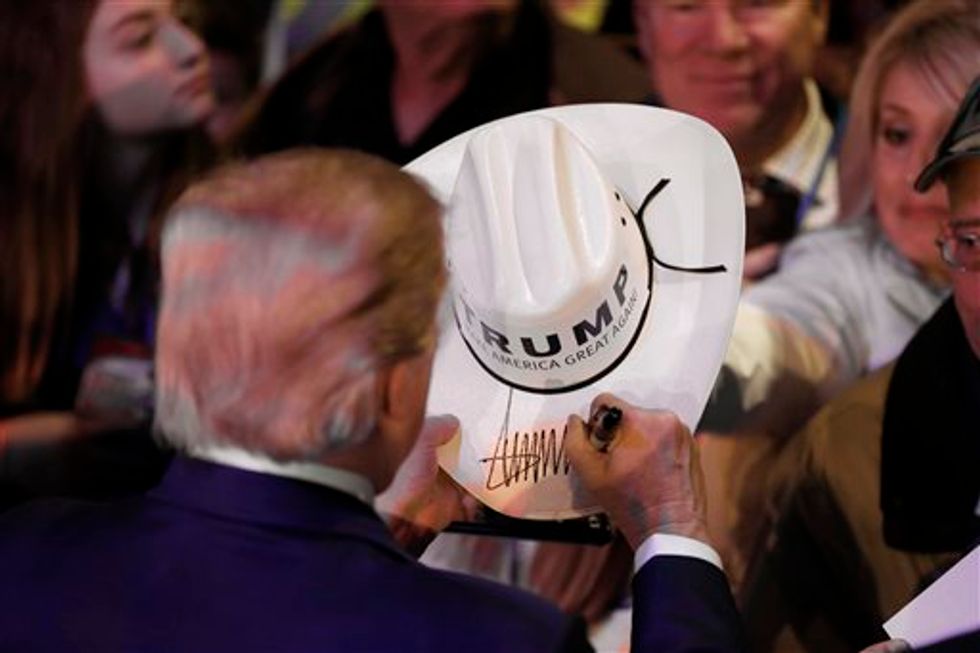 Republican presidential candidate Donald Trump signs a cowboy hat during a campaign stop Monday, Feb. 15, 2016, in Greenville, S.C. (AP Photo/Paul Sancya)
A Secret Service officer told TheBlaze that the event hall could hold up to 4,000 people, and officers had to turn away an uncounted number of supporters and redirect them to overflow seating. The overflow seating area could hold up to 6,000 people, but the officer was not able to confirm if it was at capacity. 
Cindy McGuire and Tony Wyatt, both decked out in Trump paraphernalia, told TheBlaze that the two drove from Asheville, North Carolina to see Trump speak. Weather in South Carolina was treacherous Monday as several car accidents were reported due to the drizzling rain and black ice on the roads. One rally attendee was taken by ambulance after falling on the slick sidewalks outside the convention center prior to the event.
"I just believe in everything that he stands for, and I think he speaks for the American people," McGuire told TheBlaze. "He gives us a voice."
"Let me just say, I want immigrants to come to the United States. I just want them to come here legally," she added.
Wyatt said Trump has had his vote "since day one" and as a businessman himself, it's Trump's "common sense" that resonates with him the most.
Tom Kennemore told TheBlaze that he had been "on the fence" between Cruz and Trump, and while he was still undecided, he was not happy with Cruz after his campaign inadvertently told voters that Dr. Ben Carson had suspended his campaign during the Iowa caucuses. Carson had decided to leave Iowa early to get a fresh set of clothing — not drop out of the race.
Cruz's handling of that situation as well as the "voter violation" mailers sent to Iowa voters have been widely criticized by Trump.
"With Trump, you know what you're going to get," Kennemore said. "He says it like it is."
According to Real Clear Politics' aggregated polling data, Trump is leading in South Carolina with 36.3 percent, followed by Cruz at 17.8 percent, Rubio at 15.8 percent and Ohio Gov. John Kasich at 9.8 percent.
—
Follow Kaitlyn Schallhorn (@K_Schallhorn) on Twitter