A conservative Canadian media outlet says it plans to file suit against the government of Alberta following incidents in recent weeks in which its reporters were excluded from government-organized media events. At one event, its journalist was escorted out of the legislature by a sheriff.
The Rebel media group suspects it is being blackballed over its political leanings, and one of its reporters told TheBlaze that there's a lesson in their experience for American conservatives who want to protect liberties like freedom of the press for a wide spectrum of political opinions.
The Rebel said that the first incident occurred Jan. 29 when two of its journalists were kicked out of a closed-door Alberta government technical briefing known as a media lock-up.
Days later, on Feb. 3, The Rebel's Alberta bureau chief, Sheila Gunn Reid, went to the Alberta Legislature building to cover a joint press conference with Alberta Premier Rachel Notley and Canadian Prime Minister Justin Trudeau.
She said that she was told at the check-in desk that her organization was on a "no-go" list for the event and that the order had come from the premier's office.
Reid was then escorted by a sheriff out of the building, preventing her from covering the press conference, as described in a letter from The Rebel's attorney.
Premier Notley — who serves a role similar to that of a U.S. state governor — also heads the Alberta branch of the left-wing New Democratic Party.
After filing a complaint with the premier's press secretary, The Rebel — which was founded by prominent conservative Canadian media personality Ezra Levant — was told by the province's justice department that its reporters "are not journalists" and therefore deserve no access to media events.
"Our client's position remains that your client and those who identify as being connected to your client are not journalists and are not entitled to access media lock-ups or other such events," read the one-line response to The Rebel from Justice Department lawyer Jason Fung.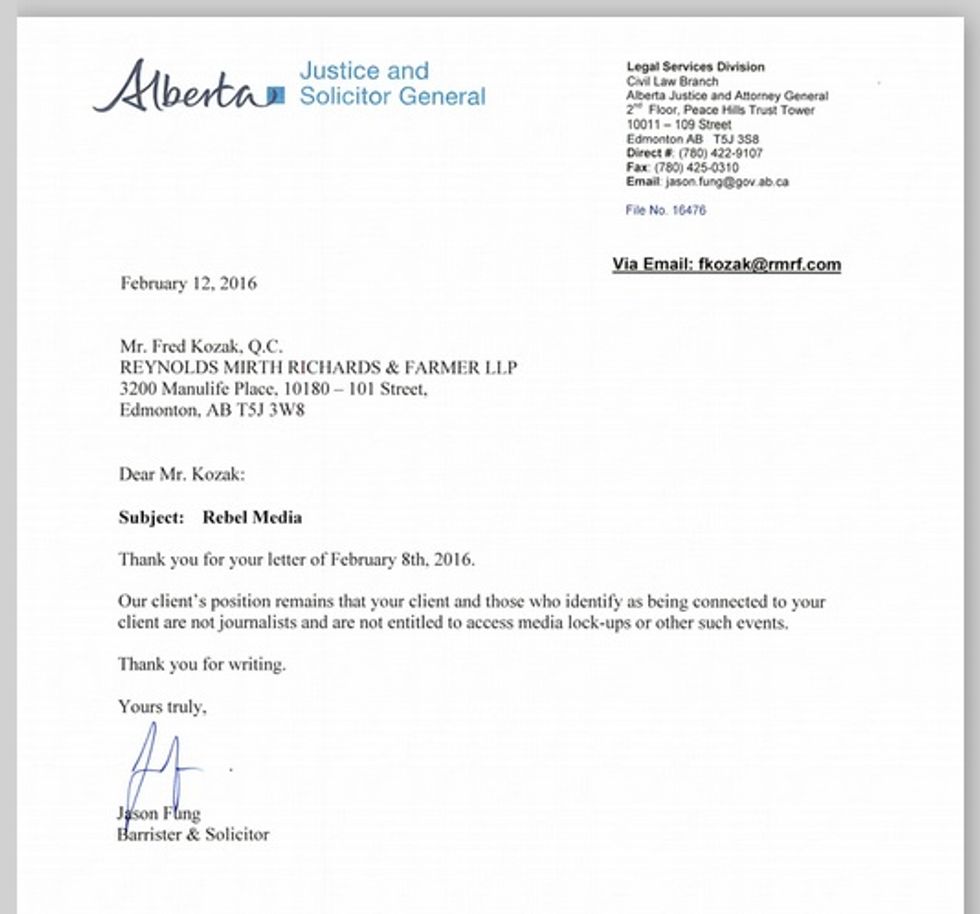 Image source: TheRebel.media
The Rebel believes that its freedom of the press has been violated and now plans to go to court.
"We're asking for a judge to declare that what Notley is doing is illegal — it violates our constitutional freedom of the press. Notley just can't run the government like it's her personal property, where she can bully anyone she doesn't like," The Rebel asserted.
Reid, who was booted from the media events, told TheBlaze via email Tuesday that it is her understanding that only Rebel reporters were not permitted to attend.
"At the Rebel, we know we aren't for everyone, and I know not everyone is my personal fan. But my personal politics are no reason for the premier to stop me from doing my job," Reid said. "Rachel Notley can't decide who is a journalist or not."
Reid is the author of a new book highly critical of Notley titled, "The Destroyers: Rachel Notley and the NDP's War on Alberta." Whether by coincidence or not, the book was released Jan. 29, the precise day that Reid was ejected from the first Alberta government media event described above. The book spent a week at the No. 1 spot and is currently one of the top 10 best-selling books at Amazon's Canadian website.
Reid told TheBlaze she suspects that her book "has a lot to do with why we are being targeted."
"I've been at other media availabilities for the premier in the past. What's changed? Well, I wrote a book detailing all of the radicals in Rachel Notley's government. Now I'm on a media blacklist, and I've damned all colleagues with me!" Reid said.
Asked if her experience offers a lesson for American conservatives, Reid responded, "Elections matter. In Alberta, we ended up with a socialist government because of a protest vote, and now we have a government that does the kind of anti-freedom things we could never imagine the previous government doing."
"We've elected a government that can take away our fundamental liberties like freedom of the press with the brush of a heavy hand. In short: Americans are in election season. Vote wisely, Albertans sure didn't," she added.
The Rebel found perhaps unexpected support from Canadian media personalities who are not associated with the right:
I don't agree with pretty much anything @SheilaGunnReid says, but I don't see how her views should bar her from covering Alta. govt.

— Keith Baldrey (@keithbaldrey) February 16, 2016
For goodness sakes Alberta, as a BC press gallery president I once approved access for the Communist Party. #bcpoli

— Keith Baldrey (@keithbaldrey) February 16, 2016
Whatever you think of @TheRebelTV, this is appalling. Government has no place deciding who is and isn't a journalist pic.twitter.com/MRndV43cqb

— Jesse Brown (@JesseBrown) February 16, 2016
"Notley's blacklist sets a dangerous precedent and we can't let it stand. Personal politics are not a valid reason to restrict the lawful activities of any media organization," The Rebel said in a post describing the unfolding of events.
Others also expressed concern that it's not the role of the government to decide who is or is not a journalist.
@uber_miguel Government does not get to decide who is a journalist. Unless you live in dictatorship. Simple as that.

— David Staples (@dstaples) February 16, 2016
Edmonton Sun columnist Lorne Gunter wrote Monday:
It is very dangerous in a free society to give politicians, bureaucrats or government lawyers the power to determine who is and isn't a journalist. That could lead to censorship, or at least to holding accreditation over the heads of reporters who are critical of the government.
Read more about the controversy, including copies of the lawyers' letters from both sides here.
—
Front-page image via Shutterstock