Former Navy SEAL Rob O'Neill, who claims to have shot terrorist Osama bin Laden, shocked Fox Business host Stuart Varney Tuesday when he said he has no problem with women in combat zones.
"Can I ask you for a flat-out judgement?" the "Varney and Co." host asked O'Neill. "Do you think that women should be part of special ops teams that go in and shoot down Osama bin Laden?"
O'Neill went on to tell Varney that he has "operated with women" in the past, adding that they have accompanied him on special operations. He said the military frequently uses women when searching for other women and children and for "cultural sensitivity type stuff."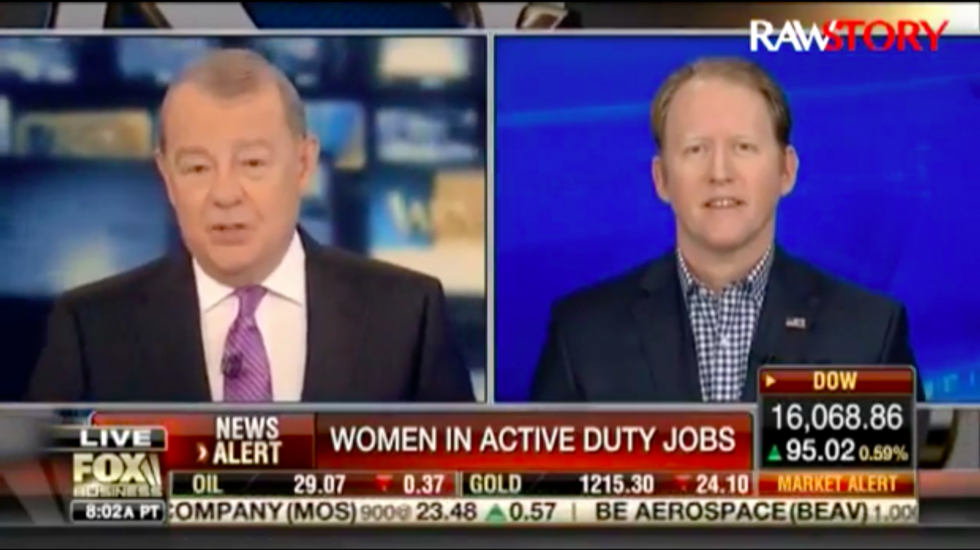 Former Navy SEAL Rob O'Neill discusses women in combat with Fox host Stuart Varney Tuesday, Feb. 16. (Image source: Fox Business/YouTube)
He then addressed one asset to using women in combat that many might not consider. According to the former Navy SEAL, if Islamic fighters are killed by women, "they go to Hell as far as they know."
"Also, I know these Islamic fighters, they don't fear death, but they do fear Hell, and if they are killed by women, they go to Hell as far as they know," he told Varney. "So, I like to say, lock and load, ladies. If they don't lower the standards and they pass them, I think they should get a shot."
Varney, who admitted to having never been in combat, seemed to have a difficult time understanding how O'Neill could feel safe with a female SEAL by his side.
"Are you telling me you are perfectly okay going into a life and death situation with a woman by your side?" Varney asked astonishingly. "I'm told that it changes the dynamics of the group that you're operating with."
O'Neill did concede that there is potential for a "change in dynamic," but insisted that he is 100 percent OK with women in combat as long as "the standards stay the same," chalking his argument up to "equal opportunity."
"Women and men working together is better," he added, but Varney still pushed back.
"I think men have a sort of hunter-gatherer mentality. They go out and break things and kill people," Varney said.
Ultimately, though, the Fox Business host seemed to concede that it is "fair" if a woman can make it through the Navy SEAL's rigorous training, which O'Neill described as "the hardest military training in the world."
Watch the exchange:
(H/T: RawStory)
—
Follow the author of this story on Twitter: