President Barack Obama's favorite rapper Kendrick Lamar delivered a very politically-charged performance during Monday night's Grammy Awards ceremony.
Walking out as part of a chain gang with his back-up singers while his band members were locked inside jail cells all in front of a prison back-drop, Lamar performed his song "The Blacker the Berry," an exhibition that event host LL Cool J said would be "very controversial."
He was right.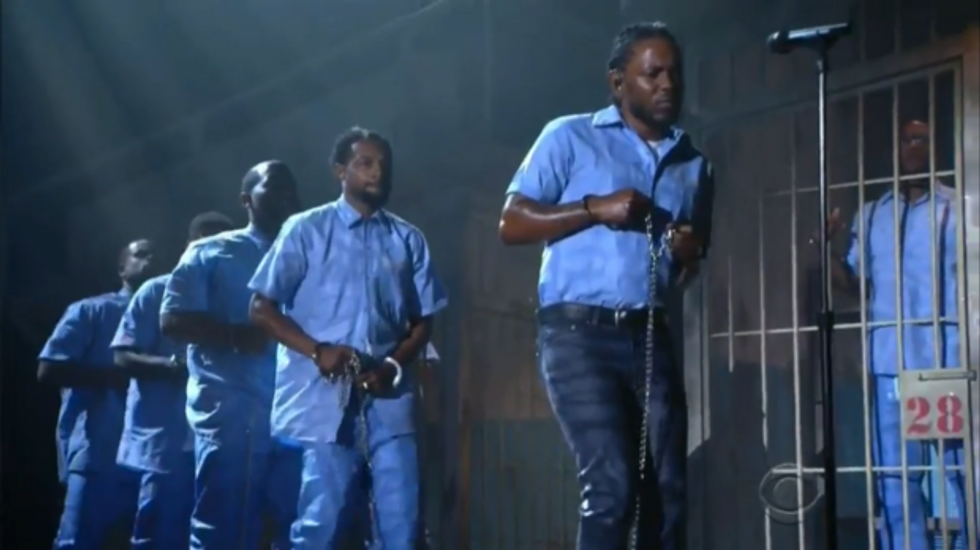 Image source: CBS screenshot
The performance, which highlighted racism and police treatment, drew a strong response — some positive and some negative — on social media and in the Nokia Theatre. Lamar received a standing ovation from the live audience.
"I'm African-American, I'm African," Lamar rapped in handcuffs and a prison jumpsuit. "I'm black as the moon, heritage of a small village/Pardon my residence/Came from the bottom of mankind/My hair is nappy, my d*** is big, my nose is round and wide/You hate me don't you?"
The song goes on to say, "You hate my people, your plan is to terminate my culture/You're f*****' evil, I want you to recognize that I'm a proud monkey."
"You sabotage my community, makin' a killin'/You made me a killer, emancipation of a real n****'."
In addition, the song references the death of Trayvon Martin.
After performing "The Blacker the Berry," Lamar transitioned to his hit song "Alright," rapping alongside African dancers. As the end of the set neared, a picture of a map of Africa appeared behind the artist.
Written on the map was "Compton," Lamar's hometown.
Both songs are from Lamar's latest album "To Pimp a Butterfly," for which the rapper won seven Grammy nominations this year. Lamar won a total of five awards, picking up four before the show began and snagging the Best Rap Album award at the beginning of the show.
Watch the performance: 
—
Follow the author of this story on Twitter: