Imagine a college student group promoting the sale of novelties featuring a photo of 9/11 hijacker and mastermind Mohamed Atta.
That's not so far from what's going on at Vassar College in New York.
The campus branch of Students for Justice in Palestine last week posted this item on Facebook promoting the sale of a black shirt decorated with the face of a Leila Khaled, a notorious Palestinian terrorist who is also holding a machine gun up in the air in the T-shirt art.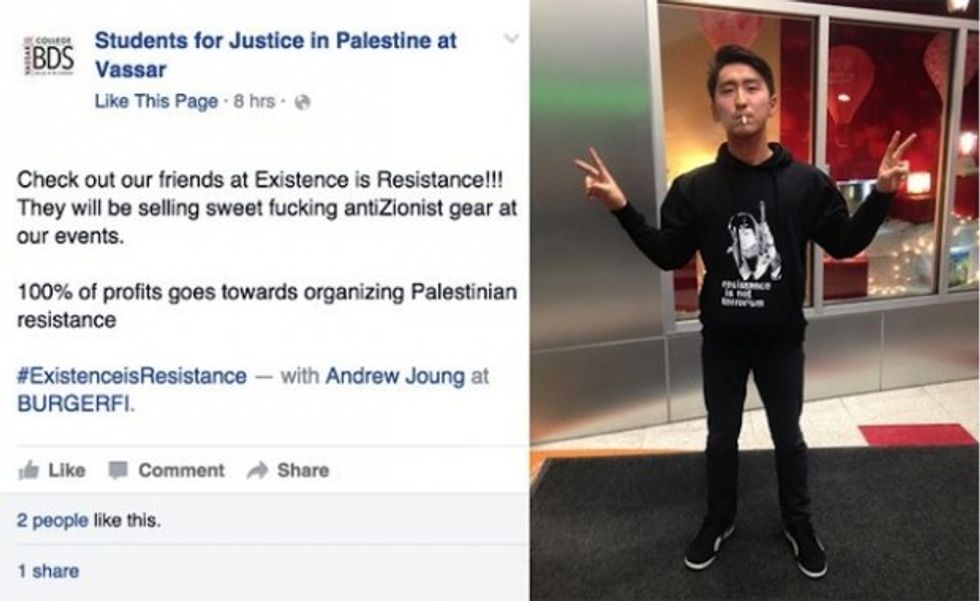 Image captured from Facebook by Legal Insurrection.
The anti-Israel student group chillingly noted: "100% of profits goes towards organizing Palestinian resistance."
Palestinians often use the word "resistance" to refer to violent attacks on Israelis. Hamas, for example, refers to itself as "the resistance," and its name is an acronym for "Islamic Resistance Movement."
Khaled, whose image is featured on the shirts, participated in two airplane hijackings in 1969 and 1970 with the Popular Front for the Liberation in Palestine. After her arrest and imprisonment in the U.K., she was later released in a prisoner exchange.
After the Students for Justice in Palestine's Facebook post was pointed out by conservative websites that cover college campuses, the Vassar group appears to have edited the language of its Facebook post to: "100% of profits goes towards Existence Is Resistance," an apparent effort to downplay the terrorist implication of its initial call.
William Jacobson who runs the conservative website Legal Insurrection noted that the T-shirt promotion was first noticed by Ithaca College Jewish Studies Professer Rebecca Lesses who posted this comment on her blog: "A fine hero for SJP at Vassar to have — an airplane hijacker who managed to avoid jail."
"Apparently the people in the two planes that she hijacked — TWA 840 and El Al 219 — don't matter to them," Lesses wrote. "The terrorist, not the victims, is the one they laud."
"They don't appear to be able to imagine themselves as the terrified passengers, wondering what was going to happen to them when armed attackers take over their planes. No, what they like is 'sweet f***ing antiZionist gear,'" Lesses added, referring to the wording of the student group's original profane Facebook post.
(H/T: Legal Insurrection)