Singer-songwriter Taylor Swift made history twice Monday night. First, she became the first woman to win Album of the Year twice and, second, she publicly reprimanded rapper Kanye West for the first time.
"As the first woman to win Album of the Year at the Grammys twice," the "Shake It Off" singer said. "I want to say to all the young women out there: There will be people along the way who will try to undercut your success or take credit for your accomplishments, your fame."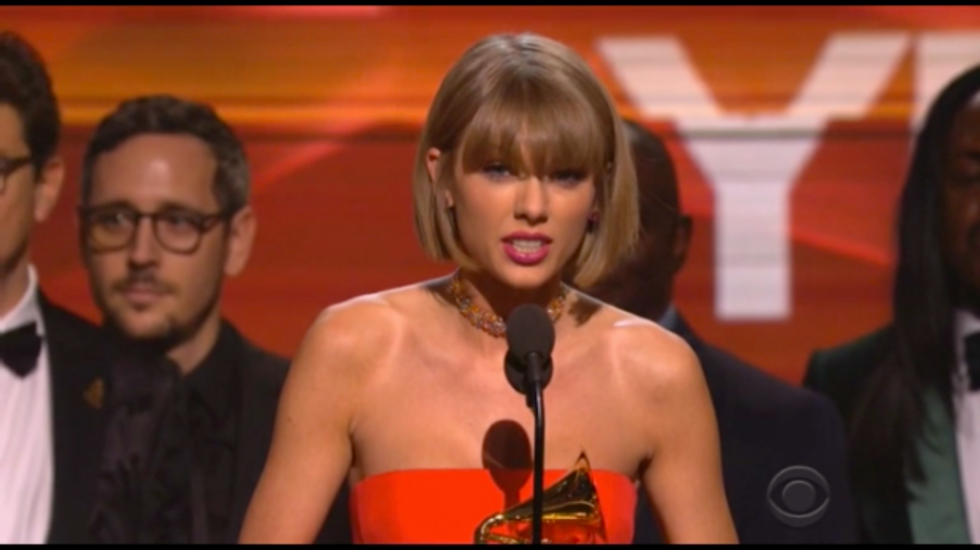 Taylor Swift delivering her Album of the Year Award acceptance speech at the Grammy Awards Monday, Feb. 15. (Image source: CBS screenshot)
Swift used the star-studded moment to issue a warning to women and girls, calling them to stand up for themselves. She told them to "focus on your work and don't let those people sidetrack you."
Her comments, however, had more than one aim. She was calling out West, too.
In West's newest album, "The Life of Pablo," the rapper says he "made that b**** famous," referring to Swift, in a song titled "Famous."
"If you just focus on the work and you don't let those people sidetrack you, someday when you get to where you're going, you'll look around and you will know it was you," Swift continued.
"And that will be the greatest feeling in the world," she concluded from the podium as some in the audience gave her a standing ovation.
The Swift-West feud began in 2009 when West infamously interrupted Swift's award acceptance speech at the Video Music Awards. West passionately felt the award Swift received should have gone to Beyoncé.
Until Monday evening, Swift had remained silent on the issues between her and West. But that has not gone both ways.
West has continually made comments about Swift, even claiming recently that the racy lyrics in "Famous" received the songwriter's blessing.
"I called Taylor and had a hour long convo with her about the line and she thought it was funny and gave her blessings," he tweeted, adding that the word b**** is an "endearing" term.
Watch Swift's speech:
Taylor Swift did not mince words in calling out Kanye West in her Grammys acceptance speech https://t.co/gXzOgVqv7j

— BuzzFeed News (@BuzzFeedNews) February 16, 2016
—
Follow the author of this story on Twitter: