MT. PLEASANT, South Carolina – Texas Sen. Ted Cruz said Tuesday he would not want his children hearing or repeating the vulgarity of Republican presidential frontrunner Donald Trump, and thinks other parents feel the same.
"Listen, I will say, as the parent of two young children, there are things that come out of Donald's mouth, which any parent would be dismayed if their child repeated at home," Cruz told a gaggle of reporters after an event aboard the U.S.S. Yorktown.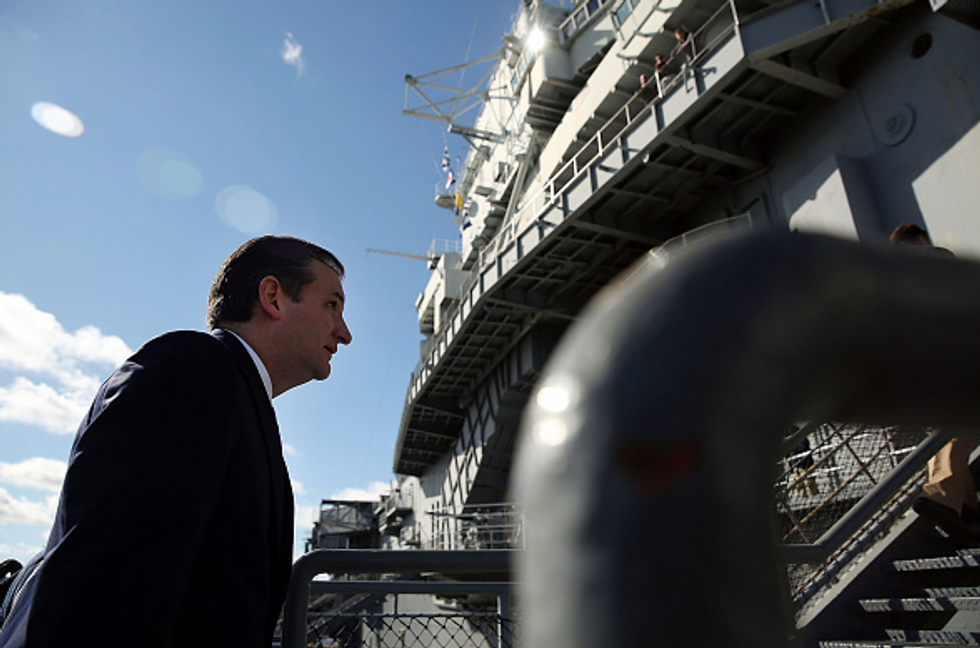 Republican presidential candidate Ted Cruz walks onto the USS Yorktown to give a speech on international security and expanding the U.S. military on February 16, 2016 in Mt Pleasant, South Carolina. Cruz, one of the more conservative candidates running for president, criticized the Obama administration for shrinking the military and for not being aggressive enough on the international stage. (Spencer Platt/Getty Images)
At several events in New Hampshire, Trump used obscenities rarely heard from political candidates in public speeches, and prompted TV stations to bleep parts of his speeches, including the apparent use of the F-word, which Trump denied fully saying.
"It is not a good thing if parents would be embarrassed to have their children repeating the president of the United States," Cruz continued. "You ought to have a president who can bring us together, who can defend our values, not one who attacks and insults with vulgarities anyone who might question his record or even point to the actual words out of his mouth, his own liberal positions."
Cruz, a staunch conservative Republican, even referenced the historic words of two past Democratic presidents as an example of inspiring words, Franklin D. Roosevelt and John F. Kennedy.
"FDR told us the only thing we have to fear is fear itself. Kennedy reminded us to ask not what your country can do for you but what you can do for your country," Cruz said. "If you compare that to some of the more priceless gems from Donald Trump, that's a fairly stark contrast."
Cruz pointed to the numerous occasions where Trump shouted "liar" at Cruz during the most recent GOP debate, including his support of partial birth abortion and Planned Parenthood funding.
"Donald's response on that debate stage was to say once again that he thinks Planned Parenthood does terrific things," Cruz said. "I do not believe the nation's largest abortionists does terrific things. I do not believe anyone who is a social conservative or anyone who is a fiscal conservative would defend hundreds of millions of taxpayer funds to Planned Parenthood."
"After calling me a liar, Donald repeated the position on the debate stage that I just observed was his position," he added.
—