COLUMBIA, S.C. — Ben Carson, a retired neurosurgeon seeking the Republican presidential nomination, hopes to capture significant Democratic support in Saturday's South Carolina Republican primary.
"The issues I tend to emphasize are not Democrat or Republican issues," Carson told TheBlaze Wednesday. "These are American issues. Our economy and the lack of responsibility in dealing with the fiscal crisis that is coming, that is not a Democratic or Republican issue. Dealing with ISIS, dealing with global terrorism, when they come over here, they're not going to ask if you are a Democrat or a Republican before the cut your head off."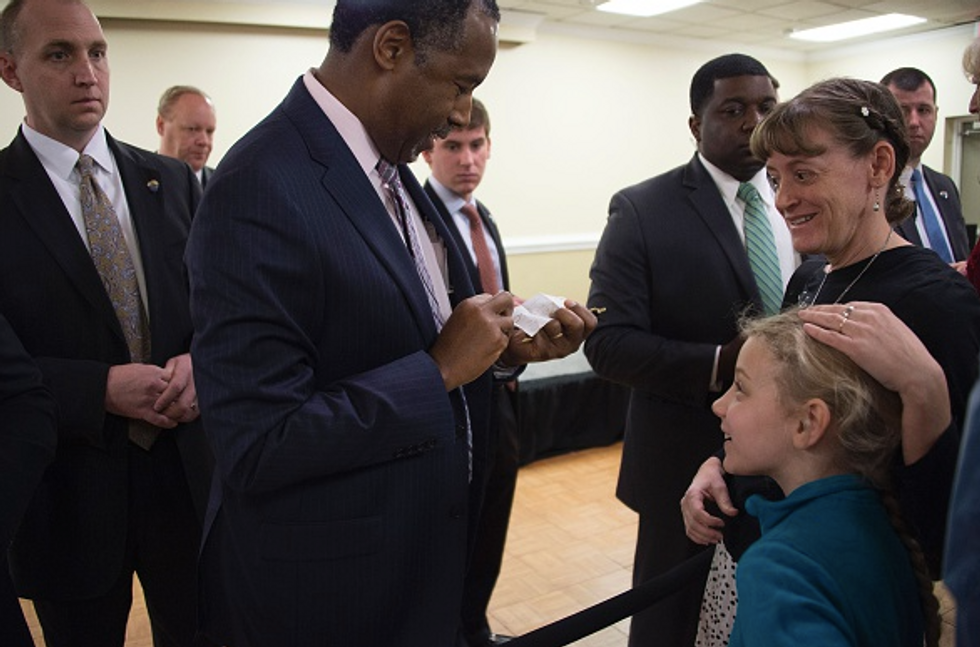 Republican presidential candidate Ben Carson opens a drawing from a young girl as he talks with supporters after speaking at a veteran's roundtable in Columbia, South Carolina, Wednesday. (Jim Watson/AFP/Getty Images)
South Carolina has open primaries, which allows voters to participate in either the Republican or Democratic primary — but not both.
Former Secretary of State Hillary Clinton currently holds a significant lead over Vermont Sen. Bernie Sanders in South Carolina, where the Democratic primary will take place Feb. 27. So, some voters might be motivated to participate in a more competitive process.
Carson, a one-time front-runner in the national polls, finished poorly in Iowa and New Hampshire, and polls about fifth place in South Carolina.
Carson's campaign gained a bit of a boost when Rep. Andy Harris (R-Md.) became the lone member of Congress to endorse the outsider's campaign.
"As a physician, as a veteran, as a congressman, as a member of the House Freedom Caucus, I think what you hear from Dr. Carson is exactly the prescription this country needs right now," Harris said. "It needs someone who is not a career politician. It needs someone who understands the issues, who understands the historic constitutional background of the country and can restore, truly the restore, the greatness of America. Not just as a catchphrase, but as something this country sorely lacks and it's my pleasure to endorse Dr. Carson."
Carson said, no matter the result, South Carolina would not be the end of the road for the campaign.
"How well do I need to do? As well as I possibly can," Carson told reporters. "The thing that leads me on is not so much vote tallies, its how many people do you have supporting you. We still have millions of people supporting us. We still have the finances that we need. We still have people saying, 'Don't you dare drop out. Don't you dare listen to the people who tell you to drop out.' So I'm not getting out. I'm going on to Nevada. There is no question about that."
The Nevada Republican caucus will be held Feb. 23.