One simple act of kindness can totally transform a person's life.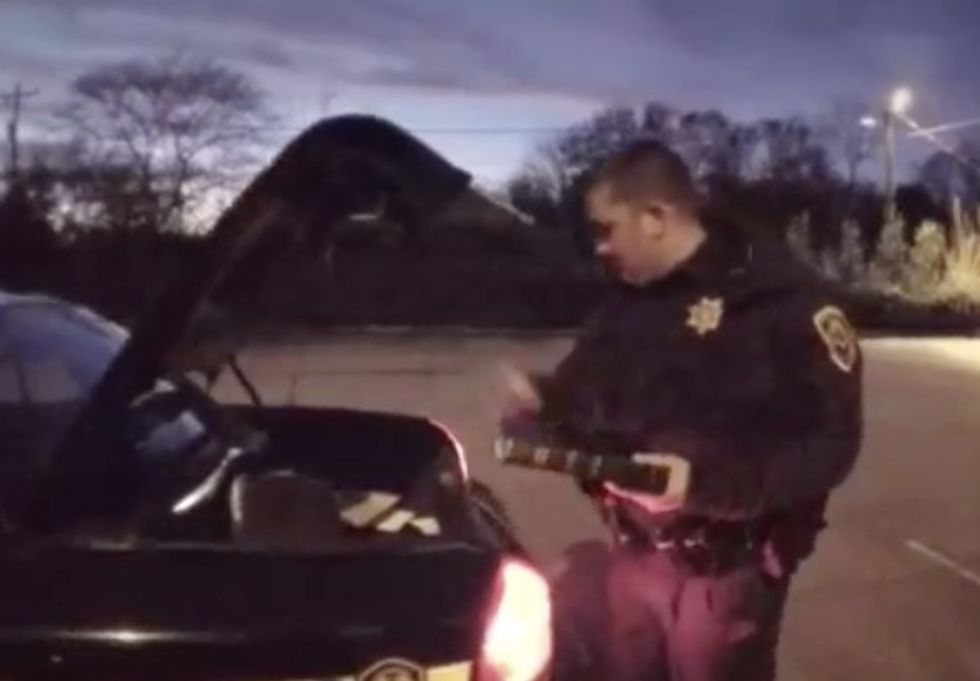 Deputy Matt Holman helped change a homeless man's life with one simple act of kindness (YouTube)
It's a touching life lesson that Deputy Matt Holman with the Greenville County Sheriffs' Office in Greenville, South Carolina, learned after he stopped his patrol vehicle to speak with a homeless man who was hooked on drugs and alcohol.
What ensued was a life-altering conversation that would forever change the trajectory of the addict's life, leading him to abandon drugs and alcohol, get his mental health in check and get off of the streets.
It all started when Holman pulled over at 2:30 a.m. one night after noticing that a homeless man named Robert Morris was walking around soaking wet.
Holman and Morris reportedly walked together to a nearby church, where they had an in-depth conversation about Morris' struggles, and the cop bought him some food.
After Holman asked if Morris needed anything else, he said, "Yeah, I need a Bible."
While the officer typically kept extra Bibles in his car, he looked inside his trunk and realized that didn't have any that night. But he did have his own personal Bible inside the vehicle — a book that he was intensely attached to, as he had highlighted verses and marked up the pages.
Holman found himself facing a difficult decision.
"I wrestled with the fact that I knew my personal Bible was in the car and I didn't necessarily want to give that up," Holman said in a video describing what unfolded. "But I kind of felt like God was telling me, 'He needs this more than you do.'"
So, the cop selflessly gave Morris his Bible — an act that ended up transforming the man's life. Six months after the encounter, Morris reached out to Holman to thank him, saying that the kind act led him to receive mental health treatment, reconcile with his family and get off the street.
Watch the touching story below:
Morris also placed a phone call to the Greenville County Sheriffs Office to explain the full impact of Holman's generosity, with his words being captured on an audio recording that is now inspiring others who are learning about the touching story.
"He got in his trunk and he thought he had an extra Bible back there that he keeps for those occasions and he couldn't find one," Morris recounted while on the phone with the sheriffs office. "He closed the trunk and he stood there for a minute, and he opened the trunk back up and he gave me his personal Bible."
Morris said that Holman is "one of the nicest people" he had ever met and credited the giving of the Bible with setting his life back on track.
"That man's a hero," Morris said. "He saved my life."
Sadly, Morris unexpectedly died on March 15, 2015 a "changed and renewed man," according to a video that documents the story.
Nearly a year later, though, Holman's kind act is starting to garner national attention, with the Christian band Sidewalk Prophets surprising him during a recent event that was held in his honor.
Watch the band surprise the cop below:
Holman has said that the band's song, "Saved My Life" profoundly impacted him after Morris' death.
"Tell me what I need to hear. Tell me that I'm not forgotten. Show me there's a God who can be more than all I've ever wanted," the lyrics read in part. "'Cause right now I need a little hope. I need to know that I'm not alone. Maybe God is calling you tonight to tell me something."